Safak Laletepe, or "Lale" as he is called by his colleagues, has now been employed as an industrial mechanic at Syntegon in Königsbrunn for 25 years. In this long time, he has gained numerous experiences on various assembly assignments.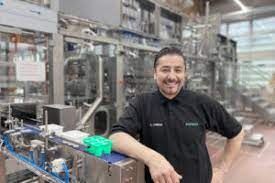 "It's been 25 years since I started here. A long time – and I'm very happy about it." Shortly after completing his training as an industrial mechanic at another company, Lale, was looking for a new, exciting challenge. Through an acquaintance, he was made aware of the position at the then family-run company "Ampack Ammann" in Königsbrunn, Germany. Uncomplicated and without a long application process, he was hired directly by the manager of the company at the age of 19. Although it was many years ago, he can still remember it as if it was yesterday. Originally, he didn't intend to stay long, and yet the 45-year-old is still passionate about working at the Syntegon location in Königsbrunn.
The reason, he says, are primarily his longtime colleagues. "It's like a second family. People here are always there for each other. You stick together as a family."
"Every assembly is unique
and shapes you in a special way."
Safak Laletepe
As an industrial mechanic in the final machine assembly, Lale is involved in the complete assembly of the filling and sealing machines until they are ready for testing and delivery to the customer. Even though he originally started out as an in-house assembler, he now travels a lot on the job for machine commissioning and ramp-up.
Lale has already been five times in China, getting the machines up and running at large dairy and food companies.
---
Lale is extremely enthusiastic about the variety in his job and the formative experiences he gains with international customers. Norway, England, China, Turkey, Egypt – the list of countries he has visited is long. Commissioning and rebuilds in 16 different countries around the world have been successfully completed by Lale and his colleagues. The travel-loving mechanic is particularly impressed by China. He has already been there five times for three to four weeks at a time, getting the machines up and running at large dairy and food companies. Even though a lot of hard work goes into satisfying customers, the free time in the countries can be used to get to know the culture. As a result, you not only gain a lot of valuable experience professionally, but also personally, through which you grow.
In this job, however, you also have some challenges to overcome. "The goal with field assembly jobs is to get the machine up and running promptly so that the customer can start production. If difficulties arise during assembly, the only thing that helps is to stay calm and work closely together to find a solution. With his open, optimistic nature and years of experience, Lale finds it easy to overcome these challenges together with his colleagues. Patience is probably the most important thing Lale has learned over the past 25 years at Ampack: "This job is not for people without stress resilience and power." However, stressful times are not the rule, according to Lale. He is most pleased when assemblies go as planned, the customer is satisfied, and there was still fun to be had with colleagues.
---
When he is not on the road, the father of a family enjoys spending time with his wife and three children. They often enjoy their time together outdoors, on excursions or bicycle tours. A lot has changed in the company over the past quarter century. Nevertheless, looking back, Lale would choose his job at Ampack – now a Syntegon company – again at any time.