Meet us at booth C-2800
The time is finally here again for Syntegon to display its packed portfolio of new innovations and reliable classics – for both the food and pharmaceutical industries.
Experience Syntegon's comprehensive expertise through dynamic conversation with our sales team and technicians, live machine runs, and immersive holographic information displays.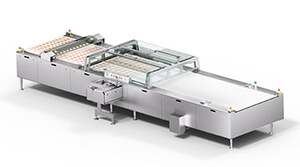 Game-Changing VFFS
Syntegon's new SVX Agile demonstrates show-stopping innovation through its high-speed production of 300 bags per minute with one film lane and its ability to handle the full bag range of any VFFS industry. The Agile's patent-pending cross-seal control allows for custom and accurate sealing pressure.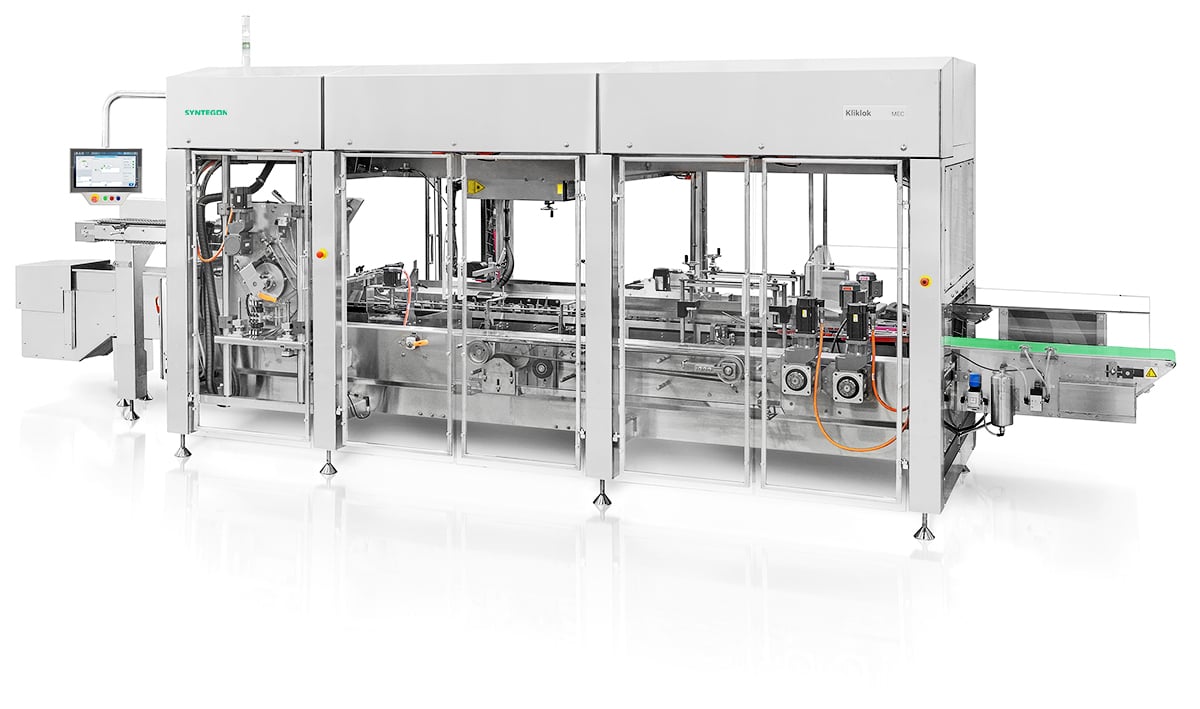 Reliable Endload Cartoner
Through Syntegon, Kliklok has produced the MEC - midrange endload cartoner - featuring its patented rotary carton feeder, that can package a wide variety of foods at speeds up to 170 cpm. Predictable and consistent performance can be expected from this future-proof, sanitary powerhouse that also allows for quick product and equipment changeovers.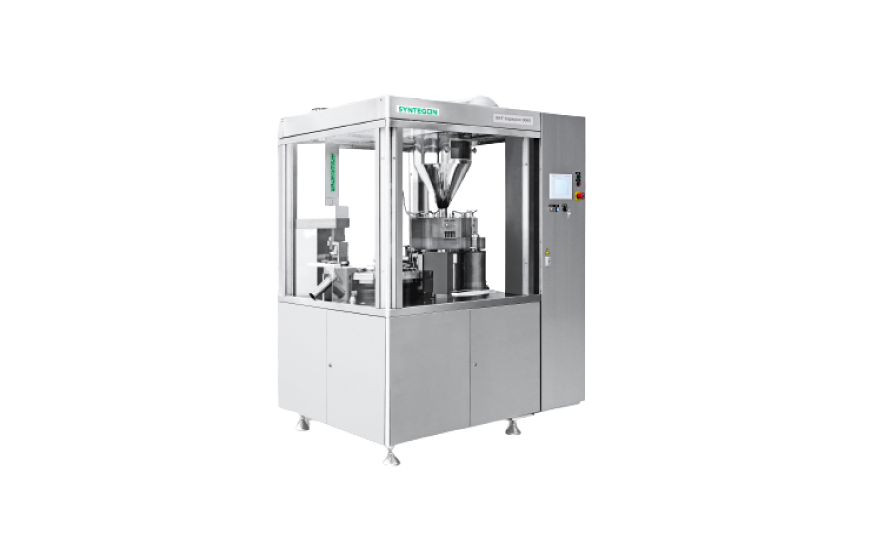 GKF 3005 Capsylon
Ideal for the capsule filling of health and nutrition as well as pharmaceutical products.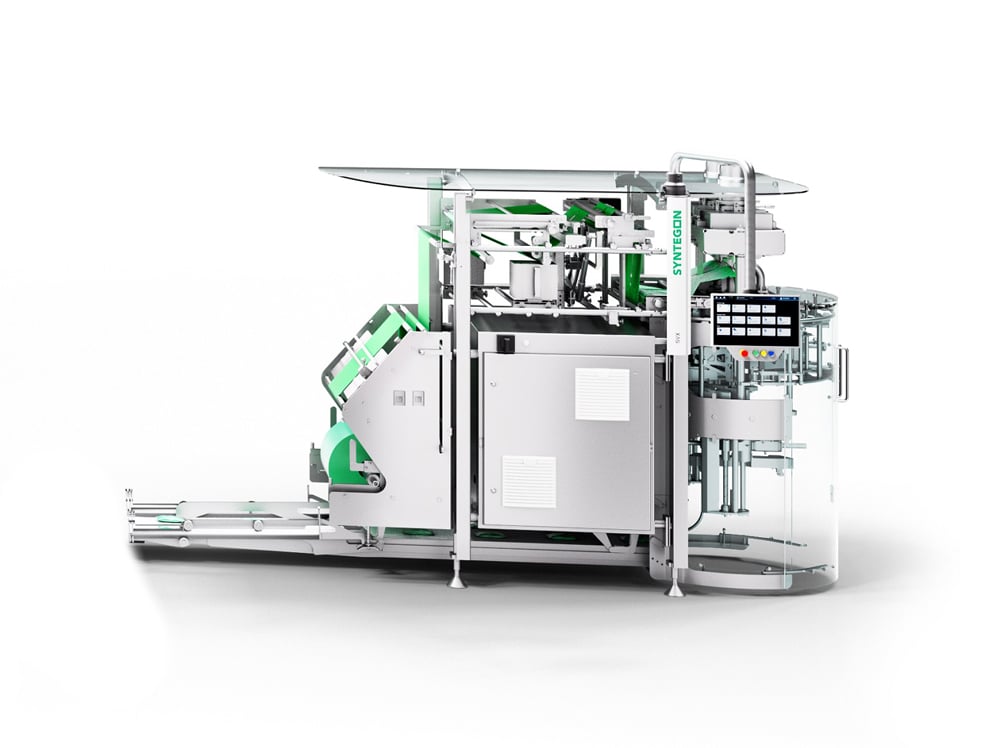 High-Volume VFFS
Syntegon's new SVX Duplex produces an unparralleled 600 bags per minute, thanks to two accessible film lanes - while still maintaining a compact footprint for seamless production integration. The Duplex has a very simplified design allowing for easy and quick changeovers and adjustments.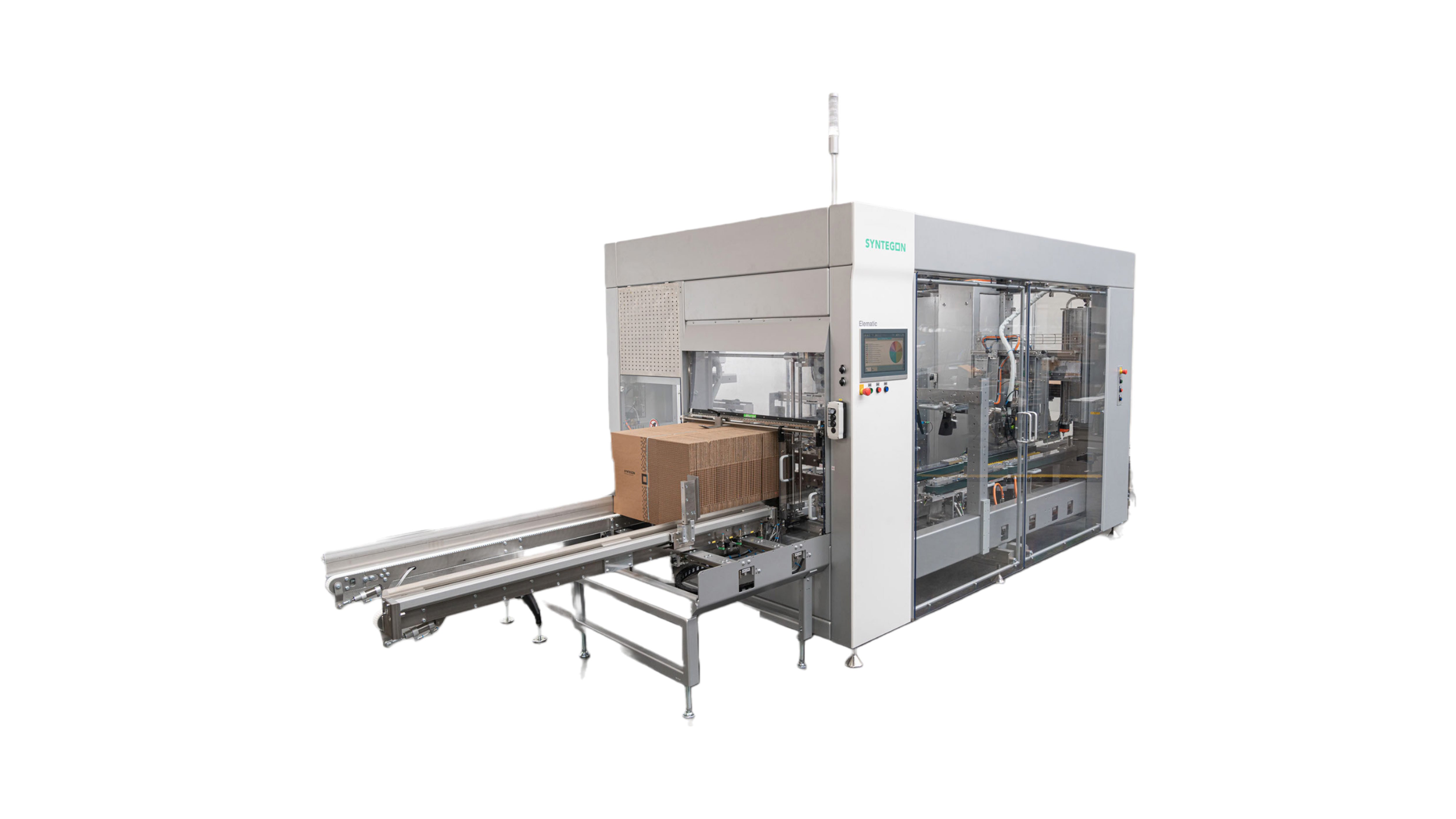 Flexible Case Packer (Hologram)
The Elematic 1001 TL is Syntegon's standardized topload case packer for packing products in Regular Slotted Cases (RSCs) on a small footprint, large format range, and production speed of 20 cpm. The machine concept is specially designed for ergonomic operation, as well as a robust, product-friendly, and reliable process.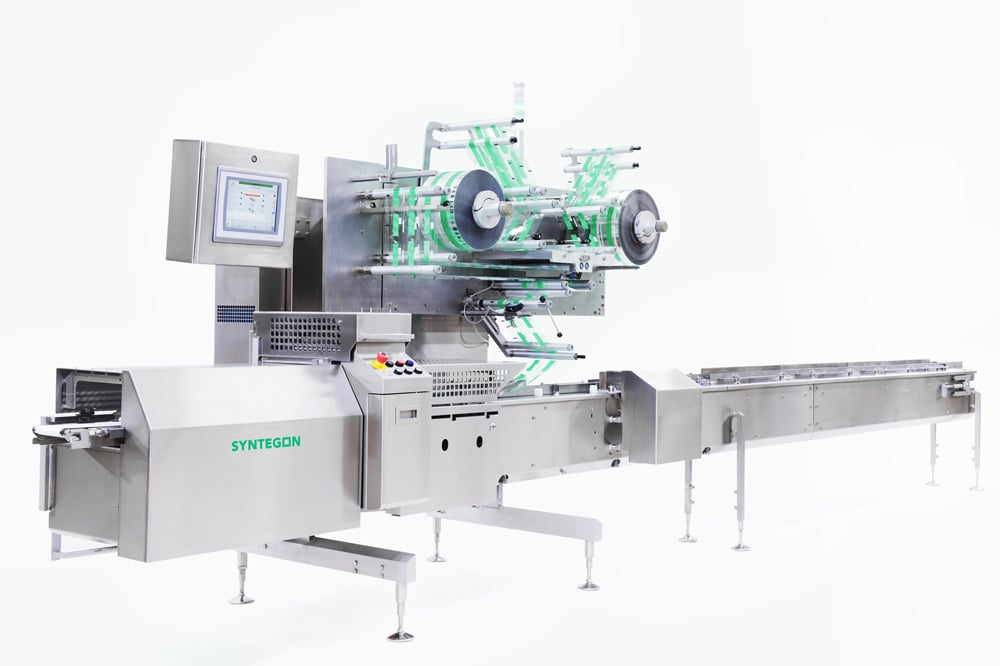 Hygenic, High-speed HFFS
The Pack 403 produces a wide variety of pack styles at a remarkable speed - and consistency - that can be maintained 24/7 to meet demanding deadlines. Besides being highly efficient and reliable, the Pack 403 is also tremendously easy to clean and operate.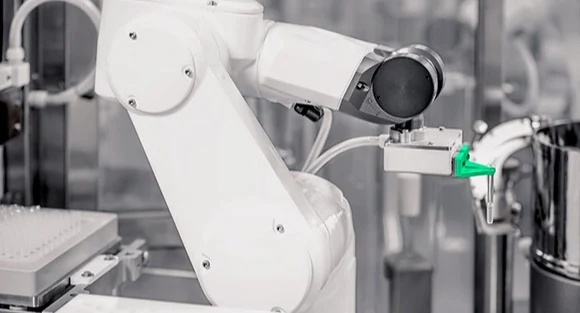 Versynta microBatch Presenter
The Versynta microBatch completes the Versynta portfolio with a versatile solution for micro batch filling in isolators. At the booth, Syntegon will digitally showcase, using Virtual Reality the highly flexible and fully automated production cell, which enables complete batch-to-batch changeovers in less than two hours. The gloveless isolator of the Versynta microBatch significantly reduces the risk of contamination and features integrated air management.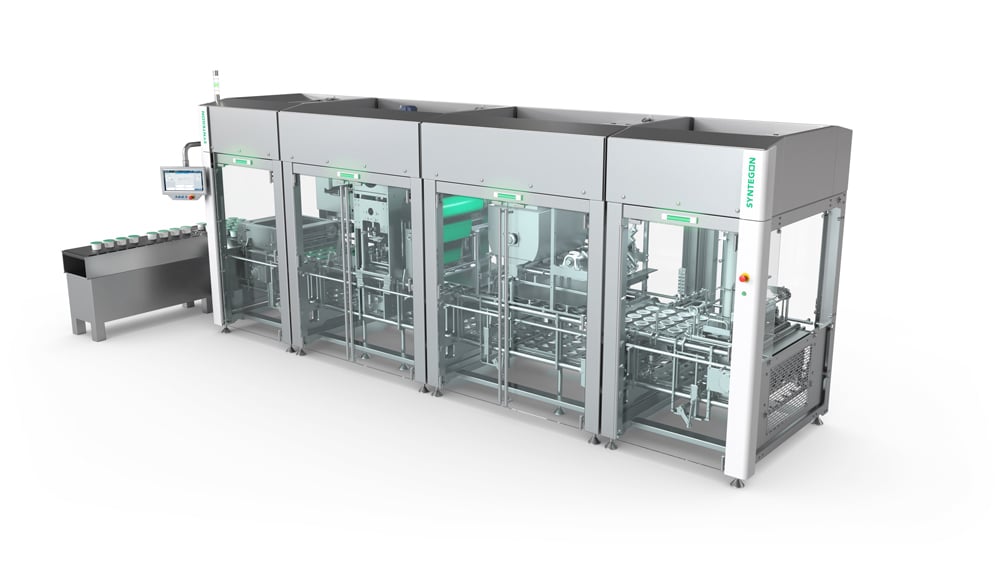 Liquid Filling Powerhouse (Hologram)
The LFS is the next generation in clean and ultra-clean applications of preformed cup filling. It is the ideal solution for filling yogurt, sour cream, cottage cheese, cream cheese, dips, and spreads and can reach an output of up to 21,600 cups per hour.
Gentle, Continuous Distributer
The new DCG – compact pullnose distribution system – discharges up to 32 rows of product per minute. The DCG boasts a soft pullnose system for controlled product placement with a flexible combination of features, including row aligners, quick belt changes, easy system integration, and fast commissioning.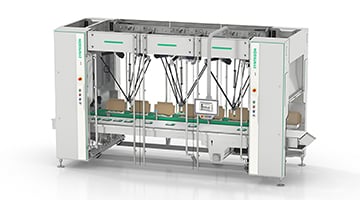 Automated Solutions for You
The newly developed Syntegon RPP - robotic pick-and-place - platform offers outstanding modular scalability within a compact footprint. The core benefits of the system are quality assurance, straightforward operation, and efficient and flexible production processing. The RPP cells are easily accessible, making it very easy to clean and perform tool-free changeovers.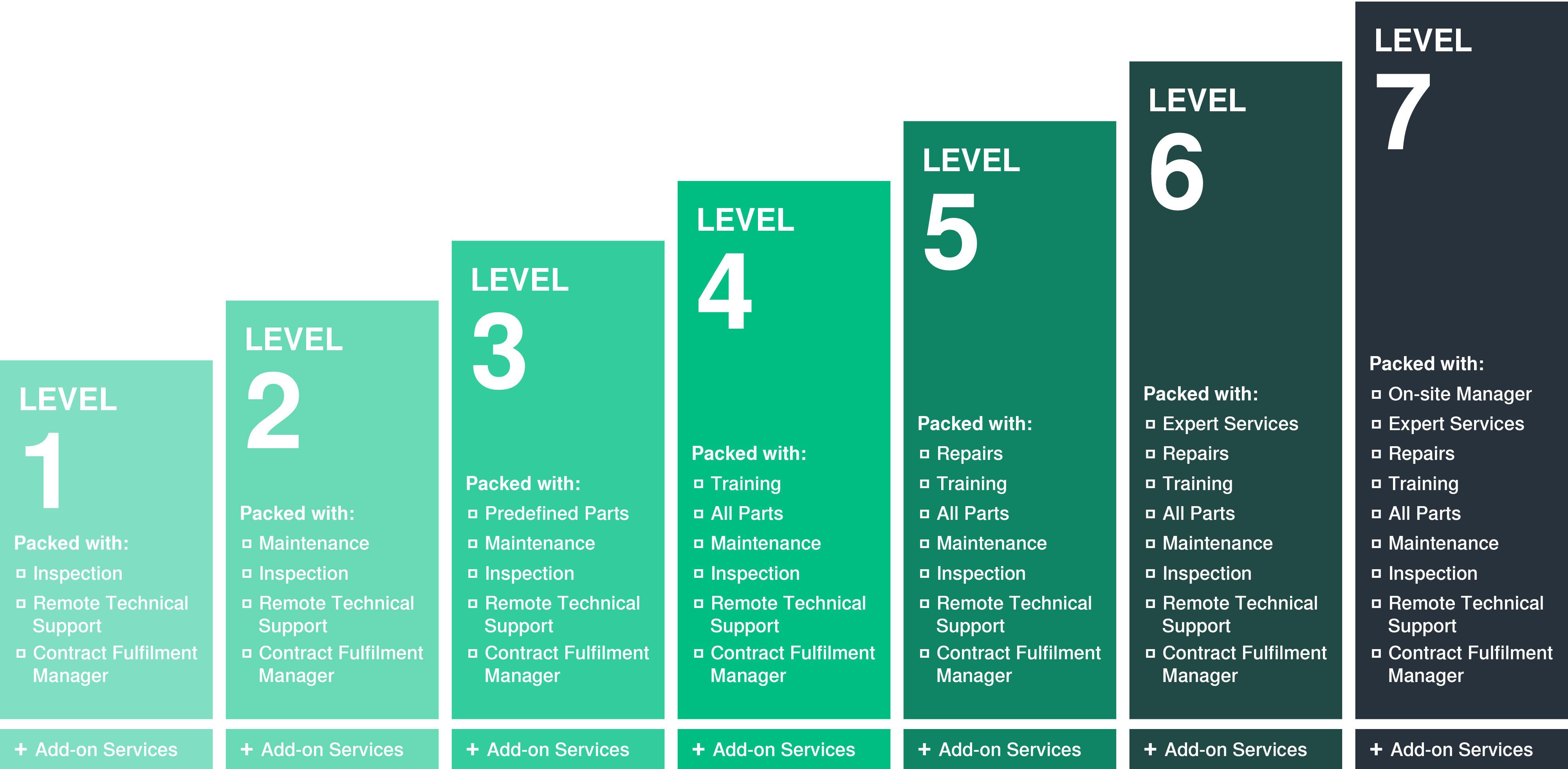 Service Agreements: Packed with Value
Syntegon Service Agreements, which allow for seven different packages, each available at a fixed price. Customers receive support for basic services – including inspection and remote support – and guaranteed production performance for their machines.
Synexio: Start your risk-free digital journey
Synexio's newest package Uptime is the second package of the cloud-based software solution. Synexio makes sure that food and pharmaceutical manufacturers gain maximum value from their production data.
Come see us!
DATE: September 11 - 13, 2023

TIME: 9 am - 5 pm, Wednesday until 3 pm

LOCATION: Central Hall, booth 2800




Reach out to book an appointment with our experts.
Learn more about Syntegon at Pack Expo!
Syntegon's Pack Expo page
Pack Expo Las Vegas Press Release
New Game-Changing VFFS: The SVX Series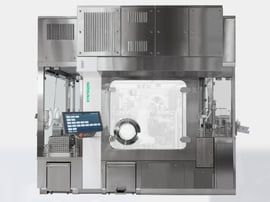 Come to try out our VR Robotic Arm, a partnership with Stäubli and SRI.