Tool-less product and format changeovers: added flexibility in small batch production

Sustainable processes: reduced energy consumption and wide variety of packaging materials

State-of-the-art machine concept: modular design for future-proof expansion

50 years of Ampack: comprehensive filling expertise since 1973
Königsbrunn/Germany, April 4, 2023. Syntegon facilitates the demanding filling process for liquid and viscous food products with its new development LFS: the filling solution, which will be presented for the first time in Europe at interpack, is suitable for numerous liquid and viscous deli food products such as sauces, dips, and salads. The LFS technology enables brand owners to safely and reliably fill a wealth of dairy and food products. "The machine is available in Clean and Ultra-Clean applications, and stands out due to its high flexibility," explains Oguz Karcier, product manager at Syntegon. "Thanks to its modular design, the LFS can be adapted to the respective market and production conditions with little effort – ensuring future-proof processes at all times." An optimized electronics concept significantly reduces the machine's energy consumption. The LFS is a joint development of two Syntegon companies: the Königsbrunn-based Ampack GmbH designed the versatile solution together with Osgood Industries, a leading U.S. manufacturer of filling and sealing technology. Besides this interpack premiere, Ampack has another reason to celebrate: this spring marks the company's 50th anniversary.
Custom-fit solution for deli products
Filling and packaging machines for dips, sauces, and salads must meet special requirements, especially in process flexibility. "Since production in the deli food industry involves small batches, time-saving format changes are crucial," says Karcier. The faster these take place, the shorter the downtimes – and the higher the output. Thanks to the tool-less system of the LFS, operators can exchange desired carrier plates and resume production quickly.
The carrier plates can be detached from the transport chain and replaced with the desired format to adjust the diameter, shape or filling volume of the cups, provided the format is not already running on the machine. The format-flexible LFS allows to pre-install up to two different plates, ensuring a fast start of production. This way, the machine covers cup sizes between 60 and 160 millimeters in diameter. Depending on the format, food producers can fill between three and eight lanes simultaneously. Visitors to interpack will be able to experience the flexibility of the LFS live at the booth: using different packaging materials, Syntegon will demonstrate the versatility of the LFS in the Clean application.
SmartFill, the modern filling system of the LFS, is another advantage. It ensures extremely high filling accuracy and effectively prevents product loss due to overfilling. At the same time, SmartFill is one of the flexible components of the LFS and can be easily retrofitted – for example, for filling liquid and highly viscous products.
Sustainable and future-proof
Innovative technology ensures long-lasting and sustainable systems. Syntegon followed this approach in the development of the LFS: from drive technology to packaging materials, the system makes a significant contribution to more sustainable production. Here, the carrier plate transport chain plays a key role: lubrication occurs directly at the chain via a precise dosing and application mechanism that avoids oil overdosing. Moreover, the chain's lifespan is up to 20 percent higher than in comparable systems – a significant advantage in view of costly manual chain changes and long downtimes.
Syntegon has also designed a sustainable energy supply for the LFS. Thanks to a modern electronics concept, the LFS can save up to 30 percent of its energy consumption. In combination with sustainable packaging materials, which the LFS can easily fill, the machine makes an important contribution to sustainable food production. In addition to traditional solutions, manufacturing companies can also fill cups made of sustainable materials such as paper or PP monomaterial on the LFS.
50 years of Ampack
Apart from this interpack premiere, Ampack has another reason to celebrate in 2023: 50 years ago – on April 1, 1973 – the company was listed in the trade register. Two years earlier, engineer Siegfried Ammann laid the foundation for Ampack's development, when he began to design and manufacture highly successful packaging machines in Augsburg. Since 2012, Ampack GmbH is part of the Syntegon Group and develops machines for filling liquid to viscous foods in the Clean, Ultra-Clean and Aseptic hygiene levels. In addition to dairy products, the company's areas of expertise include baby food, drinkable food, and deli food products. Ampack offers its customers comprehensive service from a single source: from the initial inquiry, planning, and production to extensive after-sales services. More than 1,600 installed machines worldwide underline the five decades of technical expertise.
Service agreements: Support at a fixed price
As for all machines, Syntegon also offers its service agreements for the LFS. They provide the foundation for effective equipment and maintenance management at fixed prices. Seven dedicated levels help customers from the pharmaceutical and food industries to reduce production risks, gain predictability on service costs, and simplify complex processes – enabling them to focus on their core business. With each level, the scope of services covered increases – from basic service, including inspection and remote service, to guaranteed production performance of the machines. From Level 4, customers can enjoy peace of mind about the total cost of ownership for the lifetime of their equipment. Besides preventive maintenance and operator training, services at this level include all spare parts at a fixed cost.
Synexio is also part of the Service Agreements. The new cloud-based software solution collects, evaluates, and visualizes machine and production data. Syntegon will offer Synexio in three consecutive packages. The basic package "Monitor" visualizes various KPIs and thereby improves production transparency. "Now that our customers are successfully implementing the basic package, we are ready to upgrade to the next level," says Elisa Hein, Product Manager Expert Services at Syntegon. At interpack, Syntegon will present the second Synexio package "Uptime". "We are delving deeper into the details: besides machine availability, we can now also identify specific potential for improvement, for example by visualizing the most frequent reasons for stops," explains Hein.
Learn more about Syntegon technologies and services and meet the experts from May 4 to 10 at interpack 2023 in Duesseldorf.
Visit us at booth A31 in hall 6.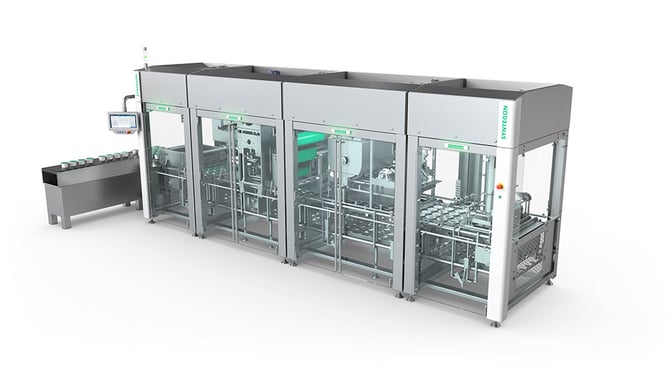 The modular SmartFill concept ensures maximum dosing precision for liquid, viscous and high-viscosity dairy and deli food products.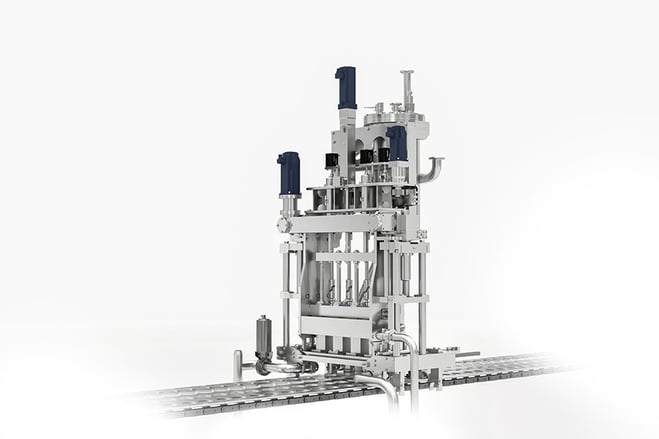 The easily expandable LFS is suitable for a wide range of products in the dairy and deli food industries.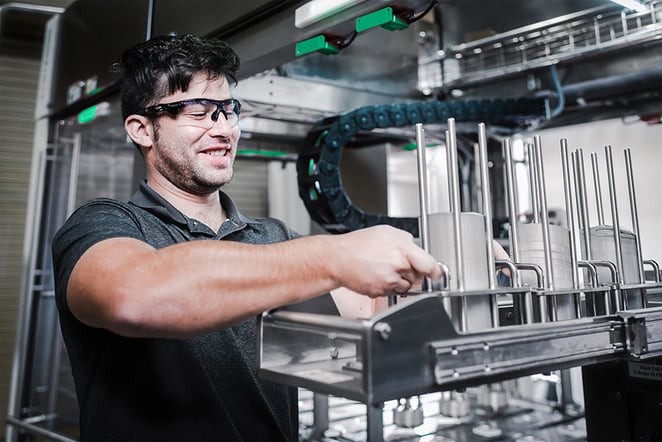 Thanks to the intuitive design, operators can reach important components – like the blanks magazine shown here – easily and quickly.
About Syntegon
Processing and packaging for a better life – this is what 5,800 Syntegon employees work for every day. Be it with individual machines, systems, or services, Syntegon helps its customers in the global pharmaceutical and food industries to improve people's lives. The company, which is headquartered in Waiblingen, Germany, looks back on more than 160 years of experience and achieved annual sales of 1.4 billion EUR in 2021. In the pharma sector, the company's intelligent solutions enable the safe and high-quality production, processing, filling, inspection, and packaging of liquid and solid pharmaceuticals. In the food industry, Syntegon's flexible and reliable technologies produce and pack confectionery, dry food, frozen food, and dairy products. With 1,100 service experts and a comprehensive service portfolio throughout the entire machine lifecycle from spare parts management to digital line optimization, Syntegon lays the foundation for smooth production processes for all customers. More than 30 sites in almost 20 countries keep a firm eye on Syntegon's impact on the environment and society. Syntegon is a leader in the development of sustainable packaging solutions, reduces the energy consumption of its machines and pursues ambitious goals to lower its emissions. www.syntegon.com