Hermetic packages for pharmaceutical products.
Output of up to 350 packages per minute
Compact size combined with ease of use
Greater product protection thanks to reliable sealing technologies
Beringen, Switzerland – Hermetic packages protect pharmaceutical products from external influences like humidity, oxygen and light. The new horizontal flow wrapping machine Sigpack HML from Bosch Packaging Technology, allows products such as blow-fill-seal vial cards, blisters and various medical technology products including pens and inhalers to be reliably hermetically packaged. "Thanks to its compact size, the Sigpack HML can be optimally employed even where space is limited," explains Rolf Steinemann, product manager at Bosch Packaging Technology. "The machine not only can seamlessly be integrated into their lines, it is also suited as an excellent stand-alone solution. This means customers benefit from even greater flexibility in the packaging process."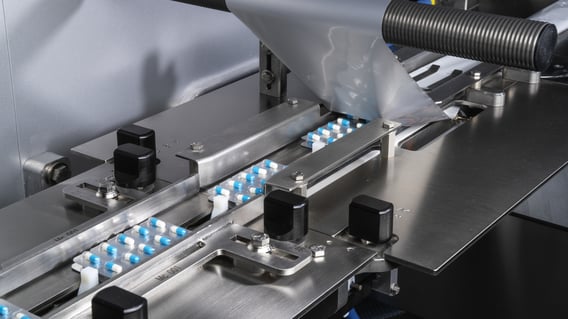 Bosch's horizontal flow wrapping machine Sigpack HML allows products such as blisters to be reliably hermetically packaged.
Reproduction for press purposes free of charge with credit "Picture: Bosch"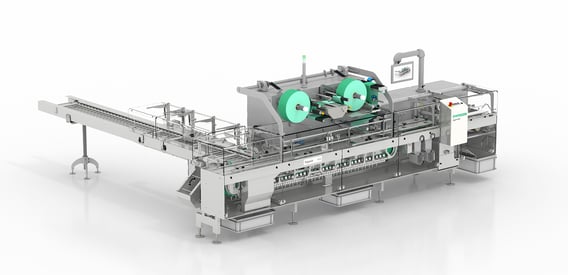 Whether as a stand-alone solution or integrated into a line, Bosch's new horizontal flow wrapping machine ensures flexible processes and absolutely safe hermetic packages.
Reproduction for press purposes free of charge with credit "Picture: Bosch"
Automatic splicing
The Sigpack HML is suitable for the production of both small and large batches. Depending on the desired output volume, the film reels can either be changed manually during short machine stops or with the help of a splicer. The improved splicer fully automatic connects the old and new film to avoid disturbances, such as at the film former.
Safe product processing
Products are delivered to the flow wrapping machine via a transport chain. The transverse and longitudinal film sealing uses the proven Longdwell heat sealing technology. "This ensures an extra-long sealing time, resulting in guaranteed tightly sealed seams, which means optimal protection for pharmaceutical products," Steinemann says. The machine achieves an output of up to 350 sealed packages per minute.
The sealing rolls used for horizontal wrapping can be opened from both sides. This prevents the film from coming into contact with the heated sealing rolls, and from being damaged during machine downtime. For particularly temperature-sensitive products, the cover plates at the sealing station can be cooled. The Sigpack HML is also available with ultrasonic sealing, allowing customers to gently package heat-sensitive products.
Options for highest product quality
Upon request, the Sigpack HML can be equipped with options for additional product protection, such as the "no gap no seal" function. This is especially used for product piles in blister or BFS packages, which is checked once again shortly before it reaches the cross sealing. If the pile is not in the correct position, the cross sealing stops. This avoids product rejection or damaged sealing jaws. The optional MAP module (Modified Atmosphere Packaging) offers optimal product stability by removing residual oxygen from the hermetic packages. Sensors precisely monitor and regulate the gas content of the packages.
Consistent systems competence
Based on the Bosch systems competence, the Sigpack HML can be combined with other equipment, like cartoning machines as well as track and trace systems for seamless traceability of the packaged products.
Interested customers can have a look at the new Sigpack HML horizontal flow wrapping machine at the Bosch site in Beringen, Switzerland.