Family Day on June 30 attracts 300+ guests
Substantial investments underscore Dresden site's importance
Future-proof processing systems made in Germany for the pharmaceuticals and biotech industries
Dresden, July 4, 2023. Syntegon subsidiary Pharmatec has good cause to celebrate. For three decades now, the company has been successfully producing ultra-pure media systems and processing systems for the pharmaceuticals industry at its Dresden plant. To mark this occasion, Pharmatec hosted a big anniversary celebration on June 30. More than 300 guests – current and former employees with their families, business partners as well as government officials – accepted the invitation to gather at Elisabeth-Boer-Strasse 3. "The entire workforce put in a great deal of effort in recent years to expand Pharmatec's and Syntegon's good position on the international market, thereby making the Dresden site a key point of contact for our customers," says Pharmatec managing director Dr. Matthias Wagner, who also heads up Syntegon's Pharma Processing business unit.
Family-friendly working conditions
Entertainment options abounded with a bouncy castle, crafts corner, Bobby Car track, burger bar, and live music. Among the guests were more than 100 children. Dietmar Paul, a member of Pharmatec's management team, says that this underscores the Dresden site's priorities: "At Pharmatec, family-friendliness is not something we practice just once a year. We always focus on the needs of employees with children." The Dresden plant also offers several systems engineering and mechatronics apprenticeships every year. "In fact, we are currently seeking new colleagues to help with the challenging and very exciting work we do on our processing and ultra-pure media systems," says Paul.
Significant investments in sustainability
The site's importance is also reflected in its infrastructure. Just recently, Syntegon installed new building utility systems in what was the largest single investment in Pharmatec's 30-year history. The company streamlined the site's building services and created a state-of-the-art operating and sanitation concept. It also added a new photovoltaic system and extended the parking lot, which is now equipped with chargers for electric vehicles and bicycles. "The course is set for growth at Pharmatec in Dresden," says Wagner. "These investments underscore the relevance of our site and products to the Syntegon Group and to the global pharmaceuticals industry."
Ultra-pure media and processing systems, made in Dresden for the world
Pharmatec has been manufacturing systems for producing, distributing, and storing ultra-pure media for 30 years. Furthermore pharmaceutical companies around the world are receiving future-proof automation solutions including one-stop shopping for state-of-the-art formulation and bio-processing systems from Dresden. "Our customers continue to value the 'made in Germany' mark of quality," says Wagner. The Dresden plant makes both standard and custom systems. One example is SVP Essential, the standardized basic version of the proven SVP processing systems. It has enabled Syntegon to respond very quickly to surging demand, particularly during the coronavirus crisis. Pharmatec also had a formative hand in shaping a new trend with the MWFI system for cold membrane-based production of pure, ultra-pure, and injection water.
Bright prospects
What began 30 years ago with just four people is now a mainstay of Syntegon's portfolio and indispensable to pharmaceuticals manufacturing plants. Fresenius AG set up Pharmatec in 1993 to meet its in-house demand for pharmaceuticals processing systems. Outside orders soon followed and the company grew. Bosch Packaging Technology – which is now Syntegon – acquired the company in 2007. Pharmatec currently employs some 200 people in Dresden. The current site has been manufacturing since 2009.
Wagner sees a bright future on the horizon: "In the years ahead, we want to continue growing and further expanding our offering, especially in the biotech sector." The focus is on stepping up automation and the development of modular processing systems. "We can all be proud of the contribution our systems are making on the marketplace. Ultimately, we help our customers produce medicines that improve the lives of patients around the world," says Wagner in closing.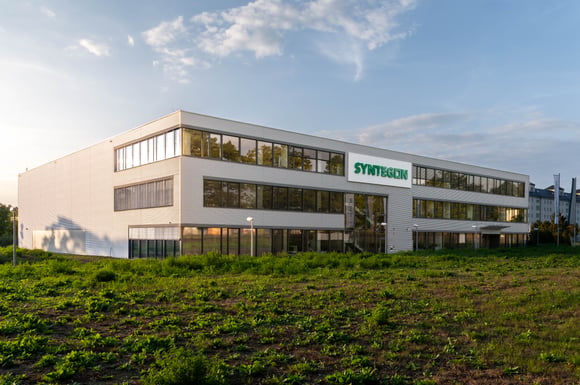 Syntegon subsidiary Pharmatec has been making systems to produce, distribute, and store ultra-pure media for 30 years. The Dresden plant also manufactures state-of-the-art formulation and bio-processing systems featuring future-proof automation solutions.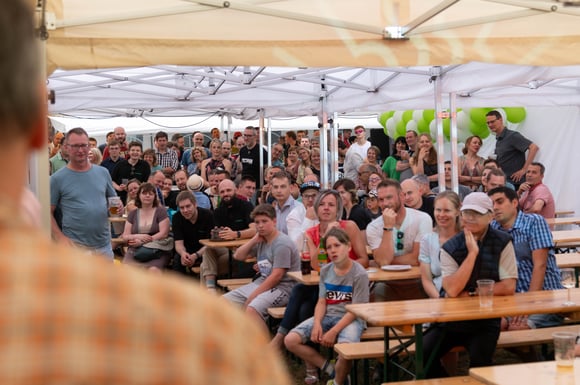 More than 300 guests – current and former employees, relatives, government officials, and businesspeople – spent an enjoyable day at the well-attended jubilee.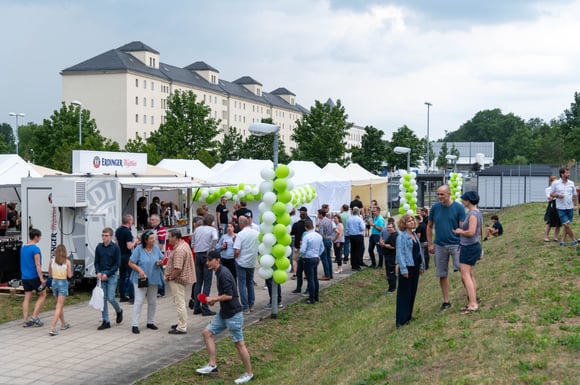 On a sunny summer day, the Dresden premises provided the ideal setting for a wide range of entertainment and hospitality options, including food stalls, live music, and a kiddie corner.
Download Presse Artikel