Pharmaceutical isolator and barrier systems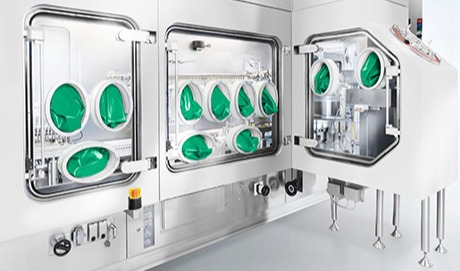 "All from 1 source"
Aseptic filling is all about product safety – and thus the separation of operators and pharmaceutical ingredients. Isolator technology helps to build this crucial barrier. However, pharmaceutical isolators must be integrated properly into existing lines to reveal their full potential.
With over 40 years of US-based and 25 years of Europe-based experience in the design and manufacture of barrier systems, Syntegon has established a comprehensive portfolio, including open RABS, closed RABS, containment and isolator systems. All solutions are tailored to customer requirements, from machine design and development to on-site installation and validation.
Features of our pharmaceutical isolators & barrier systems
Our barrier systems include open RABS, closed RABS, isolators, and containment systems. They all offer you maximum flexibility for a broad range of applications, protecting products and personnel in the best possible way. While our RABS enhance the quality of everyday multi-product manufacturing in existing cleanrooms, our isolators further boost the safety of filling lines for high potent medications.
Benefits:
Safe filling of aspectic, BSL and highly potent products
Qualification and validation support including cycle development
Intensive research for RABS, isolator and related barrier technologies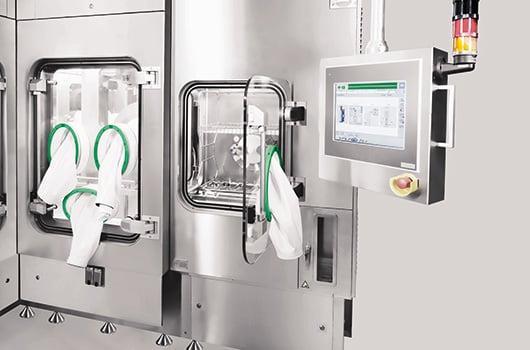 Isolator Technology - Video Series
All from one source
All pieces of an isolator filling line are manufactured and assembled at the same site.
If you want to know more about isolators and the advantages of an integrated approach, watch the video.
Shortest biodecontamination cycle times
Fastest biodecontamination cycle times in the industry:
Less than 60 minutes for a fully loaded production size isolator.
Shorter cycle times mean more time in production.
Let us be your partner in barrier technology, getting you to highest equipment utilization.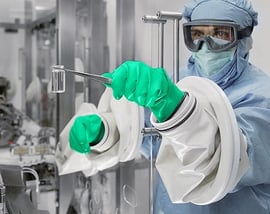 Glove testing systems
The highest safety for isolators and RABS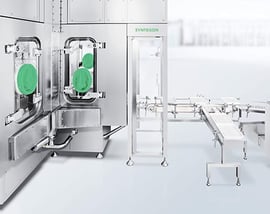 Maintaining an aseptic production
How to transfer products into barrier systems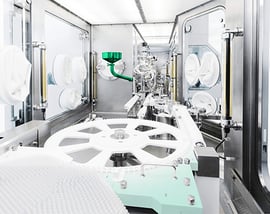 5 questions to Matthias Angelmaier
Product manager barrier systems and isolator technology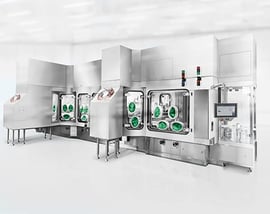 A challenge for sterile manufacturing
How will Annex 1 change fill/finish processes?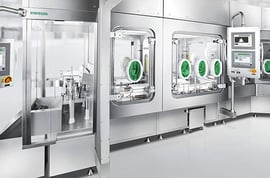 Syntegon and AbbVie
Taking ADC processing to the next level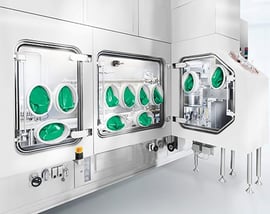 RABS vs. Isolator
Choosing the right isolation technology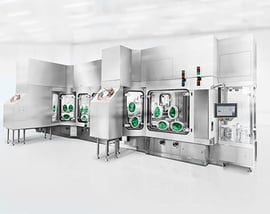 Fill/finish of liquid pharmaceuticals
Syntegon expands local support for import projects in North America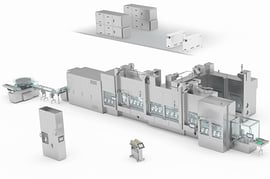 Aseptic and highly potent drugs
Insights into state-of-the-art sterile fill/finish applications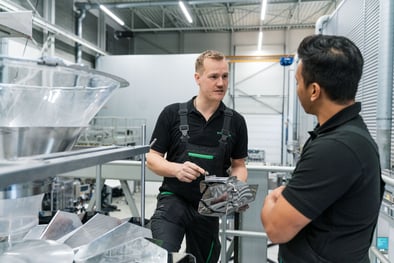 Find out more about our Service Agreements here.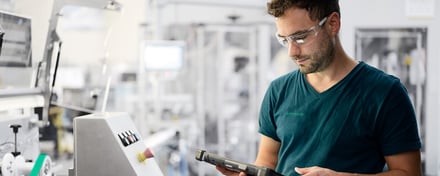 Find out more about Digital Solutions here.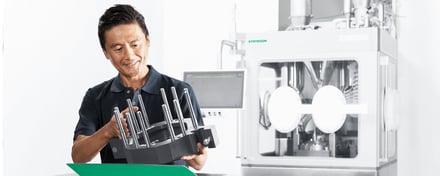 Find out more about Parts here.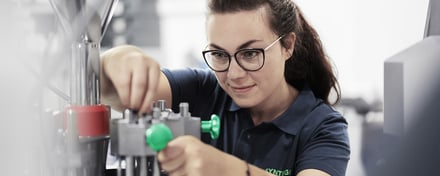 Find out more about Maintenance here.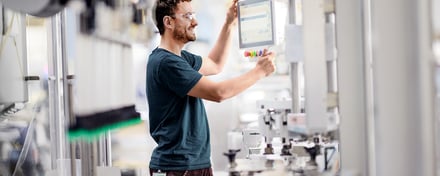 Find out more about Technical Support here.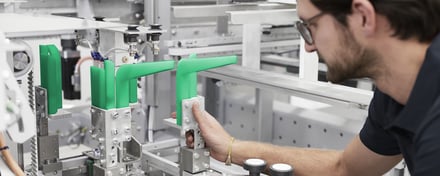 Find out more about Modernizations here.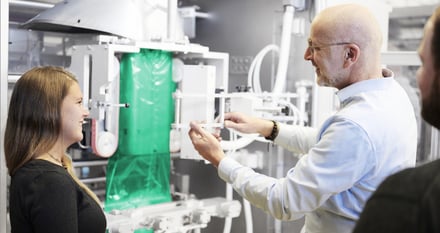 Find out more about our Training here.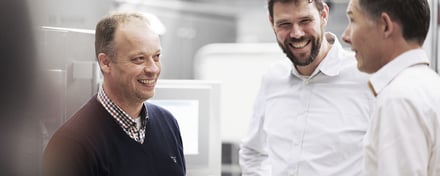 Find out more about our Expert Services here.
Why choose a Syntegon isolator / barrier system?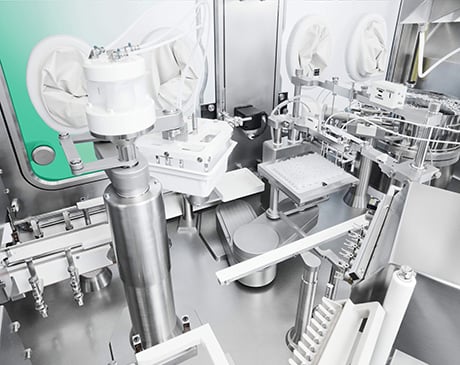 Isolator experts before it was fashion
---
Long-standing experience: We have been designing, developing and manufacturing reliable isolators for decades. Syntegon is your partner, offering valuable support across the entire lifecycle of your barrier system project.
Seamless systems: We integrate isolators, filling machines, decontamination equipment and HVAC technology to secure highly efficient, safe processes for your aseptic processing requirements.
Process efficiency: Syntegon isolators can be used in a wide variety of settings, thanks to their highly flexible set-ups. Your benefits: high product availability, improved filling quality and reduced operating costs.
Keep human intervention to the minimum – this is the mantra in pharmaceutical production. We know exactly how to combine good operator experience with the highest safety standards. Our industry-proven barrier systems and isolator technology from a single source allow to achieve the desired separation of production and personnel in the most varied manufacturing scenarios.
patents and patent applications
machines installed world-wide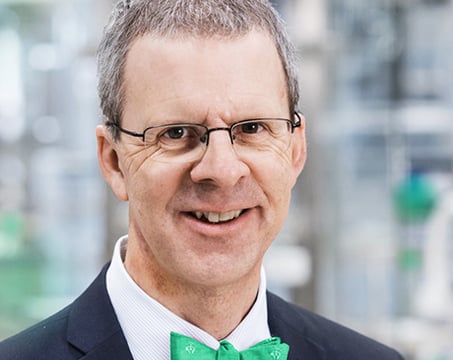 Our experts behind the scenes
"An isolator is the most consistent answer for the most stringent quality requirements in parenteral filling. Mechanics, electrics and software must all be tuned perfectly to achieve the process performance for which Syntegon isolators are known today. The expectations of our customers motivates us to deliver maximum performance!"
Dr. Johannes Rauschnabel – Head of advanced development packaging technology and chief pharma expert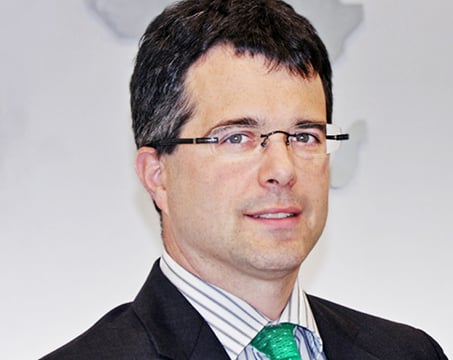 Our experts behind the scenes
"For the past 20-plus years and counting, I have associated Syntegon isolators with highest process reliability, the most stringent pharmaceutical requirements, and ultimately – the lives of millions of patients impacted worldwide."
Mathias Kreher – Sales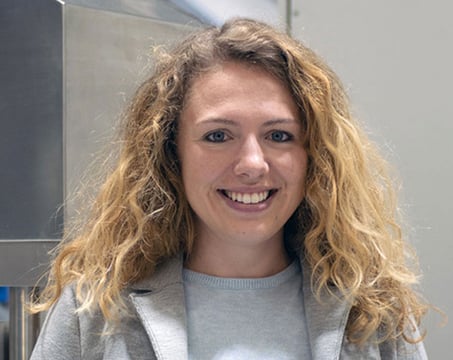 Our experts behind the scenes
"With Syntegon isolators I associate short and efficient cycle times for biodecontamination."
Annika Klenk – Project manager cycle development/validation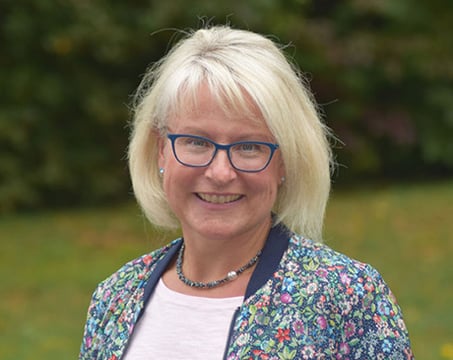 Our experts behind the scenes
"Working with Syntegon isolators and their cycle development requires close coordination with our customers. The interesting discussions that result from this are very valuable because they further develop us as well as our customers."
Carmen Riedt – Group leader and responsible for qualification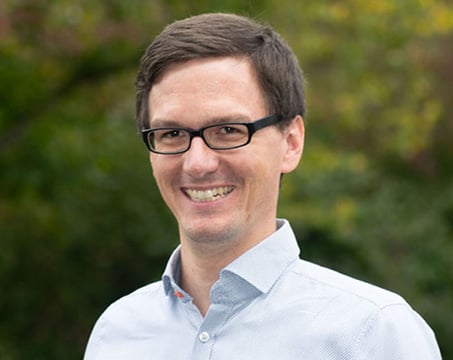 Our experts behind the scenes
"With Syntegon isolators, I associate a great collaboration, internally as well as with many different teams from our customers."
Michael Meyer – Team leader cycle development/validationand process development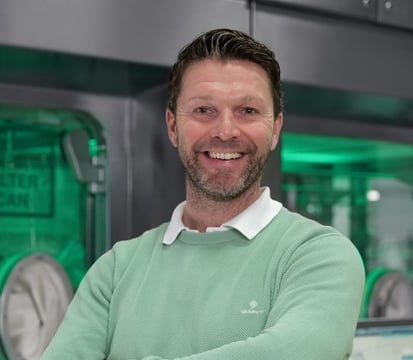 Our experts behind the scenes
"In line with our philosophy, the integration of air handling into filling line isolators is a major step in minimizing on-site complexity for our customers.
Our goal is to provide solutions that make our customers´ lives easier by reducing interfaces and maximizing integration."
Lukas Munzinger - Global Product Manager Isolator Technology
https://www.syntegon.com/hubfs/05_website/Content/1-Solutions/1-Pharma/1-Technology-pages/24-Barrier-Systems-and-Containment/Isolator_Brochure_EN_low.pdf|Isolator_brochure_EN_low https://www.syntegon.com/hubfs/05_website/Content/1-Solutions/1-Pharma/1-Technology-pages/24-Barrier-Systems-and-Containment/Syntegon_Strategies-for-barrier-system-BSL.pdf|Isolator_Strategies-for-barrier-system-BSL https://www.syntegon.com/hubfs/05_website/Content/1-Solutions/1-Pharma/1-Technology-pages/24-Barrier-Systems-and-Containment/Whitepaper_Syntegon_Merck_Avoiding-product-oxidation.pdf|Isolator_whitepaper_oxidation https://www.syntegon.com/hubfs/05_website/Content/1-Solutions/1-Pharma/1-Technology-pages/24-Barrier-Systems-and-Containment/Whitepaper_Syntegon_H2O2-biodecontamination-cycle-times.pdf|Isolator_whitepaper_biodecontamination
Pharmaceutical isolator downloads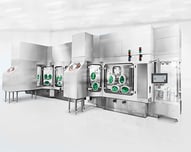 Isolator Systems
Safety and performance from one source.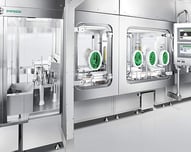 Whitepaper
How to design an isolated fill / finish process that protects both products and operators.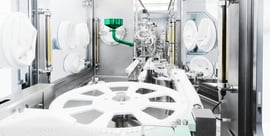 Whitepaper
Avoiding product oxidation by H2O2 in isolators.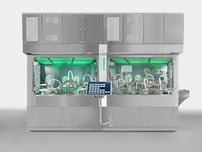 Whitepaper
The past, present and future of H2O2 biodecontamination cycle times.
Our customers are also interested in

Filling RTU cartridges, syringes & vials » Syntegon
From filling highly potent pharmaceuticals to ensuring sterile operations, our aseptic processing solutions for RTU containers support first-class liquid filling. We combine well-established technologies with innovative digital solutions, allowing you to achieve maximum yields with high dosing ...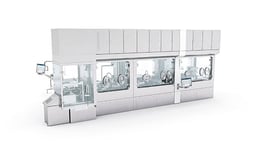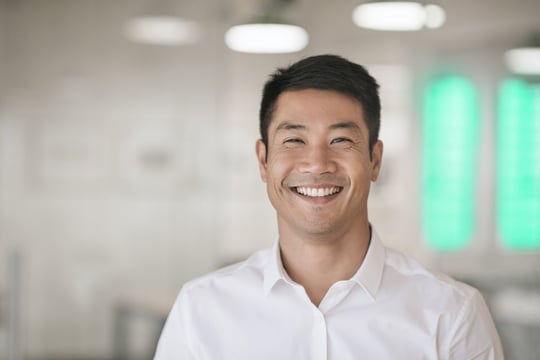 Interested in our pharmaceutical isolator?
Local Agent
---