Horizontal Flow wrapper
Visually appealing, cost-efficient, and extremely flexible: flow wrappers are the all-round solution for packaging food products as the variety of packaging options is almost limitless. Our portfolio includes various types of flow wrapper machines, from entry-level machines with an output of 80 packages per minute to fully automated, seamlessly integrated systems with output capacities of up to 1,500 packages per minute. Our systems are suited for a variety of products, including chocolate, biscuits and baked goods, bars as well as frozen food and solid goods such as detergent tabs. They are even able to wrap pharmaceutical products such as BFS cards or tablets in blisters.
Flow wrapper machines & features
The gain of linear motors (XTS)
Due to the high degree of flexibility that is becoming increasingly important in the confectionery industry, Syntegon recognized the potential of XTS technology from Beckhoff early on. The Syntegon team in Beringen has been working with the Beckhoff experts since 2011 and was one of the first XTS customers. No other manufacturer in the packaging industry has implemented as many XTS applications as Syntegon.
Paper packaging is a real sustainable solution
The retrofit-kit paper-ON-form for existing and new horizontal flow wrapping machines allows you to make the transition from conventional plastic to paper-based packaging solutions – without compromising on speed and production efficiency. Thanks to our cold sealing technology, even heat-sensitive products, such as bars and chocolate, can be wrapped in paper.
Modular bakery systems
Our flow wrappers feature a modular design that enables you to react flexibly to future needs. The machine can be configured to match your product requirements, pack size, and material characteristics – a key factor when packaging products that are variable in shape and texture, such as cupcakes. With our future-proof modular concept, you are able to scale up your production capacities and increase your level of automation.
Easy operations with an all-round packaging system
Our Pack series features a robust frame construction for stable belt tracking and easy maintenance. Flat surfaces provide an improved hygienic design and easy cleaning processes, a must when processing sensitive products like bars, biscuits and baked goods. Additionally, a new HMI supports operators with step-by-step instructions for daily operations, communicates real-time information about the machine and line status, as well as instructions for upcoming maintenance – an all-round offer to simplify your packaging processes.
Starting at entry-level
Our Pack 102 is a multi-talented, horizontal flow wrapping machine for entry-level lines. With an output of up to 150 packages per minute, it is the ideal companion for startups and medium-sized companies taking their first steps in automation or needing a flow wrapper for smaller batches. Thanks to its wide format range, the machine can flexibly process various products such as bakery, bars, biscuits, cookies, and crackers. We support you at every level and help you keep your costs low.
Reliable hermetic packaging
When in need of highly reliable and tight sealing, look no further: the Sigpack HML is suited for the hermetic packaging of various pharmaceutical products such as vial cards, pens, or inhalers. The horizontal flow wrapping machine creates tight seals either with heat or heat ultrasonic technology. Its open machine design enables a quick line clearance, thus ensuring high process safety at an output rate of 200 to 350 packages per minute.
Backed by our long-standing experience in system integration, we support you to successfully implement your ideas and visions. Our seamlessly integrated systems benefit from coordinated components, tailored specifically to your requirements. Together, we will develop a customized solution for your horizontal packaging processes, including product distribution systems, feeding solutions, horizontal flow wrapping, and secondary packaging. A uniform control platform for the entire system ensures optimal operations and contributes to a high overall equipment effectiveness (OEE). From entering the packaging process until your products are transported to supermarket shelves, we have got you covered:
Product distribution systems
Feeding systems
Primary packaging in flow wraps
Primary packaging in multi packs
Secondary and final packaging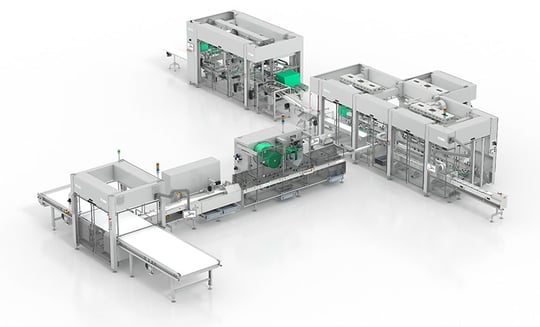 Efficient manufacturing for everyone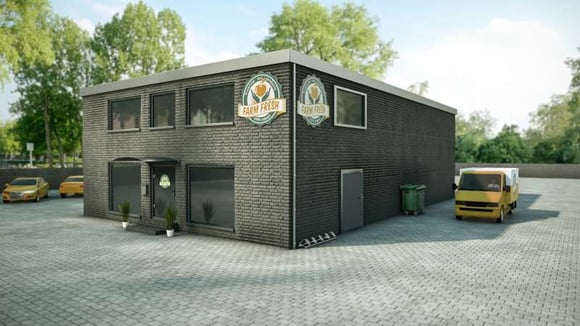 Horizontal flow wrap machines for startups and small companies
---
Automation helps with labor-intensive packaging steps, especially when headcounts are small and product safety is a priority. Flow wrapped packs protect the product from environmental influences at low cost. They offer lots of options in terms of brand recognition: different materials and packaging designs convey brand values and high product quality. With up to 150 products per minute, entry-level machines already deliver a significantly higher output than manual packaging. In addition, it avoids direct contact between operator and product, thus improving product safety.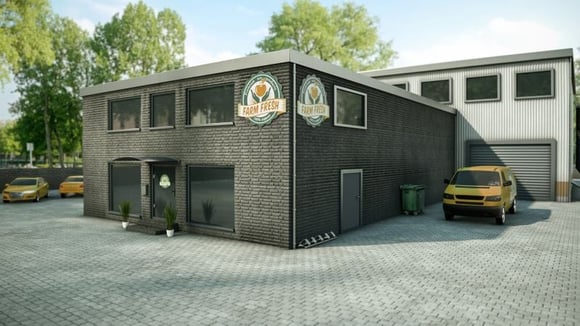 Automating the future of small and medium-sized manufacturers
---
Young and innovative, fast-growing companies often need to adjust their production needs to ever-changing markets and be able to scale up their production output quickly. Expanding their production and packaging facilities must be carefully considered though. The packaging system must be flexible to accommodate a variety of products and packaging formats. It is important to invest in reliable, future-proof technologies that are easy to operate and clean and ensure optimal resource efficiency. Our experts support you in adapting your production lines and service contracts to your individual requirements. Together we work on achieving your production targets quickly and efficiently.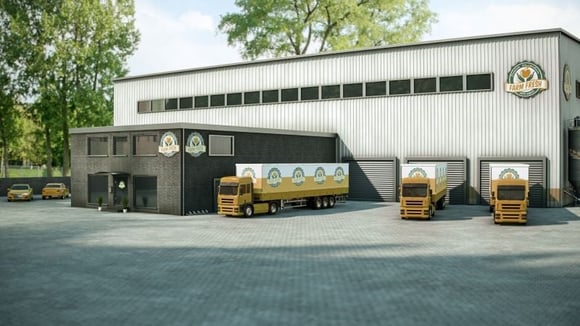 System integration for medium-sized and large companies
---
Established companies looking to increase their market share, need to adjust their processes to changing requirements. With Syntegon, they benefit from fast changeovers for different products and package configurations, and quick and easy cleaning processes to avoid contamination. Our systems can be seamlessly integrated to function as a single unit – which makes your production more efficient and ready for industry 4.0. All interfaces are harmonized and the machines communicate with one another. This allows the system to autonomously regulate itself and ensures continuous product flows. The result: reduced downtimes and higher output.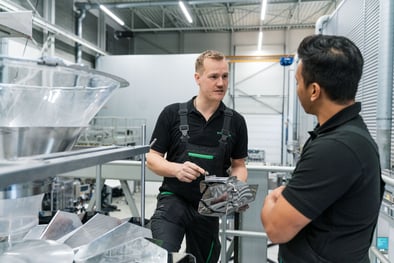 Find out more about our Service Agreements here.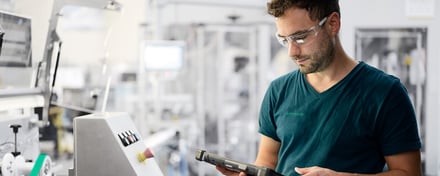 Find out more about Digital Solutions here.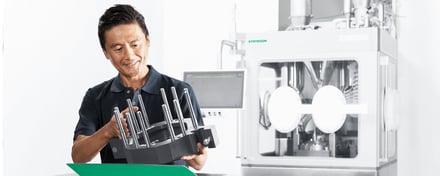 Find out more about Parts here.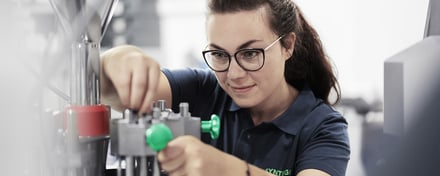 Find out more about Maintenance here.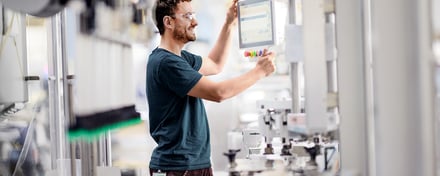 Find out more about Technical Support here.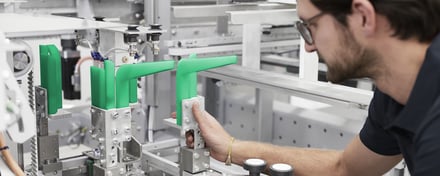 Find out more about Modernizations here.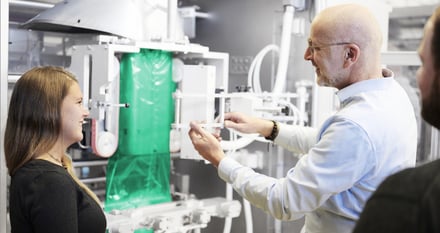 Find out more about our Training here.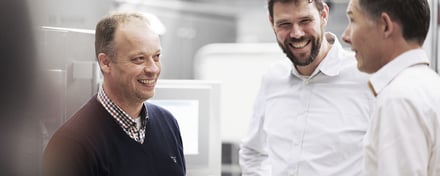 Find out more about our Expert Services here.
Why choose a Syntegon horizontal packaging machine?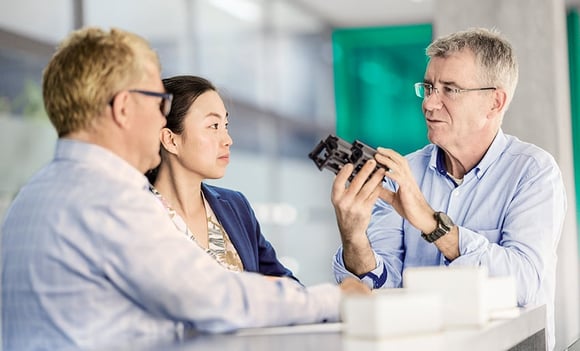 About us
---
Processing and packaging for a better life – this is what our employees work for every day. Looking back on a 160 years of experience, the portfolio of intelligent, innovative and reliable solutions help our customers in the global pharmaceutical and food industries to improve people's life. With 1,100 service experts and a comprehensive service portfolio throughout the entire machine lifecycle from spare parts management to digital line optimization, Syntegon lays the foundation for smooth production processes for all customers.
patents and patent applications
machines installed world-wide
https://www.syntegon.com/hubfs/05_website/Content/1-Solutions/2-Food/02-Technology-pages/01-Horizontal-packaging/Syntegon-Overview-Horizontal-Flow-wrapping.pdf|Overview-horizontal-flow-wrapping
Horizontal packaging downloads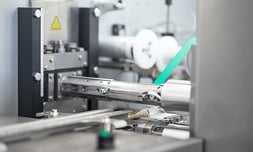 Overview Horizontal Flow Wrapper​
Visually appealing, cost-efficient, and extremely flexible: flow wraps are the all-round solution for packaging food products.​
Our customers are also interested in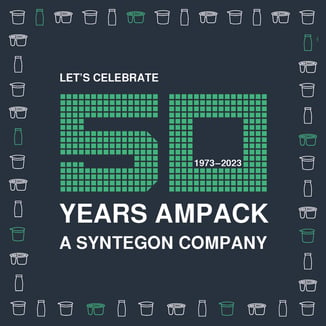 24.08.2023
We celebrate 50 years of Ampack
With over 1,700 machines in operation worldwide, Ampack GmbH is the technology leader for filling and packaging machines for the dairy and food industries.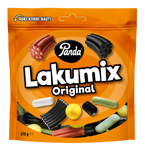 Frequently asked questions
Flow wrapping is the process of creating a horizontal bag from a single roll of film. Both ends of the film are sealed with either hot- or cold-sealing technologies to form pouches. The packaging is very flexible which allows manufacturers to wrap a variety of products, such as cookies, biscuits and bakery goods, confectionery, snacks or even medical devices.
Horizontal Form-Fill-Seal equipment produces a pouch or flow wrap, then fills and seals it in the same process step. The material travels through the machine in a horizontal direction. Combining the three steps of HFFS optimizes the total cost of ownership (TCO) and allows for more flexibility in packaging sizes and formats.
The most important requirements are accessibility and visibility. Visibility ensures efficient cleaning processes, while accessibility helps cleaning and sanitizing production facilities. Easy disassembly and assembly of belts, rollers or scrapers is required for hygienically designed machines. With our machines, all parts that are in contact with product residue can be removed quickly without using tools – this ensures spotless machines.
Different distribution and feeding solutions are available to ensure gentle and hygienic product handling. We can also advise on distribution solutions to prevent waste by adding buffer systems. The solutions range from row distribution to robotic solutions to give systems a wide flexibility and to comply with all different product types in the bakery segment.
Whenever possible in terms of product protection, we recommend paper-based solutions. Latest barrier paper developments can be recycled in the paper waste stream and offer higher barrier protection at the same time. This makes it a suitable option for sticky or oily baked goods. For sensitive products, such as cakes or soft cookies, where very high barriers are needed, mono-polyolefin plastic is a fully recyclable and more sustainable packaging material. These mono-materials can be made from PE (Polyethlyen), PP (Polypropylen) or even a combined solution.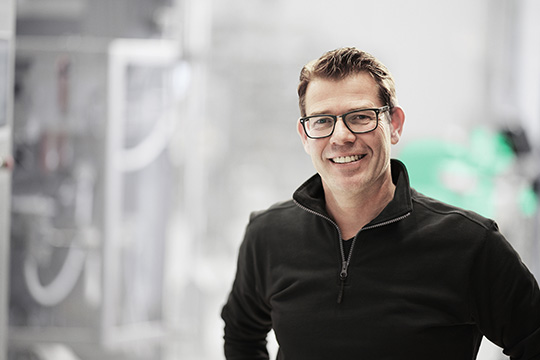 Interested in horizontal flow wrapper machines?
Local Agent
---