The new Annex 1 and its impact on sterile filling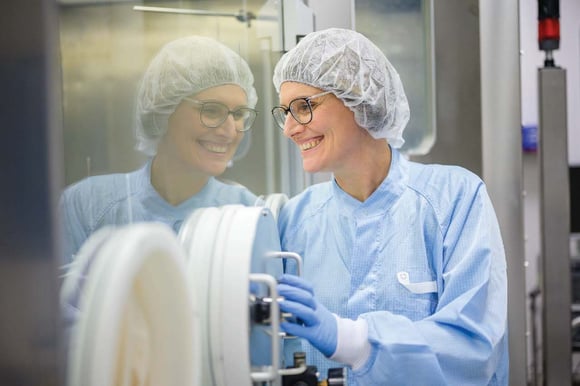 Even before its release, Annex 1 has triggered many heated debates on how it will influence existing aseptic manufacturing processes. These debates have further intensified after publication in August 2022. On the one hand, some paragraphs leave a lot of room for interpretation. On the other hand, the industry fears overregulation.
But what impact will the new EU GMP Annex 1 really have on sterile filling and processing operations? How will it change the way we work in the pharmaceutical industry? And which technologies are particularly suitable? Let's talk about it!
Quick facts about the new Annex 1:
Annex 1 entered into force on August 25, 2023.

It

is

a

coordinated

document

between

the

three

institutions

WHO, EMA and PIC/S.

Compared

to

the

last

revision

from

2008,

the

number

of

pages

has

increased

from

16

to

58.

The

size

of

the

chapter

"

Barrier

technologies

"

has

quadrupled

.
What are the key aspects of the new Annex 1, Johannes Rauschnabel?
Dr. Johannes Rauschnabel is GMP expert at Syntegon and provides an overview of the most important changes in the new Annex 1.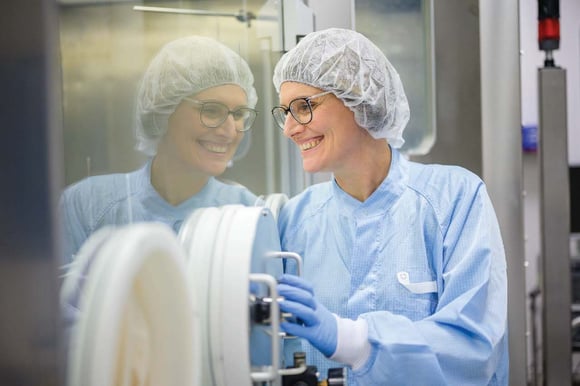 Quality risk management and contamination control strategy
---
Annex 1 is all about avoiding product contamination. To make sure that microbial, particulate, and endotoxin/pyrogen contamination is prevented in the final product, Syntegon develops appropriate procedures and equipment. We support Quality Risk Management principles to provide a proactive means of identifying, scientifically evaluating, and controlling potential risks to quality.
Qualification and validation activities demonstrate that the design and procedures have been implemented correctly and continue to perform in line with expectations. We offer a wide range of EU GMP/PICs and US cGMP-compliant qualification and validation services – including risk analysis workshops. You can choose from our different activities according to your needs.
First Air
---
According to Annex 1, First Air refers to filtered air that has not been interrupted prior to contacting exposed product and product contact surfaces with the potential to add contamination to the air prior to reaching the critical zone. Any part causing interruption needs to be removed or, if not possible, must be removable and autoclavable.
Markus Heinz, Global Product Manager at Syntegon, explains how the machine and isolator design of the fill finish equipment can help to align with the principles of First Air.
Besides UDAF-friendly designed parts, we offer our customers the performance and documentation of flow simulations to ensure compliance with the First Air principle. This service is available as part of new projects as well as for existing machines.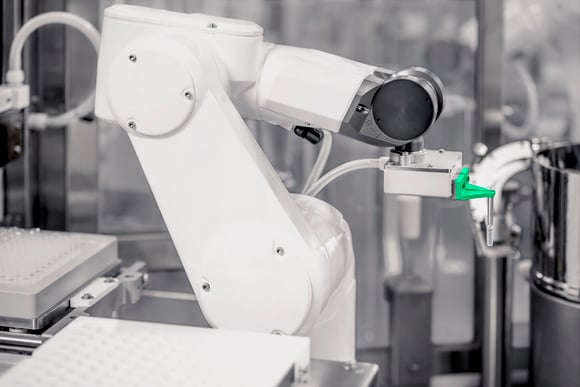 Sterility and appropriate technologies
---
Creating and maintaining sterility are important parts of the new Annex 1. Minimizing contamination, instructing staff in the best possible way, and continuously securing quality in all areas are among the measures to achieve these goals. The same applies to advanced equipment and manufacturing systems. Syntegon offers the right technologies along the complete sterile filling process to meet the new requirements.
Our solutions for aseptic fill finish
Prominently recommended in the second chapter "Appropriate technologies": automation and robotic systems, such as the equipment shown in Figure 1, are already increasingly sought-after.
The goal is to reduce gloves and human interventions in barrier systems to an absolute minimum. "Gloveless" systems should be applied wherever possible, for example the Versynta microBatch solution.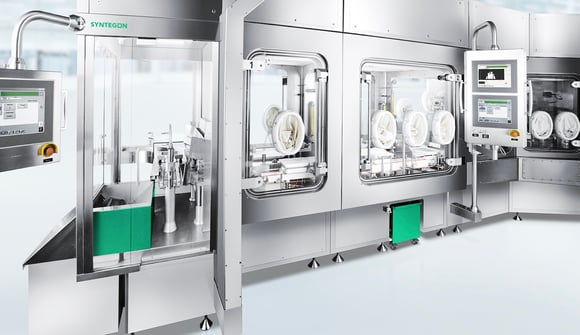 Barrier technologies / RABS and isolators
---
The new Annex 1 describes the use of barrier technologies in much more detail than previous versions. In fact, the volume of the chapter "Barrier technologies" has quadrupled.
Syntegon offers a comprehensive portfolio including open RABS, closed RABS, containment and isolator systems. All solutions are tailored to customer requirements, from machine design and development to on-site installation and validation. Of course, we also support you in getting your existing lines "Annex 1-ready" with appropriate retrofit solutions.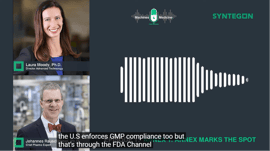 Annex 1 marks the spot
Listen to our podcast episode about Annex 1


https://www.syntegon.com/hubfs/05_website/Content/2-Service/8-Expert-Services/03-Annex-1-Compliance/RABS_Upgrade_Flyer_EN.pdf|RABS_Upgrade_Flyer_EN https://www.syntegon.com/hubfs/05_website/Content/2-Service/8-Expert-Services/03-Annex-1-Compliance/Brochure_Barrier_Systems_accessories_EN.pdf|Barrier-systems_accessories_en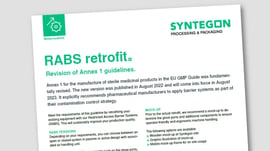 RABS retrofit
Meet the new requirements by retrofitting your existing equipment with our RABS.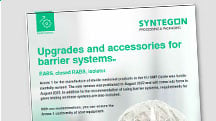 Barrier Systems
Learn more about our Annex 1 compliant modernizations and accessories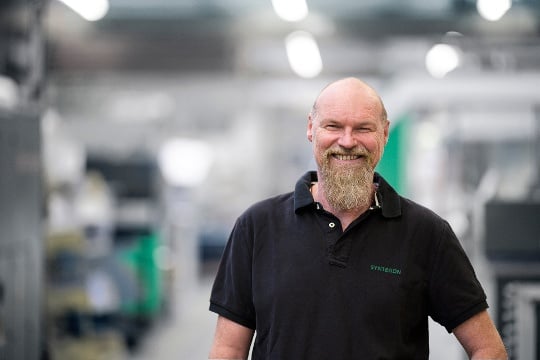 Get in touch with our experts
The right Service for you
patents and patent applications
machines installed world-wide