Innovative services tailored to your needs
A comprehensive service portfolio lays the foundation for smooth production processes. Our global network of experts supports you throughout the entire machine lifecycle, from spare parts management to digital line optimization. Service agreements are a key element of our portfolio structure. We minimize production risks and maximize the efficiency of your equipment by working with you as equal partners.
Sustainability
Accelerate your journey to sustainability

We work with you to analyze your individual requirements for packaging materials, develop environmentally responsible packaging solutions and test them under conditions similar to those in your production. On the basis of this comprehensive evaluation, you will receive individually tailored recommendations for sustainable materials.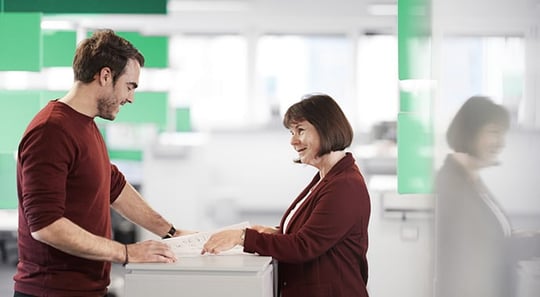 Service Agreements
Service agreements for strong partnerships
With our long-term contracts, we assume responsibility for smooth production processes and maximum machine efficiency. You decide which model suits your individual needs – we support you from basic service to guaranteed production performance. You benefit from fixed conditions and minimal risks. Contact us to learn more.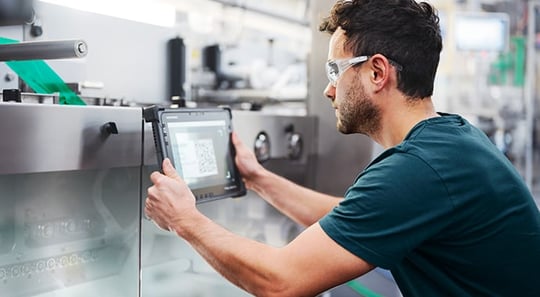 Digital Solutions
Boost your productivity with our digital solutions

Our portfolio addresses your production and maintenance needs. This approach integrates existing services from Syntegon, so that you can benefit from proven and reliable solutions.
Services of particular interest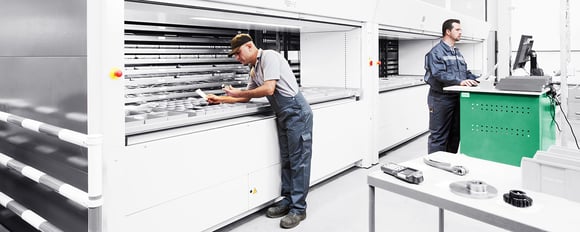 Stock optimization
---
Improving your overall spare parts management requires detailed knowledge of your spare parts consumption and delivery times. Based on a detailed analysis and your individual profile, our stock optimization service helps you to achieve higher availability with minimal stock.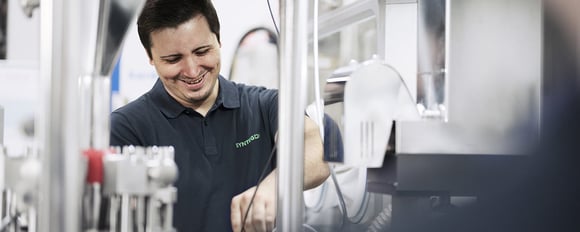 Planned and unplanned maintenance
---
Professional maintenance is essential to ensuring the trouble-free operation of your packaging machines and thus preventing costly production stoppages. Thanks to our global presence, our field service engineers are never far away, and will be happy to support you with your maintenance needs.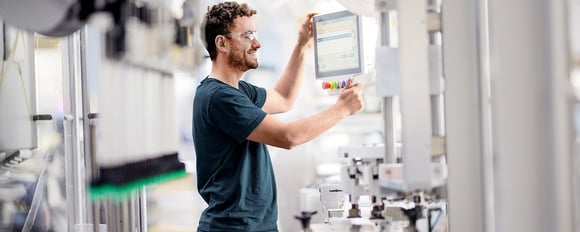 Remote services
---
For immediate support when traveling is not an option, our remote services and helpline have you covered. Together, we can correct potential faults remotely before they result in major production disruptions. This minimizes unexpected downtimes and saves you time and money.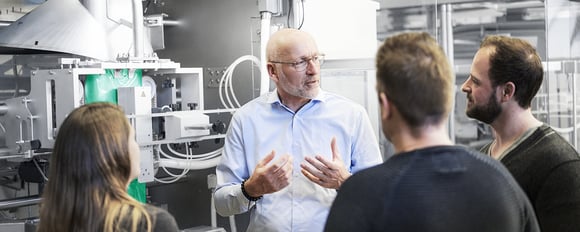 Training
---
We offer you customized training programs covering all aspects of maintenance and ongoing operations. In addition to on-site training, we provide various virtual formats accessible anytime and anywhere. By continuously qualifying your employees in line with their needs, you can ensure smooth production operations.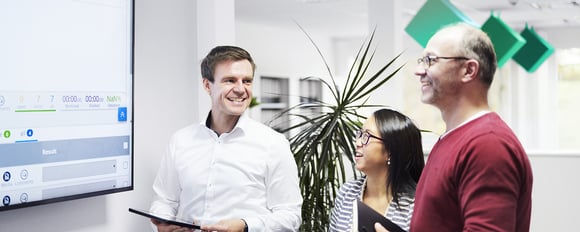 Performance optimization
---
We can assist you in getting the most out of your machines. Individual consulting projects or our technical audits help you boost the overall performance of your equipment and optimize your processes.
https://info.syntegon.com/hubfs/Content/2%20Service/0%20Service%20Overview/Service_Overview_Download_Material_Testing_Brochure_EN.pdf|Service_Overview_Download_Material_Testing_Brochure_EN https://info.syntegon.com/hubfs/Content/2%20Service/0%20Service%20Overview/Service_Overview_Download_Stock_Optimization_Brochure_EN.pdf|Service_Overview_Download_Stock_Optimization_Brochure_EN https://info.syntegon.com/hubfs/Content/2%20Service/0%20Service%20Overview/Service_Overview_Download_Remote_Services_Brochure_EN.pdf|Service_Overview_Download_Remote_Services_Brochure_EN https://info.syntegon.com/hubfs/Content/2%20Service/0%20Service%20Overview/Service_Overview_Download_Technical_Audit_Brochure_EN.pdf|Service_Overview_Download_Technical_Audit_Brochure_EN
Syntegon Services Downloads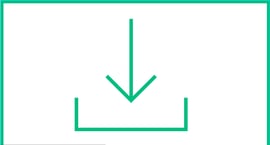 Comprehensive testing and consultation program
With this individually tailored program, we support you from consulting, to packaging material and machinability analysis for your specific equipment, to packaging process and machine adjustments, as needed.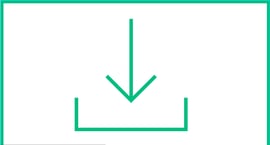 Stock optimization
Analyze to optimize. Always have the right spare parts in stock while minimizing your stock level. Increase your profitability through improved spare parts management.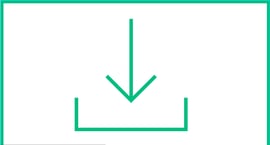 Remote services
Expert assistance from afar. Fast and efficient support thanks to our remote services. Minimize unplanned downtimes to save time and money.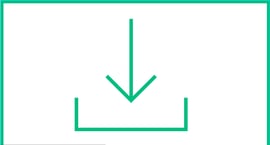 Technical audits
Systematic process analysis. Evaluate your processes and assess the performance of your machines. Our experts analyze your equipment and provide you with optimization proposals.
Our customers are also interested in