Unlike other solutions, our fluid bed lines allow you to dry, granulate and coat more efficiently with one and the same product container. With an ideal air distribution and an efficient filter system, you can achieve maximum drying efficiency at minimum product losses. Heat transfer and drying are more homogenous and faster, with a high flexibility in batch size.
Through the uniform fluidization and the nozzles positioned in the bottom, a perfect liquid distribution is obtained, creating granules with a unimodal particle size distribution. The same set-up can be used for pellet and particle coating resulting in much faster and more homogenous layering.
Fluid bed processor technology & features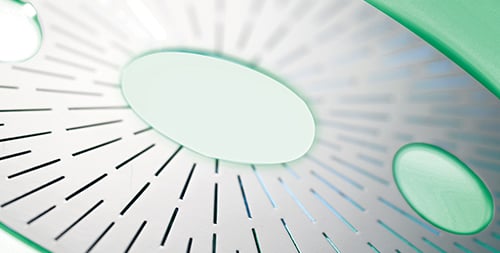 Hüttlin Diskjet air distribution plate​
Controlled mixing and fast drying requires efficient process air distribution. Our unique Hüttlin Diskjet accelerates and guides the airflow, preventing the bed from sticking and clogging. The results are homogenous batch fluidization, shorter process times and reduced filter loads. This is also the basis for high flexibility in batch size.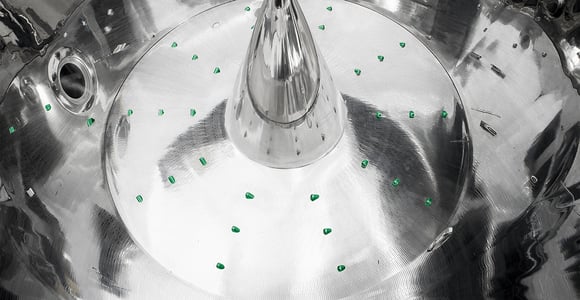 Three-component nozzle
In addition to the spraying liquid and atomizing air, the nozzles provide our unique Microclimate, an air shield that protects the nozzles from clogging while supporting the liquid distribution. By positioning the bottom spray nozzles in the direction of the Diskjet's process air flow, you obtain higher spray rates and better yield.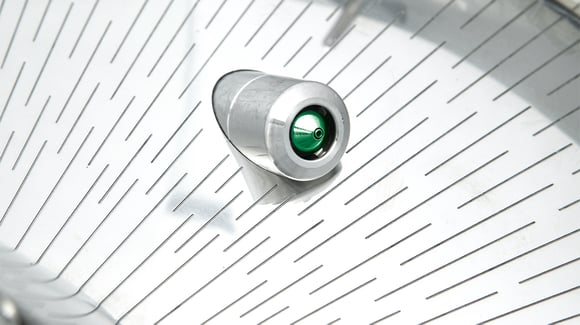 Flexible spraying options
Besides our unique bottom spray technology, you can either choose traditional top spray or tangential spray. This spraying flexibility helps you support already registered formulations that rely on, e.g. top spray technology.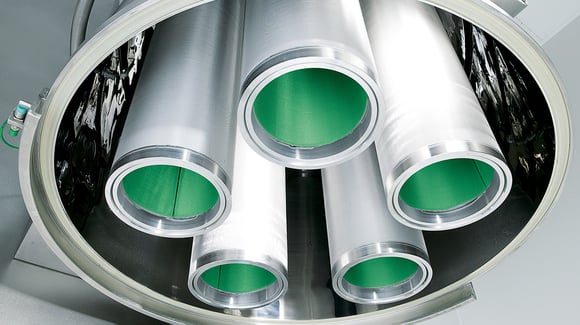 Dynamic filter
The sequential cleaning of each filter element in combination with an increased filter surface by internal filter cones enables high performance processes without impacting the product's fluidization. CIP-able metal filters are available as option.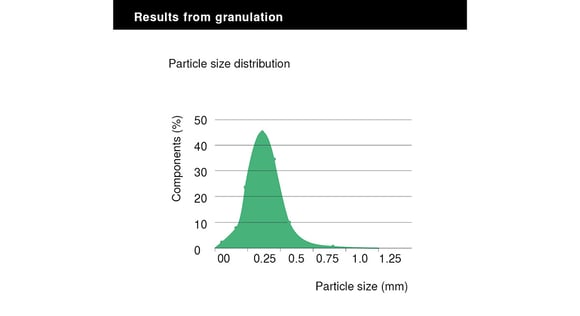 Superior granule characteristics
Our unique bottom spray system helps you achieve a homogenous fluidization, leading to unimodal particle size distribution, as well as excellent flow and tableting properties of granules. At the same time, you can achieve higher yields and shorter process times.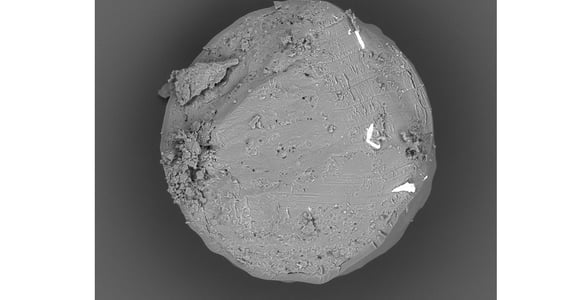 Pellet coating unchained
In contrast to the traditional Wurster system, the Hüttlin coating approach is less complex as no tubes are required. Hence, more spray nozzles can be implemented and 100% of process air and container volume is used for the coating process. This results in shorter process times and higher yield.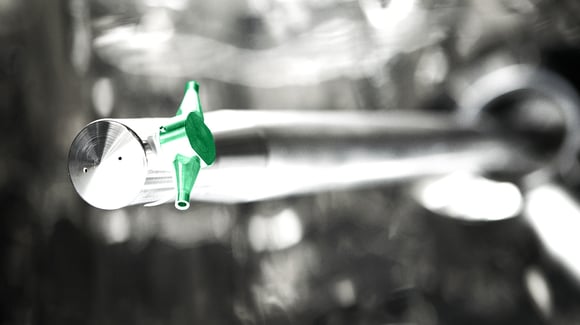 Cleaning – automated and efficient
Depending on your cleaning requirements, you have the choice from a basic automated cleaning system up to an advanced automated UltraClean system. On three different positions a moving retractable jet cleaner with a 360° rotating nozzle efficiently cleans all surfaces for reproducible and validatable results.
Are you looking for a solution for early-stage development?
Our tabletop unit Solidlab 1 enables you to test small R&D batches in a fast and easy way. As an ideal solution for your feasibility studies, it can be equipped either with a fluid bed or a drum coater module. The fluid bed version comes with two different product containers for batches from 0.05 to 1 kg, contributing to versatile product development and accurate recipe examination.

Unlike most other solutions in the market, the Solidlab 1 comes with our PROVICON control system featuring open recipe creation and management for time-saving product development.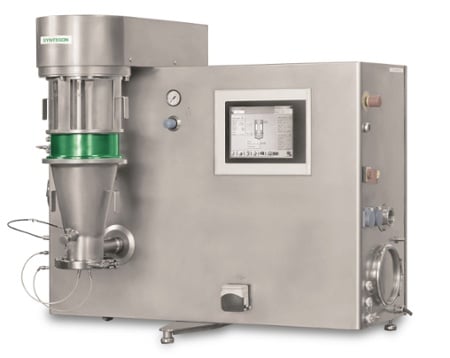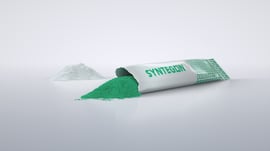 Outstanding granule quality
Whether you compress granules into tablets or fill them into capsules or sachets, e.g. for nutraceuticals – our fluid bed means outstanding quality for any dosage form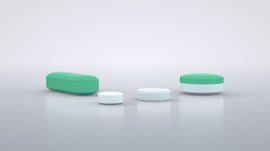 Tablets at their best
Outstanding granule properties like smooth flowability and an ideal particle size distribution result in excellent compression characteristics – even at very low API concentration, e.g. for cancer therapy.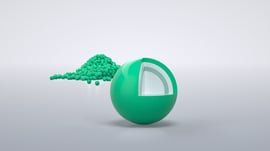 Perfect pellets
Design and produce high-quality pellets with precisely applied multifunctional layers that release active pharmaceutical ingredients in a controlled way.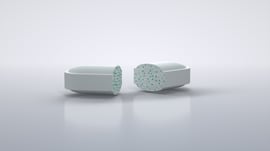 MUPS: Multi-unit excellence
Our high-quality pellets enable their compression into stable multi-unit pellet system tablets (MUPS) with an excellent release profile, e.g. for proton pump inhibitors such as Esomeprazole.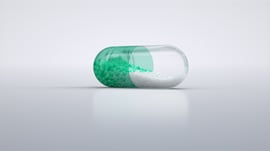 Yes we capsule
Granules, pellets and mini tablets are perfectly suitable for fixed-dose or personalized combination capsules, e.g. anti-infective drugs. Our fluid bed granulators ensure optimum quality of the individual components.
Technical data of our fluid bed processor
up to
% shorter process times
3 processes in
process container
Technical data overview
Solidlab 1

R&D scale
Solidlab 2 Plus

R&D scale
Pilotlab

Pilot scale
HD/HDG/HDGC

Production scale
GranuLean

Production scale
Batch size
50 g to 1 kg
250 g to 12 kg
4 kg to 50 kg
25 kg to 1,600 kg
15-480 kg
At a density of
0.5 kg/l
0.5 kg/l
0.5 kg/l
0.5 kg/l
0.5 kg/l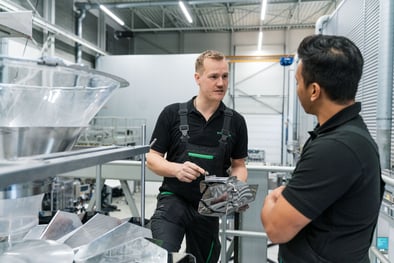 Find out more about our Service Agreements here.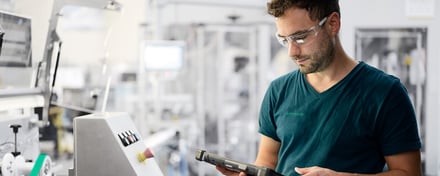 Find out more about Digital Solutions here.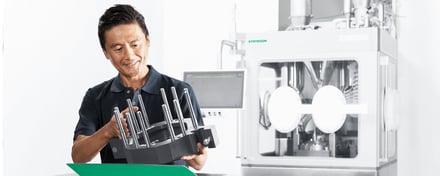 Find out more about Parts here.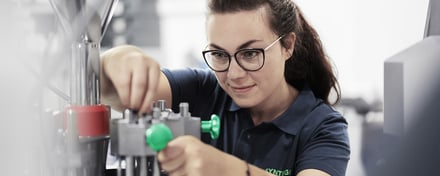 Find out more about Maintenance here.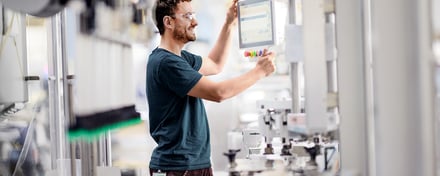 Find out more about Technical Support here.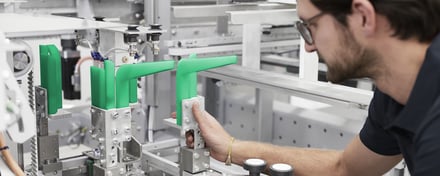 Find out more about Modernizations here.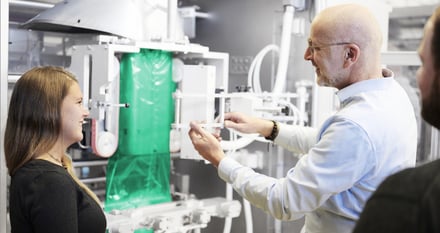 Find out more about our Training here.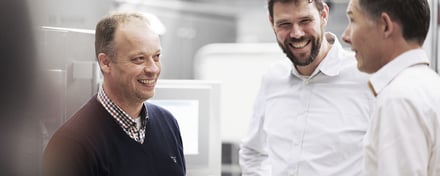 Find out more about our Expert Services here.
Why choose a Syntegon fluid bed processor?
About us
---
Oral solid dosage forms (OSD) are our specialty: in the course of our long business history, we have been supporting countless industry players across the globe and sharing our rich expertise in fluid bed processing. As an innovation-driven company, we are far from maintaining the status quo: over the last few years, we have been actively pursuing new ways to advance OSD manufacturing. Download our selection of brochures to find out more.
Inventor of the Diskjet, dynamic filter and microclimate
https://www.syntegon.com/hubfs/05_website/Content/1-Solutions/1-Pharma/1-Technology-pages/35-Fluid-Bed-system/SYN_Fluid_Bed_System_brochure_EN-DP.pdf|Syntegon_Huettlin_Fluid_Bed_System https://www.syntegon.com/hubfs/05_website/Content/1-Solutions/1-Pharma/1-Technology-pages/35-Fluid-Bed-system/SYN_RnD_Equipment_brochure_EN-DP_23.pdf|RnD_Equipment_Brochure_SYN https://www.syntegon.com/hubfs/05_website/Content/1-Solutions/1-Pharma/1-Technology-pages/35-Fluid-Bed-system/SYN_Containment_Brochure_EN-DP.pdf|Containment_Solutions_OSD_brochure_SYN https://www.syntegon.com/hubfs/05_website/Content/1-Solutions/1-Pharma/1-Technology-pages/35-Fluid-Bed-system/SYN_Granu-Lean_brochure_EN_DP.pdf|SYN_broschuere_Granu_Lean_EN-DP https://www.syntegon.com/hubfs/05_website/Content/1-Solutions/1-Pharma/1-Technology-pages/35-Fluid-Bed-system/SYN_Pharma-Solid_brochure_EN-DP.pdf|Syntegon_Brochure_Pharma_Solid_overview https://www.syntegon.com/hubfs/05_website/Content/1-Solutions/1-Pharma/1-Technology-pages/35-Fluid-Bed-system/PDH_Services_en.pdf|SYN_broschuere_Huettlin_Services_EN-DP
Fluid bed processor downloads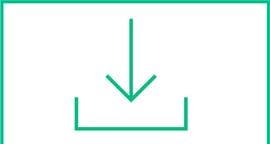 Fluid bed brochure
Our solutions have one thing in common – Quality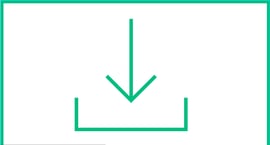 R&D Equipment
Our R&D equipments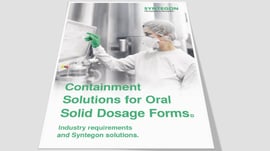 Containment Brochure
Industry requirements and Syntegon's containment solutions for OSD forms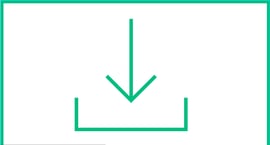 GranuLean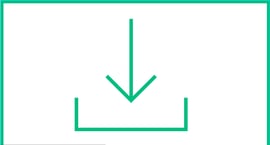 Pharma Solid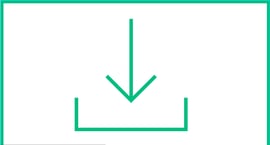 Hüttlin Services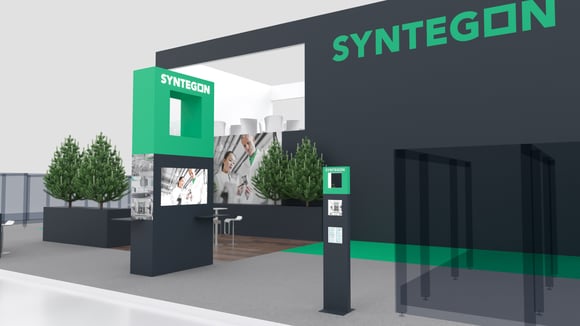 Events » Syntegon
Our specialists will be happy to meet you at numerous events all over the world – virtually and on site, for example at trade shows, conferences, or in webinars.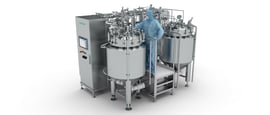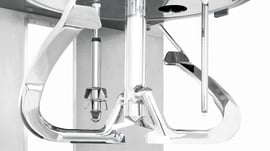 High-shear mixer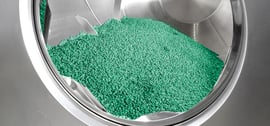 Tablet coating

Tablet compression

Capsule filling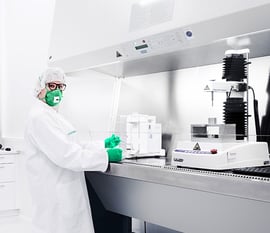 Pharma services (Solid)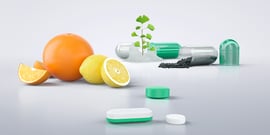 Nutrition and health services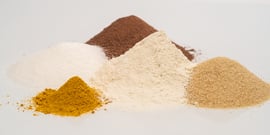 VFFS of powder and granules
Continuous manufacturing
Frequently asked questions
Fluid bed systems allow to dry, granulate, and coat pharmaceutical ingredients using a combination of technologies. An air distribution plate guides conditioned process air to mix and dry the materials in a uniform way, while special spray nozzles apply granulation and coating solutions into the fluidized product.
Fluid bed granulation is a key process step of solid dosage production, during which binding agents are added to the fluidized powdered product. As a result, the product forms granules, i.e., larger particles than those present in the initial mixture. Particle sizes can be controlled via pre-defined parameters. The goal of granulation is a uniform granulate that supports both optimum flow characteristics and good compressibility, resulting in high content uniformity and a reproducible dissolution profile of the final tablet.
A fluid bed processor refers to the entire system comprising air handling components, an air distribution plate, spraying system, a product container and filters. A fluid bed dryer is limited to the drying function and has no spraying system.
Coating in the fluid bed system is based on a controlled particle movement, guiding neutral pellets (inert spherical particles made from sugar starch, cellulose, tartaric acid, for example) through a spraying zone to apply functional layers homogenously on the pellets with simultaneous drying. Several spraying system arrangements are available: top spray, Wurster technology, tangential spray and bottom spray.
The parameters of a fluid bed processor include process air flow, spray rate and spray pressure, inlet humidity of process air and inlet temperature of process air.
Process time can be impacted by various parameters. First, by increasing the speed of the inlet process air in order to optimize the airflow and achieve a better heat transfer, resulting in an effective process air usage and a perfect movement of the product inside the fluid bed. When achieving a homogenous movement of the product through the spraying area and maximizing the spraying zones, spray rates can be increased and lead to significantly reduced process times.
The maximum weight gain of pellets depends on the machine size and the flexibility of the equipment to handle different batch sizes. Ideally the entire batch can be coated without the need for batch splitting. The minimum fill level in a machine is 10% of the container volume, so the maximum weight gain is 9 times the original weight of the pellet.
With an optimized end process a yield of more than 99% can be achieved with a bottom spray system.
The goal of any granulation process is to achieve a unimodal particle size distribution with a small standard deviation. This leads to minimized fines and a more precise volumetric dosing in the tablet press. Based on experience a D50 particle size distribution of 250 µm is ideal for good flowability.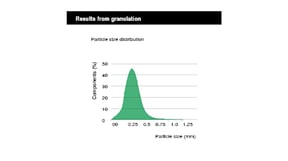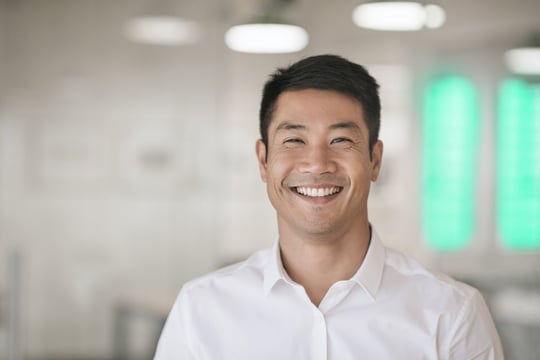 Interested in fluid bed processors?