Bakery packaging machines
Syntegon is a leading provider of packaging technology for the baking industry. Our broad portfolio has all your needs covered: from horizontal feeding and distribution to flow wrapping, automated solutions, and secondary packaging – even for delicate products such as bread, buns, cupcakes, croissants, muffins, pastry, and wafers.
Whether you are looking for a stand-alone machine or a complete system solution, we will support you with our long-standing expertise. With our proven technologies, your bakery products will live up to your customer's expectations and have an overall improved quality with a fresher taste and aroma smell.
Our expertise in bakery products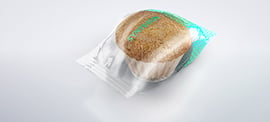 Cupcakes
Syntegon's pocket chain makes sure even irregularly-shaped products can be wrapped at high capacities, as the product transport is fully controlled throughout the packaging process.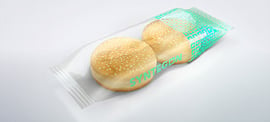 Hamburger buns
Our solutions are optimized for Modified Atmosphere Packaging to keep the buns fresh, while the flexible overhead conveyor holds them in place.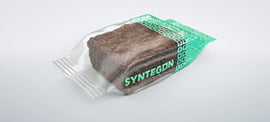 Brownies
Our systems feature a wide format range for flow wrapping different brownies and soft cakes and placing them into retail cartons.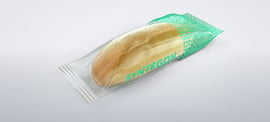 Bread
Thanks to longer sealing times, our flow wrapping machines are able to create hermetically sealed flow wraps to make your bread taste fresh longer and extend its shelf life.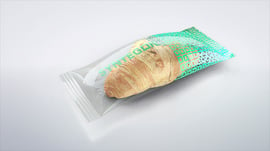 Croissants
Croissants and other pastry products are particularly sensitive to damage. Our gentle handling technologies protect them during the packaging process, ensuring premium product quality.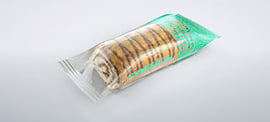 Layer cake
We combine speed, flexibility and gentle handling of delicate cakes in our packaging systems. You can choose from a wide range of packaging formats.
Bakery packaging machines & features
Syntegon support bakers like you
As demonstrated in this application, Syntegon ensures safe and gentle handling and wrapping of delicate and irregular-shaped baked goods, such as cupcakes. By using automated solutions, our systems are able to control the product transport and minimize breakage.
Syntegon support bakers like you
Our Sales Expert Donald Sanders shares his thoughts on Syntegon's flow wrapping solutions for waffles. Learn more about the challenges of sealing delicate product packaging and how our solutions can help you overcome them.
The gain of linear motors (XTS)
Due to the high degree of flexibility that is becoming increasingly important in the confectionery industry, Syntegon recognized the potential of XTS technology from Beckhoff early on. The Syntegon team in Beringen has been working with the Beckhoff experts since 2011 and was one of the first XTS customers. No other manufacturer in the packaging industry has implemented as many XTS applications as Syntegon.
Our bakery packaging solutions have got you covered
Freshly baked products tend to lose their consistency quickly. Fast packaging processes are key to preserving the original taste and consistency. Syntegon's reliable solutions, including buffering systems, reduce product backups and enhance throughput to make sure your baked products are processed quickly. Fast troubleshooting and availability of spare parts get your machines back up and running in a short time.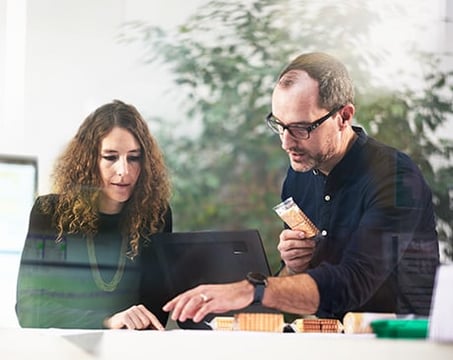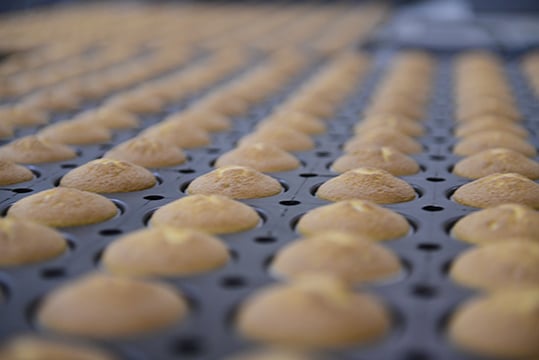 Our expertise, your advantage
Case study Almarai
Handling bakery products is a challenge for manufacturers: muffins, pastries and croissants are very diverse and delicate products that must be handled with care – from distribution to primary packaging. One of the world's largest baking manufacturers, Almarai, therefore relies on integrated packaging systems from Syntegon.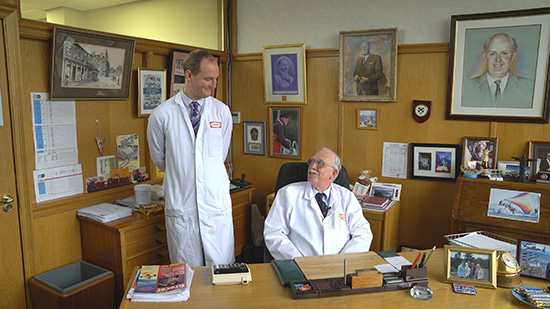 Our expertise, your advantage
Case study Tunnocks
The famous Scottish biscuit manufacturer Tunnock's approached Syntegon for a new horizontal line to package their famous caramel wafers. Syntegon provided a flexible and comprehensive packaging system including a buffer, two horizontal flow wrappers with intelligent infeed and a flexible case packer.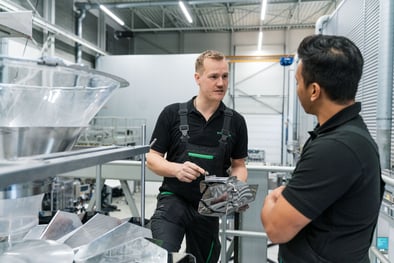 Find out more about our Service Agreements here.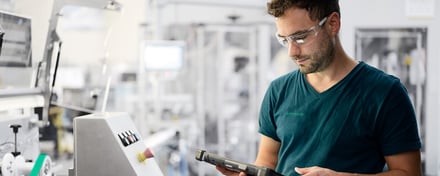 Find out more about Digital Solutions here.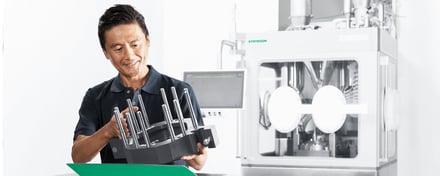 Find out more about Parts here.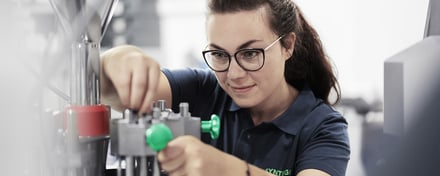 Find out more about Maintenance here.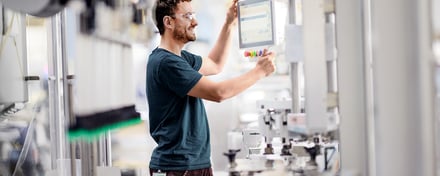 Find out more about Technical Support here.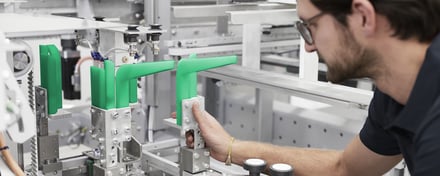 Find out more about Modernizations here.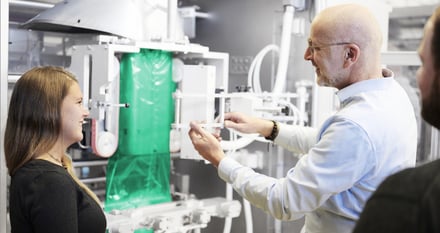 Find out more about our Training here.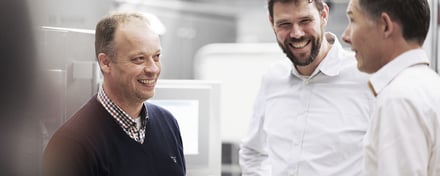 Find out more about our Expert Services here.
https://www.syntegon.com/hubfs/Content/1-Solutions/2%20Food/01%20Industry%20pages/01%20Bakery/Bread%20wrapped%20with%20long%20dwell%20solution.pdf|Bread wrapped with long dwell solution https://www.syntegon.com/hubfs/Content/1-Solutions/2%20Food/01%20Industry%20pages/01%20Bakery/Brownies%20and%20Soft%20Cake.pdf|Brownies and Soft Cake https://www.syntegon.com/hubfs/Content/1-Solutions/2%20Food/01%20Industry%20pages/01%20Bakery/Brownies%20in%20Single%20pack%20configuration.pdf|Brownies in Single pack configuration https://www.syntegon.com/hubfs/Content/1-Solutions/2%20Food/01%20Industry%20pages/01%20Bakery/Cupcakes%20in%20single%20wrap%20with%20pocket%20chain.pdf|Cupcakes in single wrap with pocket chain https://www.syntegon.com/hubfs/Content/1-Solutions/2%20Food/01%20Industry%20pages/01%20Bakery/Cupcakes%20wrapped%20in%20paper.pdf|Cupcakes wrapped in paper https://www.syntegon.com/hubfs/Content/1-Solutions/2%20Food/01%20Industry%20pages/01%20Bakery/Endload%20Lines%20for%20Mini%20Cakes%20(Video%20Link).pdf|Endload Lines for Mini Cakes (Video Link) https://www.syntegon.com/hubfs/Content/1-Solutions/2%20Food/01%20Industry%20pages/01%20Bakery/Hamburger%20buns%20in%20multipack%20pack%20on%204%20wrapping%20legs.pdf|Hamburger buns in multipack pack on 4 wrapping legs https://www.syntegon.com/hubfs/Content/1-Solutions/2%20Food/01%20Industry%20pages/01%20Bakery/Highly%20flexible%20waffle%20solution.pdf|Highly flexible waffle solution https://www.syntegon.com/hubfs/Content/1-Solutions/2%20Food/01%20Industry%20pages/01%20Bakery/Hotdog%20Buns.pdf|HotDog Buns https://www.syntegon.com/hubfs/Content/1-Solutions/2%20Food/01%20Industry%20pages/01%20Bakery/Madeleines%20Success%20story.pdf|Madeleines Success story https://www.syntegon.com/hubfs/Content/1-Solutions/2%20Food/01%20Industry%20pages/01%20Bakery/Snack%20Cakes.pdf|Snack Cakes https://www.syntegon.com/hubfs/Content/1-Solutions/2%20Food/01%20Industry%20pages/01%20Bakery/Vertical%20and%20Topload%20Line%20for%20Mini%20Muffins.pdf|Vertical and Topload Line for Mini Muffins https://www.syntegon.com/hubfs/Content/1-Solutions/2%20Food/01%20Industry%20pages/01%20Bakery/Declaration%20of%20Consent.pdf|Declaration of Consent
Bakery packaging downloads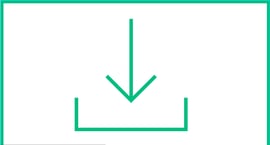 Bread wrapped with a long dwell solution
Success Cases download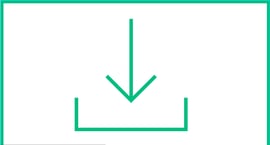 Brownies and Soft Cake
Success Cases download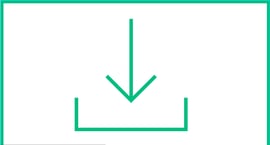 Brownies in Single pack configuration
Success Cases download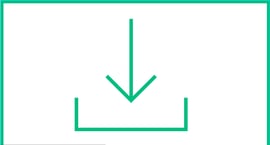 Cupcakes in single wrap with pocket chain
Success Cases download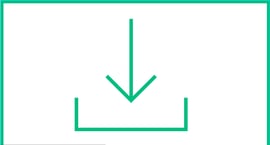 Cupcakes wrapped in paper
Success Cases download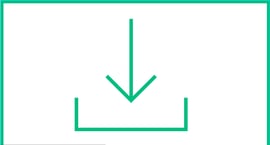 Endload Lines for Mini Cake
Success Cases download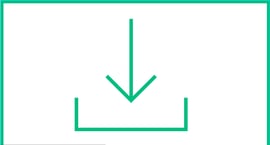 Hamburger buns in multipack pack on 4 wrapping legs
Success Cases download