Syntegon's GKF 60 sets new standards in capsule filling for laboratories.
First presentation at virtual Achema Pulse from June 15 to 16, 2021
The highest dosing flexibilty with the smallest footprint for laboratories and research-based pharmaceutical companies
New capsule filling machine offers inline quality control
Numerous customer inquiries in the pipeline
Waiblingen, Germany – With the new GKF 60, Syntegon Technology sets new standards in lab-scale capsule filling under the motto "GKF 60 – takes your molecule to production". "Researching pharmacists and laboratories need to bring their new drugs to regulatory approval quickly and in a targeted manner. To do so, they need a mobile machine that enables the development of new formulations with a wide variety of dosing systems ‒ flexibly and at different OEB levels," says Matthias Mössinger, Senior Market Expert Pharma Solid at Syntegon. "But that's not enough: the systems used should also be easy to scale-up to production." This is exactly what Syntegon has developed the GKF 60 for.
Highest dosing accuracy and product quality
Above all, the GKF 60 impresses with high flexibility and low space requirements. With only six stations, the machine is extremely compact and requires significantly fewer format parts. "Nevertheless, a total of three filling stations can be integrated in parallel. Customers can choose from numerous options ‒ from the newly developed piezo dosing to the familiar dosing modules for dry powder inhalation (DPI), pellets, tablets, or liquids, to the mini-bowl station for a scale-up to the next larger production machine," Mössinger explains. Especially with very high-priced active ingredients, it is important to fill small quantities flexibly and, if possible, without product loss. The piezo station of the GKF 60 makes this possible even for very small quantities starting at 0.1 milligram filling weight, for example for toxicity or FIM (First In Man) studies.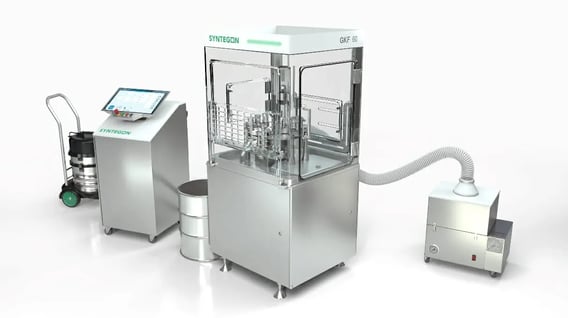 With the new GKF 60, Syntegon sets new standards in lab-scale capsule filling under the motto "GKF 60 – takes your molecule to production".
Reproduction for press purposes free of charge with credit "Picture: Syntegon"
The new Automated Process Development (APD) tool developed by Syntegon is also available for the GKF 60 to determine the optimum parameters for filling and automatically adjust them during the filling process. In addition, each dosing station can be optionally equipped with a gravimetric 100 percent weighing system for each component dosed. " These and many other options, such as cameras and sensors, enable the GKF 60 to provide the necessary quality control during the ongoing process and ensure the highest product quality," says Mössinger.
Flexiblity from OEB3 to high containment
Customers can choose the GKF 60 either in the standard version, the containment variant, or a combi solution. The newly developed changeover concept of the capsule filling machine offers maximum flexibility. "Thanks to exchangeable cabin elements and a sophisticated cleaning concept up to WIP (washing in place), the combi solution can be adapted for both simple and highly potent formulations up to OEB5 high-containment in just a few steps," Mössinger explains. "Another novelty: thanks to an identically constructed basic machine, the standard version can be retrofitted very easily.
The separate control cabinet with integrated operator interface and particularly user-friendly dashboard provides further space savings. "The GKF 60 is a future-proof machine that will continue to develop in the direction of automation and Industry 4.0. The great interest of our customers shows that we are right on target with this far-sighted and very flexible development," Mössinger emphasizes. Since the GKF 60 is also compatible with the GKF 720, Syntegon's smallest production-scale capsule filling machine, there is nothing to stop the scale-up of newly developed formulations.
GKF 60 at Achema Pulse
Customers and interested parties can learn more about the benefits of the new GKF 60 during the virtual Achema Pulse on June 15 and 16, 2021. Moreover, the capsule filling machine is already available for selected customer presentations in the new OSD Customer Center in Waiblingen, Germany.
About Syntegon Technology
Syntegon Technology is a leading global process and packaging technology provider. Formerly the packaging division of the Bosch Group, the company, headquartered in Waiblingen (Germany), has been offering complete solutions for the pharmaceutical and food industries for over 50 years. About 6,000 employees at 30 locations in more than 15 countries generated a total revenue of 1.3 billion euros in 2020. The portfolio of intelligent and sustainable technologies includes stand-alone machines, as well as complete systems and services. Fields of application in the pharmaceutical industry are the production, processing, filling, inspection and packaging of liquid and solid pharmaceuticals (e.g. syringes and capsules). In the food industry, the portfolio includes process technology for confectionery as well as packaging solutions for dry foods (e.g. bars, bakery products and coffee), frozen foods and dairy products.