Anuga FoodTec in Cologne from April 26 to 29, 2022 at stand B-050 in Hall 08.1.
New LFS achieves clean and ultra-clean hygiene levels, while proven Ampack FCL covers ultra-clean and aseptic applications
SmartFill dosing concept delivers maximum precision and minimum product loss
Future-proof solutions enable the use of sustainable packaging materials
Königsbrunn, Germany. Ampack – a Syntegon company, will be presenting its recently expanded portfolio of bottle and cup filling machines for liquid to highly viscous foods at this year's Anuga FoodTec from April 26 to 29, 2022 at stand B-050 in Hall 08.1. In addition to the proven Ampack FCL, the linear filling machine LFS now complements the portfolio, offering solutions for all hygiene levels from clean to aseptic. The new SmartFill dosing concept provides more flexibility and is suitable for different viscosity ranges. It can precisely fill dairy products as well as plant-based foods such as delicatessen products, dips, sauces and spreads. Syntegon will also be showcasing its innovative technologies for processing sustainable packaging materials at Anuga FoodTec.
Ready to meet all hygienic demands
For decades, Syntegon has been developing efficient solutions for filling liquid and viscous foods into preformed cups and bottles. At Anuga FoodTec, food manufacturers will be introduced to the expanded portfolio for filling machines. Virtual exhibits will demonstrate the impressive range of options for cup filling: the machines are available in clean, ultra-clean and aseptic versions and can cover a broad range of customer requirements in terms of performance, automation and product application.
The new LFS filling machine offers a flexible solution for filling and packaging products in the low-output range: its compact, ergonomic design supports easy operation and maintenance. The LFS is designed for frequent product or format changes and consists of individual modules with integrated electronics. Each module includes essential machine functions such as cup supply, disinfection, filling, sealing and cup discharge and can be configured according to individual production requirements or subsequently expanded. Food manufacturers can choose between two chemical-free sterilization methods for their packaging material to achieve their desired disinfection rates and product shelf life: UVC light or pulsed light. In addition to these methods, the FCL linear filling machine uses H2O2 steam for packaging material and machine disinfection, delivering a longer product shelf life and higher degree of product protection called for in the demanding aseptic sector. "We offer companies in the dairy and food industry future-proof solutions for every product requirement, enabling them to produce hygienically and react flexibly to changing market requirements. Especially in the fast-moving food market, this provides the necessary competitive advantage," emphasizes Markus Schlumberger, Managing Director Sales at Ampack.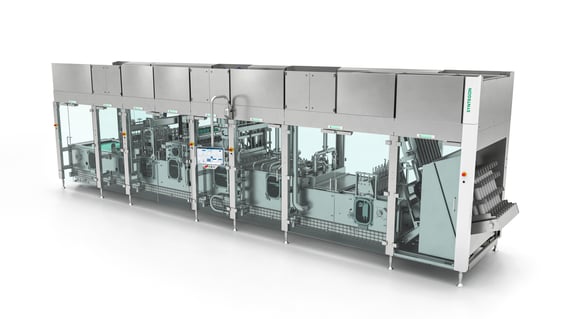 The new LFS filling machine offers a flexible solution for filling and packaging products like deli salads, dips and spreads in the low-output range
Reproduction for press purposes free of charge with credit "Picture: Syntegon"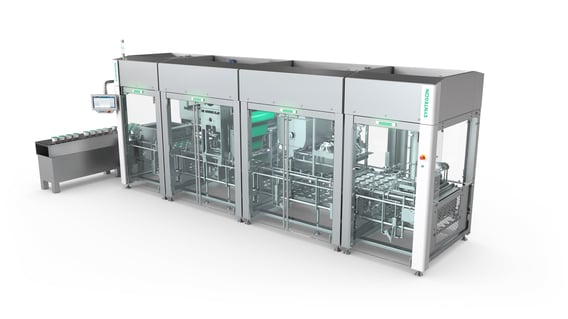 The Ampack FCL filling machine uses hydrogen peroxide or chemical-free alternatives such as pulsed light to safely disinfect the packaging material.
Reproduction for press purposes free of charge with credit "Picture: Syntegon"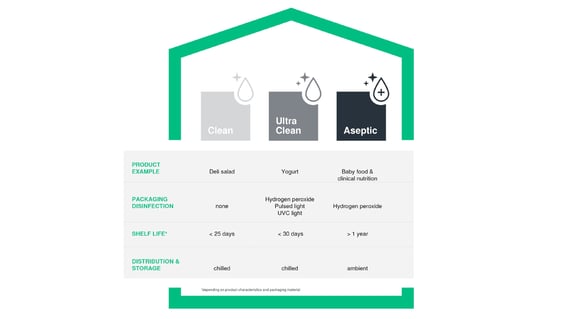 The new SmartFill dosing concept is suitable for all hygienic demands from clean to aseptic and allows both liquid and highly viscous products with pieces to be filled reliably and hygienically.
Reproduction for press purposes free of charge with credit "Picture: Syntegon"
SmartFill: Proven technology for even more precision
At the Syntegon stand, food manufacturers will have the chance to see first-hand the numerous configuration options for customizing their filling machines. The machines' flexible configurations allow products with different viscosities to be filled using just one dosing unit. These include liquid foods as well as viscous products with chunks, such as potato and pasta salads or other deli products.
The SmartFill dosing concept combines high flexibility with high filling accuracy and efficiency. In order to fill products with different viscositities on the same machine, operators simply have to replace the nozzles inside the machine for product changeovers. Intermediate rinsing and cleaning are fully automated thanks to a movable and self-draining cleaning bar. The new concept was developed in cooperation with customers and builds on proven technologies. At the stand, visitors will also get to see the optimized tank dosing system live: the exhibit is configured for a double index machine in a compact design, which allows short product paths and therefore reduces product loss. In addition, no dynamic seals were used on the pumps and valves to reduce wear and maintenance efforts.
Future-proof with sustainable packaging materials
When it comes to sustainability, flexibility is also an important success factor in the food market. At Anuga FoodTec, Syntegon will highlight retrofit options for processing recyclable packaging materials such as PP or PET mono-materials, as well as materials made from renewables such as paper cups. "The use of environmentally friendly materials requires gentler handling and adapted sealing technology. This has an impact on the entire filling process," explains Ilona Junker, Project Manager Sustainable Solutions at Syntegon. "At our stand, visitors will learn how they can convert their processing and packaging processes for the use of sustainable materials in order to be prepared for future requirements."
In addition to filling machines for preformed cups, Syntegon thermoforming lines can also be converted from PS to modified PP or PET foils to improve the recyclability of the packaging. For optimum product security right up to the point of sale, companies can also draw on Syntegon's comprehensive portfolio of top-load, sideload and wraparound cartoners and case packers.
To learn more about Syntegon's solutions for dairy and deli products, speak to our experts at Anuga FoodTec in Cologne from April 26 to 29, 2022 at stand B-050 in Hall 08.1.
About Syntegon
Processing and packaging for a better life – this is what 5,800 Syntegon employees work for every day. Be it with individual machines, systems, or services, Syntegon helps its customers in the global pharmaceutical and food industries to improve people's lives. The company, which is headquartered in Waiblingen, Germany, looks back on more than 160 years of experience and achieved annual sales of 1.4 billion EUR in 2021. In the pharma sector, the company's intelligent solutions enable the safe and high-quality production, processing, filling, inspection, and packaging of liquid and solid pharmaceuticals. In the food industry, Syntegon's flexible and reliable technologies produce and pack confectionery, dry food, frozen food, and dairy products. With 1,100 service experts and a comprehensive service portfolio throughout the entire machine lifecycle from spare parts management to digital line optimization, Syntegon lays the foundation for smooth production processes for all customers. More than 30 sites in almost 20 countries keep a firm eye on Syntegon's impact on the environment and society. Syntegon is a leader in the development of sustainable packaging solutions, reduces the energy consumption of its machines and pursues ambitious goals to lower its emissions.