Come join us for our OSD Academy expert seminar "Granulation – from powder to tablet" in June 2023.
Our experts will make you experts! From the seminar "Granulation – from powder to tablet" you will gain a clear understanding of the granulation process and its critical parameters while seeing the latest developments in containment and continuous manufacturing. You will have the opportunity to work on Hüttlin equipment to perform high-shear granulation, fluid bed drying, and fluid bed granulation. Additionally, you will learn about the impacts of granulation on the tableting process and see a live demonstration of tablet compression.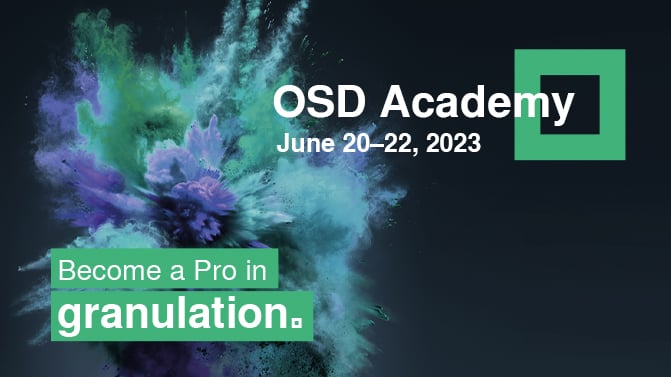 What you will learn:
A deeper understanding of different granulation methods and the strengths and limitations of each
How to select the right process
The physics of granulation, such as thermodynamics and fluid dynamics
Learn about critical process parameters, critical product attributes and their impact on granulation
How to trouble-shoot while developing your own granules and tablets
How the quality of granules effects the quality of the tablets
What you will receive:
Firsthand instructions from Syntegon experts who hold a longstanding experience in the field of OSD and include PhDs in pharmacy and pharmacists
Engaging discussions with technical experts and industry peers
A mix of classroom and hands-on training in small groups in our OSD customer center laboratory in Schopfheim, Germany
Hands-on training on equipment guided by our experts for operators
Certificate of participation
Who should attend: Professionals engaged in the development or production of solid dosage forms.
To obtain more detailed information and to register, please visit our website at: https://www.syntegon.com/osd-academy-granulation
Date: June 20 – 22, 2023
Venue: Hüttlin GmbH, A Syntegon company, Schopfheim, Germany
We are very much looking forward to spending 2.5 days full of learning, growth, and networking with you!