Interphex, the premier event in pharmaceutical manufacturing, is just around the corner. Join Syntegon for a live tour through our vast portfolio of solutions. With more machines running at our booth than ever before, we invite you to join us and experience our comprehensive expertise in pharmaceutical manufacturing for yourself.

Enter the solids experience!
We have designed our booth to offer you the best possible experience. You can literally walk through the entire life cycle of OSD manufacturing, from R&D through full-scale commercialization of your oral solid dosage forms. Check out our proven technologies and see how Syntegon can help accelerate your time to market. Our tablet presses FlexiTab XL and TPR 200, the laboratory fluid bed processor Solidlab 2, and the industry's most advanced Sepion drum coater exhibit will all be on display.
Our new FLT –

a perfect combination
On the liquid pharmaceutical side of the booth, you will see one of our most important machines in action. The FLT parenteral production line is unique in its capabilities as a small batch combined isolator and filler. While such filling equipment is not easy to get hold of in the U.S. right now, we have an exclusive opportunity for attendees: the exhibited machine is part of our filler stock program, smaller adaptations included. Stop by and see a demo for yourself. It's worth a closer look!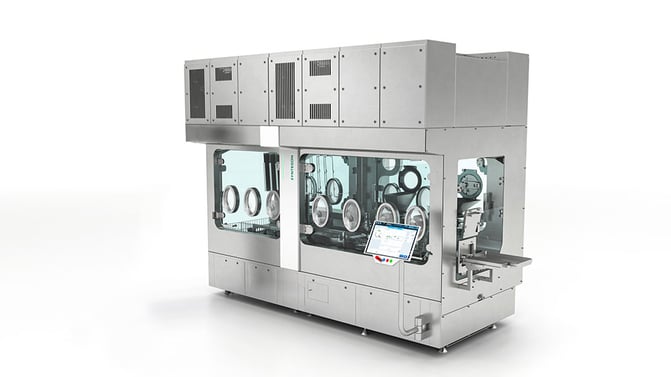 Liquid portfolio overview
If you're looking for more information on our portfolio for liquid pharmaceuticals, we also have you covered. Find out more about our patented loading and unloading system for liophilizer freeze dryer, our assembly solutions for medtech applications, the single-use dosing system PreVAS, and our newest manual inspection system – the MIH-1S.
Syntegon Service Agreements – Packed With Value
If you decide to buy the FLT – or any other machine from the Syntegon portfolio – we will also be happy to offer you our new Service Agreements. They help minimize production risks, gain predictability over service costs, and simplify complex processes – allowing you to focus on your core business. The Service Agreements are available in seven different packages. With each level, the scope of services covered increases – from basic service, including inspection and remote service, to guaranteed production performance of your machines.
Get ready for the Syntegon experience at Interphex and meet the dedicated Syntegon experts at booth #1719.


Register now for a free ticket.



About Syntegon
Processing and packaging for a better life – this is what 5,800 Syntegon employees work for every day. Be it with individual machines, systems, or services, Syntegon helps its customers in the global pharmaceutical and food industries to improve people's lives. The company, which is headquartered in Waiblingen, Germany, looks back on more than 160 years of experience and achieved annual sales of 1.4 billion EUR in 2021. In the pharma sector, the company's intelligent solutions enable the safe and high-quality production, processing, filling, inspection, and packaging of liquid and solid pharmaceuticals. In the food industry, Syntegon's flexible and reliable technologies produce and pack confectionery, dry food, frozen food, and dairy products. With 1,100 service experts and a comprehensive service portfolio throughout the entire machine lifecycle from spare parts management to digital line optimization, Syntegon lays the foundation for smooth production processes for all customers. More than 30 sites in almost 20 countries keep a firm eye on Syntegon's impact on the environment and society. Syntegon is a leader in the development of sustainable packaging solutions, reduces the energy consumption of its machines and pursues ambitious goals to lower its emissions. www.syntegon.com