Oncological therapeutics, phytopharmaceuticals and dietary supplements – the demand for liquid-filled hard capsules is constantly growing. An additional seal is needed to seal them tightly, often referred to as banding. Just in time for interpack, Syntegon is launching the right solution: the GKB 2100.
With the new GKB 2100 banding machine, Syntegon adds another important technology to its comprehensive portfolio for the production of liquid-filled hard capsules, once again demonstrating its line competence. Sealing is an essential process step that is required not only for conventional hard capsules made of gelatin. Capsules made of hydroxypropylmethylcellulose (HPMC for short) or Pullulan also have to be sealed tightly. These currently highly demanded materials serve the trend towards vegan alternatives. No problem for the GKB 2100: the new banding machine exhibited at interpack can seal all types of capsules at an output of up to 125,000 capsules per hour.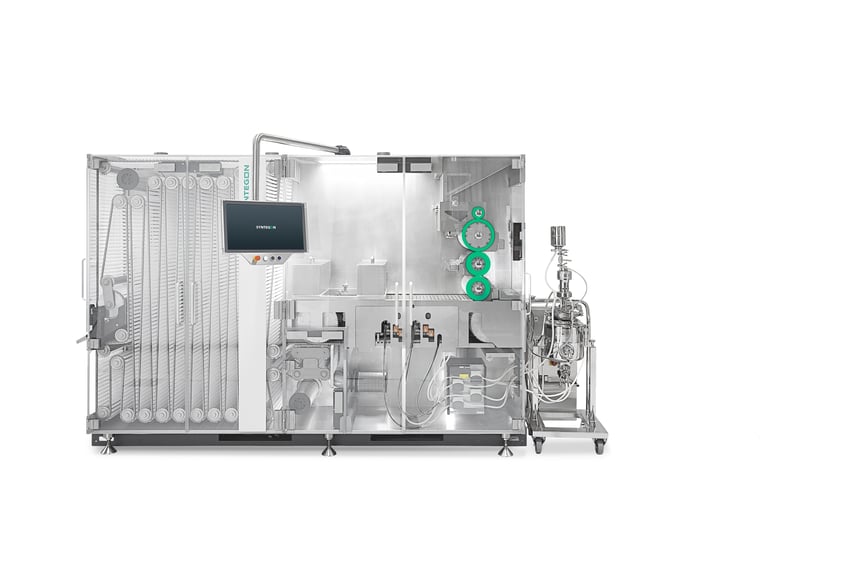 Gentle handling and maximum process stability
"With the GKB 2100, we rely on a particularly robust and yet adaptable process," explains Matthias Mössinger, Senior Market Expert Pharma Solid at Syntegon. In the first step, rollers automatically guide the capsules gently into the sealing area, where the GKB 2100 seals them securely in two layers. The capsules then enter the drying module, which dries the applied seal in segmented zones using conditioned air. Most importantly, the drying parameters can be freely selected to a certain extent.
User friendliness and service from a single source
As always, user-friendliness is a top priority for Syntegon. That's why the GKB enables simple and tool-free format changes in the sealing and drying module. In addition, a clearly arranged Human Machine Interface (HMI) with 21-inch touch screen and good process visibility via large glass surfaces make daily work easier. Moreover, our full-service approach not only enables you to get the right machines with detailed process advice; we can also match the banding liquid precisely to the product to be filled and to the machine.
Service Agreements: support at a fixed price
As with all machines, Syntegon also offers its Service Agreements for the GKF banding machine. They form the basis for effective equipment and maintenance management at fixed prices. Seven dedicated levels help customers from the pharmaceutical and food industries to reduce production risks, gain predictability over service costs and simplify complex processes – allowing them to focus on their core business.
Synexio is also part of the Service Agreements. The new cloud-based software solution collects, evaluates, and visualizes machine and production data. Syntegon will offer Synexio in three consecutive packages. The basic package "Monitor" will also be available for the GKB 2100.
Do you want to learn more about the GKB 2100 or the capsule filling machines from the GKF range? Our experts will be happy to advise you. Meet them at interpack from May 4 to 10 and learn more about our technologies and services at booth A31 in hall 6.