Coloring, taste masking, and controlled API release are key requirements that increase the need for coated tablets. Pharmaceutical manufacturing companies are particularly interested in flexible and effective coating solutions. The Sepion series from Syntegon helps them address their challenges.
Sepion – this name stands for maximum flexibility in small to large-scale film and sugar coating. "With the Sepion series, we can cover drum sizes from 175 to 1,000 liters. The solutions are designed for closed filling, sampling, and discharge, and particularly suited for customers who need a flexible, efficient, and safe coating solution," says Fritz-Martin Scholz, product manager at Syntegon. Its higher number of spray nozzles and extended drum length make the Sepion series stand out from comparable established coaters: it achieves up to 40 percent higher spray rates. "The overall process times for film coating are shorter, while the yield and quality of the coating remain unchanged at a high level," says Scholz.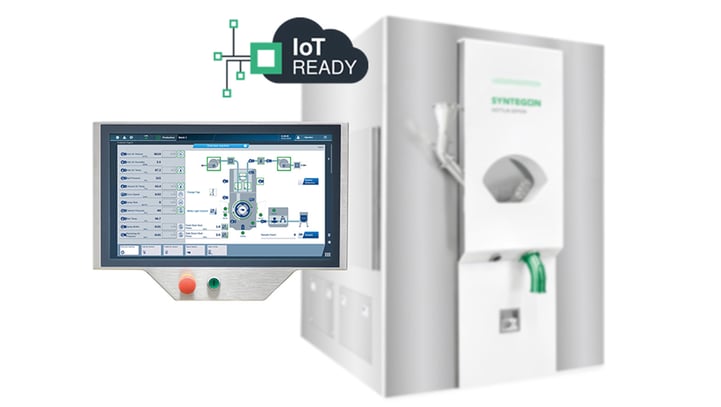 Optimized spraying
Modern spray nozzles inside the coater contribute to its overall performance: while the distance between the spray nozzles and the tablet bed can be specified in the recipe, the spray arm adjusts automatically. The coater even enables tracking of the spraying arm via optional laser distance measurement, ensuring accurate spraying.
Thanks to innovative, fully welded mixing baffles inside the drum, the Sepion series can achieve verified filling levels between 10 and 100 percent without baffle changes. Special clamp connections on the doors of the coaters provide ideal interfaces for a containment upgrade to coat tablets with highly potent active ingredients. The drum coaters thus ensure the safety of operating personnel and products at all times.
Resource-efficient cleaning
Based on comprehensive tests, Syntegon has implemented important changes in the cleaning technology. They result in significant savings compared to benchmark coaters – and enable more sustainable processes. "Operators can individually optimize the cleaning process via a flexible cleaning recipe. Manufacturing companies are able to use their cleaning agents and resources as effectively as possible," Scholz explains. All processes can be controlled via the state-of-the-art Human Machine Interface (HMI), a standard feature of all Sepion coaters. From setup and recipe creation to process monitoring and reporting, the interface supports operators in each process step. For example, the HMI makes it possible to initiate sampling during the coating process. The result: reproducible procedures and an overall high yield.
Services for increased performance
The interface also provides easy access to Syntegon's digital service solutions – paving the way for greater overall equipment effectiveness (OEE). Detailed information on essential OEE data enables operators to plan preventive maintenance activities and thus reduce downtime.
Would you like to learn more about the Sepion series? Our experts look forward to your inquiry! Visit us at one of the many trade shows: from April 24 to 27 at Interphex in New York, booth #1719, or from May 4 to 10 at interpack in Frankfurt at booth A31, hall 6.