Syntegon's Oral Solid Dosage product line continues to advance and offer unsurpassed technologies and innovation for our customers and their manufacturing needs. Our newest product offering comes in the form of a drum coater that we call, Sepion.The Sepion builds on decades of expertise from the former Manesty product brand as well as the current technological advancements coming from our Hüttlin development team. The Sepion has made a dramatic design push towards offering an extremely flexible and streamlined drum coater for a variety of different coating applications.
Within the Sepion drum coater, the geometry of the drum and mixing baffle design has been changed to allow for outstanding blend uniformity in only a few minutes. With a filling level between 10% and 100%, the Sepion is proven to be an extremely flexible machine for a variety of batch sizes. Along with the improved drum and baffle, the Sepion is designed around closed charging, sampling, and discharging. Building the drum coater around closed material handling naturally means the Sepion is an ideal drum coater for highly potent active ingredients.
Once the Sepion's extended drum is loaded, you will notice the shallower tablet bed and increased number of spray guns. Having a much shallower bed and more spray guns allows the Sepion to achieve higher spray rates with dramatically decreased process times. The Sepion's superior spray system comes with Anti-Bearding-Caps and an automatically adjustable spray arm. Fully integrated sensors monitor and adjust the spray gun height in relation to the tablet bed. These sensors are controlled by Syntegon's unrivaled control system called Provicon Plus. Also controlling the recipes for the cleaning system within the Sepion, Provicon Plus can allow the operator the flexibility to clean different zones within the drum coater.
The versatility of the Sepion drum coater means it is capable of handling all coating applications due to the low Relative Standard Deviation (RSD) of the applied coating. Enteric, sustained release, active, non-functional and cosmetic coatings can all be produced in the Sepion drum coater. Sepion is available in 6 sizes to suit your production needs ranging from 175 – 1,000 liters.
Visit our product page to learn more about how the Sepion has raised the bar for drum coaters with its innovation and adaptability.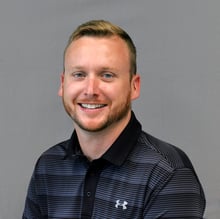 Kevin Dudziak is Syntegon's North American Business Development Manager for our Hüttlin product line.