Syntegon continues to invest in its Crailsheim site. While production is running at full speed, the office capacities are being expanded with a new building. The groundbreaking ceremony took place on April 20, 2023. The building with its new concept for modern working environments is scheduled for completion in the first half of 2025.
Good omens for the expansion of the Crailsheim site: in bright sunshine, mayor Dr. Christoph Grimmer performed the symbolic groundbreaking ceremony together with site manager Stephan März, commercial manager David Teske, as well as Johannes Veit, managing director of the construction company Hans Fuchs, and Martin Staudacher, proxy for APS Bau.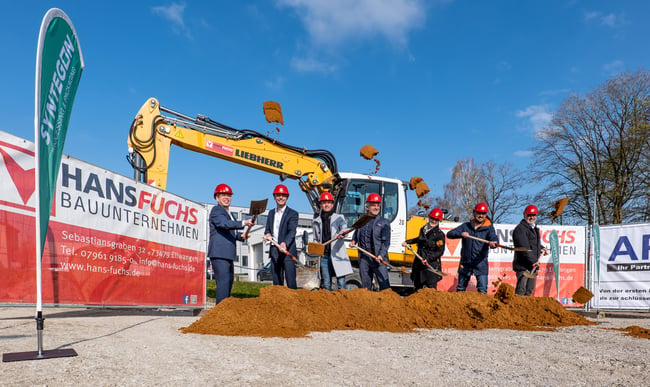 2,100 square meters for modern working worlds
Around 100 workplaces and numerous common rooms are being created on four floors covering a total of 2,100 square meters. A large roof terrace and several coffee kitchens will be used as cross-departmental meeting points, while focus areas and meeting rooms offer plenty of space for collaborative work in a pleasant atmosphere. The new office building is one of the first to be designed entirely according to the SYNSPACES concept. This Syntegon-wide initiative aims to design working environments that allow all employees to develop their full potential.
Top 2 among the most attractive employers in Germany
Site manager Stephan März is convinced: "Syntegon is an attractive employer – globally and in the region." The ranking of the LinkedIn Top Companies, which was published just a few days ago, proves him right. LinkedIn identifies the 25 companies that best advance the careers of their employees. Syntegon took second place among the most attractive employers in Germany. Crailsheim, the largest location of the Syntegon Group, is also proud of this award. The current investments in the location show that all signs are pointing to further growth.