Waiblingen, Germany – Dr. Silke Blumer, 34, has been Vice President Product Management and Strategy at Syntegon Technology, formerly Bosch Packaging Technology, in Beringen, Switzerland, since April 1. In this role, the German is tasked to manage the strategies and products of the worldwide food business of the global company specializing in process and packaging technology.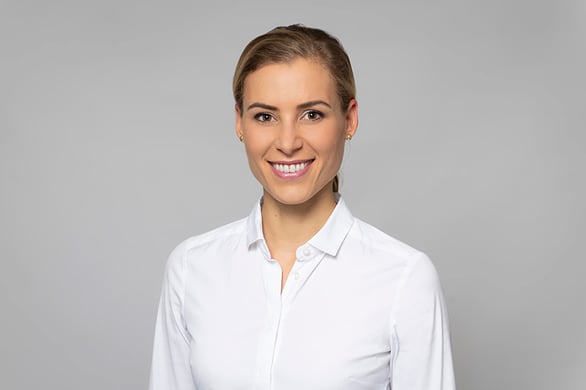 Dr. Silke Blumer is in a new role at Syntegon.
Reproduction for press purposes free of charge with credit "Picture: Syntegon"
Syntegon's portfolio in this line of business encompasses standardized standalone machines, custom products, and system solutions engineered to enable the efficient manufacturing and high-quality packaging of food and confectionery products. With Blumer at the helm, Syntegon will redouble its focus on sustainable and flexible packaging solutions that provide maximum product protection and ease of use.
Silke Blumer had been Director Strategy and Marketing for Syntegon's horizontal and secondary packaging product groups. She studied business administration at Ravensburg and Leipzig in Germany and at Santa Barbara, California, and Manhattan, Kansas, in the USA. After a four-year stint with Daimler AG at Ravensburg she returned to the academic world in 2012 to pursue a doctorate at the University of St. Gallen, where she also served as Project Manager Market and Consumer Research. Earning that degree in 2016, Blumer then joined the Marketing Strategy and Market Research team Syntegon, at the time known as Bosch Packaging Technology.
About Syntegon Technology
Syntegon Technology is a leading global process and packaging technology provider. Formerly the packaging division of the Bosch Group, the company, headquartered in Waiblingen (Germany), has been offering complete solutions for the pharmaceutical and food industries for over 50 years. About 6,000 employees at 30 locations in more than 15 countries generated a total revenue of 1.3 billion euros in 2020. The portfolio of intelligent and sustainable technologies includes stand-alone machines, as well as complete systems and services. Fields of application in the pharmaceutical industry are the production, processing, filling, inspection and packaging of liquid and solid pharmaceuticals (e.g. syringes and capsules). In the food industry, the portfolio includes process technology for confectionery as well as packaging solutions for dry foods (e.g. bars, bakery products and coffee), frozen foods and dairy products.