Digital presentation of the latest processing and packaging technology and the new Syntegon Technology product design.
After interpack is postponed, Syntegon Technology launches virtual booth
Digital presentation of the latest processing and packaging technology and the new Syntegon Technology product design
Syntegon Technology experts provide information about intelligent and sustainable technologies
Waiblingen, Germany – Following the announcement by Messe Duesseldorf that interpack 2020, which was scheduled for May, will be postponed to next year, Syntegon Technology will present its latest processing and packaging technology on a virtual exhibition booth from 7 to 13 May 2020. The online presence will cover digital product presentations and individual contact opportunities with the experts from Syntegon Technology, who will inform both customers and media representatives about the company's intelligent and sustainable solutions.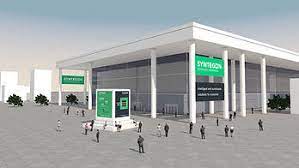 Syntegon Technology launches its interpack booth online
Reproduction for press purposes free of charge with credit "Picture: Syntegon"
On this occasion, Dr. Michael Grosse, CEO of Syntegon Technology, says: "We regret the postponement of interpack, but consider this to be the right decision under the given circumstances. As a reliable partner for processing and packaging technology, we of course have an alternative plan: our customers can look forward to our virtual exhibition booth. Here, they will soon be able to learn all about our latest technologies, get to know our new product design and experience the new Syntegon brand."
About Syntegon Technology
Syntegon Technology is a leading global process and packaging technology provider. Formerly the packaging division of the Bosch Group, the company, headquartered in Waiblingen (Germany), has been offering complete solutions for the pharmaceutical and food industries for over 50 years. More than 6,100 employees at 30 locations in more than 15 countries generated a total revenue of 1.3 billion euros in 2019. The portfolio of intelligent and sustainable technologies includes stand-alone machines, as well as complete systems and services. Fields of application in the pharmaceutical industry are the production, processing, filling, inspection and packaging of liquid and solid pharmaceuticals (e.g. syringes and capsules). In the food industry, the portfolio includes process technology for confectionery as well as packaging solutions for dry foods (e.g. bars, bakery products and coffee), frozen foods and dairy products.