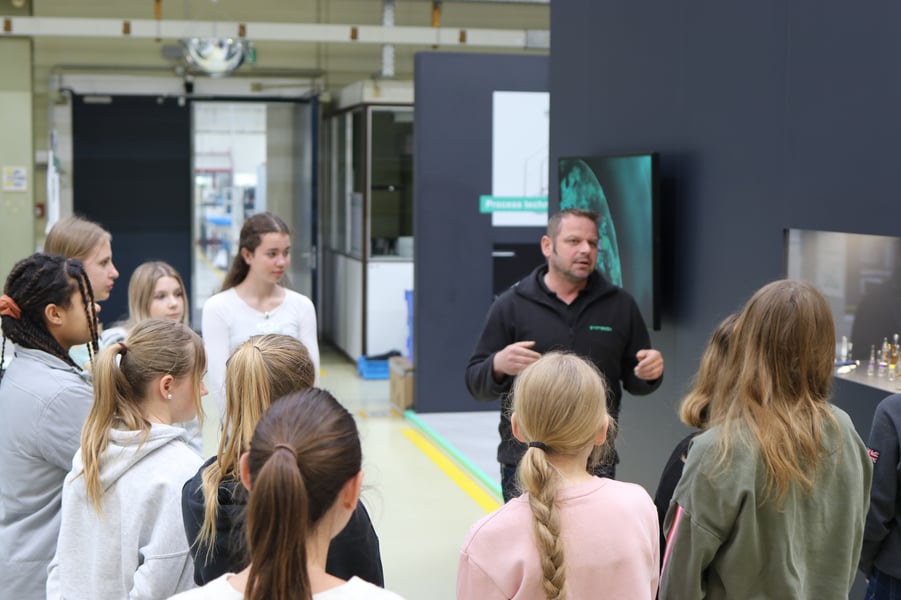 Twenty girls between the ages of ten and 16 explore Syntegon's technical apprenticeships
Syntegon advocates gender balance among apprentices

Crailsheim, Germany, April 28, 2023. Syntegon, a global manufacturer of processing and packaging technology, welcomed 20 girls and young women with a passion for technology to its Crailsheim site on April 27 for Girls'Day. As part of this nationwide activity day, female students aged ten to 16 from the Hohenlohe region explored technical departments such as development, engineering, design, and assembly in a mix of theory and practice. They engaged with apprentices and performed a design task to experience practical aspects of mechanical engineering. "The students gain real-world insights into day-to-day working life by taking part in this active experience and talking directly to our apprentices," says Ann-Kathrin Baumann, HR manager at Syntegon in Crailsheim. "The success of Girls'Day is rooted in this concept."
Since 2001, Girls'Day has introduced students in fifth grade and higher to careers and academic fields in which the nationwide share of women is below 40 percent. Launched by the German Federal Ministry of Education and Research, the German Trade Union Confederation and Initiative D21, this campaign aims to widen the spectrum of occupational choices for women. To advance this agenda, every year the skilled trade industry and universities with technology and science curricula invite females to look into these options.
Syntegon – a fair training partner
This interest in technical professions in which women are still underrepresented is what drew participants to this year's Girls'Day at Syntegon in Crailsheim. After a brief reception in the plant's cafeteria at nine a.m., the day's program began with perhaps the most important bit of information for future graduates – what kind of apprenticeships are on the table. Syntegon Crailsheim offers three to three-and-a-half-year apprenticeships in industrial mechanics, mechatronics, and product design. In 2024, Syntegon and the Baden-Württemberg Cooperative State University (DHBW) will start offering three-year dual work/ study programs in electrical and mechanical engineering. Slots are available in all departments. Applicants stand a very good chance of being accepted at fair pay as set out by the collective bargaining agreement.
Virtual reality and the workbench
First a little theory, then some state-of-the-art practice: The students tried out the virtual reality goggles serving to train machine operators. That is not their only purpose at Syntegon: "We also use the solutions to give our customers a realistic picture of our products – and to continuously improve these products. It's no wonder that our young visitors were also delighted with this interactive technology," says Jürgen Ehrmann, pipeline manager design at Syntegon. A tour of the plant was followed by lunch in the cafeteria, where the eager visitors met some of the 50 current apprentices, who were on hand to answer questions about their working day. In the afternoon, the students put their practical skills to the test, teaming up with apprentices to assemble solar propeller kits.
The fact that as many as 40 percent of the 2022 apprentice cohort at Syntegon Crailsheim was female may well have motivated the Girls'Day participants. "In recent years, we have been seeing a significant rise in the number of women embarking on careers in a technical field," says Ann-Kathrin Baumann, confirming this trend. "Our work culture values diversity and sees it as an important building block for the company's sustained success. The growing number of female applicants impressively reflects this culture." The success of this year's Girls'Day is an encouraging sign that the company will continue to attract motivated female entrants. The 20 slots for the visit to the Crailsheim plant were filled within a few days.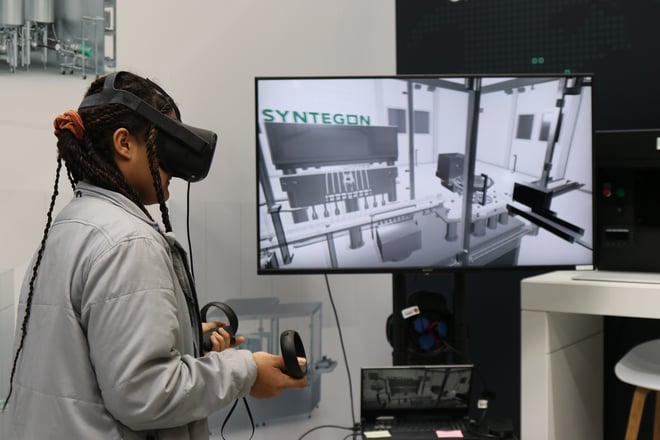 Download press article