We have been supporting pharmaceutical manufacturers in the development and optimization of their pharmaceutical products and processes for several decades. From the selection of the ideal filling system for liquid or powdery pharmaceuticals to basic research – together we will find your ideal solution in our three test laboratories in Crailsheim, Germany.
For an efficient production of liquid and powdery pharmaceuticals, machines, processes and products have to be coordinated precisely. You want to find out which filling or dosing system is ideal for your new product? Or you need support in qualifying and validating your aseptic filling process? In Crailsheim, we have three test laboratories available, where we can find answers to these questions together – quickly, reliably and flexibly.
The right test environment for every challenge
The experts in the Pharma Liquid test laboratory are committed to ensuring maximum filling accuracy with the highest possible output. To this end, they test the filling behavior of pharmaceuticals and carry out filling trials on test stands with rotary valve piston, peristaltic pump, and time-pressure filling system. In addition, tests on siliconization and stoppering provide important insights into the interaction between product, process and primary packaging.
Syntegon has also set up its own powder laboratory with test stands for powdery pharmaceuticals. Here, the experts determine the optimum setting parameters and format parts together with customers. "With the large selection of processes and systems, we are very well equipped to determine the best possible solution for our customers," says Jochen Peters, head of the test labs. "We like to carry out the tests in close dialog with our customers directly on site at the test stands," adds Manuel Rösner, test coordinator at Syntegon in Crailsheim.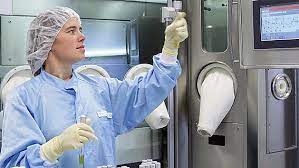 Experience, flexibility and solution competence
The range of services is further expanded in the Pharma Lab. We carry out tests on behalf of customers, for example for the qualification and validation of aseptic filling systems, and perform basic investigations into the biodecontamination of barrier systems and microbiological tests. The extensive test documentation supports pharmaceutical manufacturers in the ideal machine design – and in bringing their products to market more quickly. "When customers leave our labs with efficient machine and process plans for manufacturing their products, we've done a good job," says Dr Thomas Kosian, Senior Expert Barrier Systems at Syntegon. "Of course, we also welcome inquiries that don't fit exactly into the range of services described – and will be happy to address them with our combination of experience, flexibility and solution expertise."
In addition to the three laboratories for liquid and powdery pharmaceuticals in Crailsheim, a whole range of other specialized laboratories and customer centers are available: for example, the new OSD Customer Center in Waiblingen (Germany) for oral solid dosage forms, as well as laboratories in Schopfheim (Germany) and Hangzhou (China). In addition, five partner laboratories provide optimal consulting services for pharmaceutical developers and manufacturers worldwide.
Find more information about the laboratory expertise from Syntegon here.