"Burning calories for a good cause" – that was the motto of the third Syntegon Calorie Cup. Running, cycling, walking – Syntegon employees at seven sites spent two weeks doing more sports than usual, as they competed against each other while also working together as a team – all in the name of good causes. The site with the most calories burned per number of employees took the title. And, as in previous years, the Calorie Cup went to Remshalden. Achieving 1,701 activity calories per total number of employees, the German Syntegon site finished on the top step of the podium.
The Calorie Cup is good for the health of everyone involved – the positive effects of daily exercise are well known. Not only that, the participating sites also donated one cent for every calorie burned to a good cause. Colleagues throughout Europe took part in the competition, clocking up a record-breaking 1,272,278 calories in the end. The participating sites were Beringen (CH), Bristol (UK), Crailsheim (DE), Derby (UK), Hoenheim (F), Remshalden (DE), and Waiblingen (DE).
Thanks to the efforts of all the participants, more than 12,000 euros were raised for the donations. The sites will use these funds to support local organizations and charitable projects. In Beringen, this year's donation will go to the Swiss Red Cross Kanton Schaffhausen, while Hoenheim will be supporting hospitalized children and their families through the Semeurs d'étoiles organization. In Germany, part of the money raised will be used to benefit the Lift UKRAINE e.V. nonprofit organization thanks to the Remshalden site, while Crailsheim will be donating to the local Tafel Crailsheim food bank. The proceeds in Waiblingen will be donated to Tafel Waiblingen.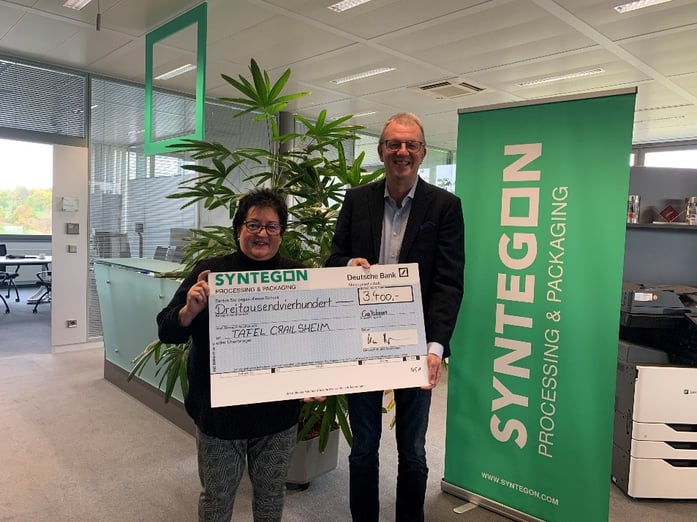 Donation handover in Crailsheim: Uwe Harbauer, Member of the Syntegon Executive Board, hands over the tidy sum of 3,400 euros to the Tafel Crailsheim food bank.
Only two locations participated in the first edition of the Calorie Cup in 2020. This year, that number has risen to seven. We hope to see more participants next year and look forward to burning those calories again for good causes, while staying true to our mission statement: "Processing and packaging technology for a better life."