'Together Everyone Achieves More– TEAM' – Yes, indeed! This is what came true for a project that Syntegon India was awarded by a company in Armenia. The customer approached Syntegon, Viersen Germany for the process line for hard and chewy candies. The project was very important for all involved parties but had a couple of challenges associated with it.
Good communication is the bridge between confusion and clarity
There were two challenges for a proper two-way communication with the customer – geographical location and the language barrier. Without proper communication, it would have been difficult to understand and execute the customer requirements.
Our Viersen colleague had very close contacts with the customer's projects team and the owners. On request of Syntegon India, he became the conduit between the customer and Syntegon India. With clear exchange of information and understanding of the requirement, we could communicate well with the customer and steadily the project scope and commercials were concluded. And, the team effort worked in successfully closing the order.

Single source solution
The other challenge was providing the entire system solution to the customer along with distribution system for candies. The scope for Syntegon included a BVK 2000 A, BVK 2000 S and the Product Distribution System (PDS). Syntegon, as a single source supplier for the project, successfully took this challenge and offered the entire system solution to the customer.
The project involved a complete scope from receiving the candies from the cooling tunnel of the process line to delivering the output to the secondary packaging section. There are many complexities involved with such a product distribution system like avoiding product breakage, smooth flow to avoid surface damage, maintaining hygiene and ease of operation, and proper access for maintenance.
The machines were to be fed with the product depending on the demand. The logic was so designed that the distribution system improves the overall efficiency of the packing line by ensuring that all packing machines are running at full deliverable capacities. The system also took care of overflowing product and prevented wastage.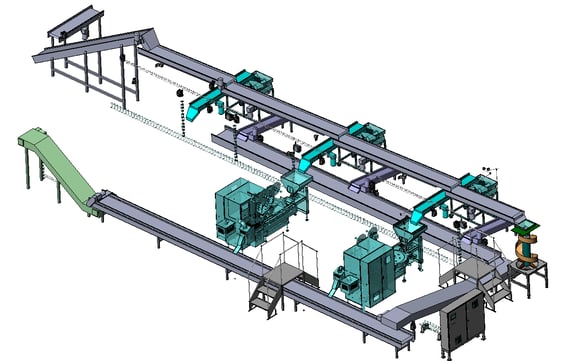 Quoting Mr. Suneet Gupta, the Sales Manager for this project- "Collaborative efforts does work in yielding 'sweet' results". Mr. Gupta credits the success of this project to the teamwork of the customer, Syntegon India and Syntegon Viersen. As well as the expertise of Syntegon India in providing the complete system solution for packaging candies.