Syntegon believes in supporting you to improve your packaging efficiency by reducing down times and wastages. Presenting candy sorting units by Syntegon!
Candy calibrating unit is a standalone machine for automatically sorting of hard candies by thickness. Product with correct thickness is separated from thinner and thicker products outside the set range of thickness. This helps in increasing the efficiency of the downstream packaging machines and improves packaging quality.
DS10: Output up to 5500 ppm. A standalone candy sorter, which rejects unqualified candies by sorting them, based on thickness, ensuring only the product with correct thickness reaching the packaging machines. The output of DS10 can feed multiple packaging machines depending on the machine outputs
DS4: Output up to 2700 ppm. This Candy Sorter can be directly integrated with our Candy wrapping Machine BVK2000A. DS4 improves the efficiency of BVK2000A by reducing stoppages and improving speeds, and packed pouch quality by feeding uniform products.
Main features
Movable SS frame
Discharge chute driven by vibration / belt
Removable hopper for ease of cleaning & hygiene
Distance of cylinders mechanical adjustable
Cylinders swiveling for cleaning by gas pressure shock absorber
Roller drive by toothed belt and motor
Feeding capacity adjustable by oscillating magnet drive
Protection IP 55
Capacity details
Sorting capacity: output of max. 5500 candies/min. ( 2700 for DS4)
Sorting range: 6 – 25 mm thickness
Sorting accuracy: +/- 0,4-0.5 mm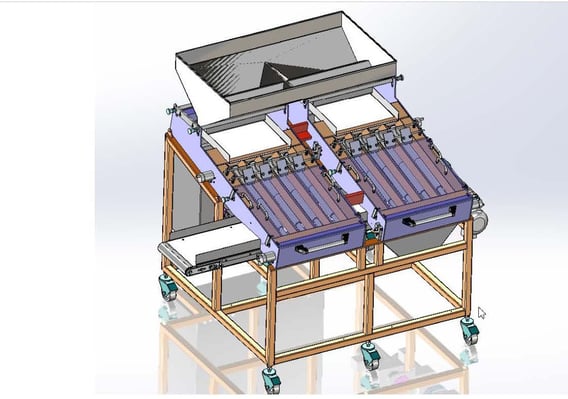 DS 10 & DS 4 A robust and reliable candy sorting solution with hygienic design with all product touching parts made of stainless steel.
So, your search for best solution for candy sorting issues ends here. Improve your packaging machine efficiency by considering Syntegon's candy sorting units. Contact us for more details. Happy packaging!