The UK-based snack producer, Graze, predicted a big growth in the consumer healthcare industry and created snacks that showed off health's more pleasurable side early on.
Having undergone considerable growth of online subscription business Graze has moved into more than 5,000 stores in the UK including Tesco, Sainsbury's and Boots as well as American retailer Walgreens.
The complete package
One of the initial challenges for Graze was working out the best way to get products to busy consumers with an on-the-go lifestyle. Graze called on Syntegon Technology, formerly Bosch Packaging Technology, to keep the artisan look and feel and to uphold the brand's identity of a craft, environmentally-friendly producer of fresh and healthy snacks.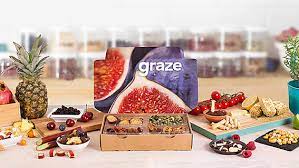 Syntegon and Graze collaborated to design a carton style that could be formed on Syntegon's Kliklok JR carton former. The Kliklok JR forms the cartons from a flat blank. For the Graze pack, a customized tooling mechanism creates a 'turn over end' style carton, which means its side walls are automatically folded over to provide a double thickness for rigidity and strength. This uses no glue, saving additional cost and energy. After forming, an inner compartmented panel is placed into the open carton, filled with the chosen snack products, before closure. To date, Syntegon has installed 14 Kliklok JR machines in the UK for Graze.
Grazing into the future
For the U.S. market, Graze required a larger carton size. The Kliklok SRWS, which is a bigger, wider version of the JR, allowed Graze to create a larger carton with a similar look and feel to the UK version, but also with a turnover end style.
The invention continues
In 2015, Graze launched individual portions of nuts, fruit and snacks in a single plastic punnet. Packaged in a wraparound cardboard sleeve, their formats and styles continue to attract health-conscious shoppers in UK and US supermarkets. As with previous projects, the rustic appearance and sustainable credentials of the package was a key element to the brief. Syntegon supplied a high speed, high specification wraparound cartoner – known as the Kliklok ELITE. Custom built with a nine-inch pitch configuration, the machine runs at speeds of up to 240 sleeves per minute – increasing product output.
Positive Signs for Graze
Adapting to the market with the ability to bring a multitude of products on-line within a short time, and partnership with Syntegon, it is no surprise the company has experienced double-digit percentage growth in sales, and continues to be at the very forefront of consumer trends.