The TPU1000 form, fill and seal system is a real trendsetter – with its wide range of options for innovative, sustainable and appealing small-format portion packs, it addresses the current sustainability and convenience trends in equal measure.
This opinion is shared by the German Packaging Institute (dvi), who awarded the TPU1000 the German Packaging Prize in the category "Packaging Machines".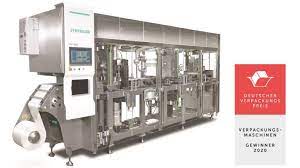 Less material, thinner, more innovative – sustainable packaging alternatives are in high demand. At Syntegon Technology, we set new standards in sustainability with our environmentally friendly packaging solutions. The latest member of our sustainable machine family: the TPU1000. The compact paper forming machine celebrated its premiere at this year's virtual interpack and has now been awarded the German Packaging Prize 2020. The award celebrates our efforts to offer sustainable and intelligent technologies to our customers.
According to the panel of judges, the form, fill and seal machine for paper-based packaging material paves the way for new, sustainable packaging solutions that meet the needs for individualization and the replacement of petrochemical plastics.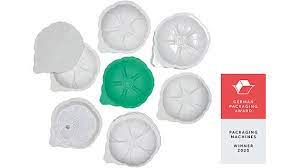 TPU1000 – innovative developments for sustainable packaging
The TPU offers brand owners with high demands on sustainability and aesthetics completely new packaging options for food, cosmetics and non-food products. The modular TPU1000 forms environmentally friendly shaped paper pods with a filling volume of ten to 100 milliliters. The pods are suitable for single-portion packs and small-format products that are normally packaged in blisters. The machine processes 3D-moldable FibreForm® paper developed especially for this purpose by Swedish paper specialist BillerudKorsnäs. FibreForm® allows for up to ten times deeper embossing than regular paper, resulting in unique 3D effects. The material fed from the paper roll is formed into the desired shape at a speed of up to 15,000 packs per hour.
Various barrier layers can be applied to ensure the required product protection. The TPU1000 from Syntegon and BillerudKorsnäs' FibreForm® thus offer an alternative where plastic used to be the norm: in disposable packaging for beauty and personal care products, spreads, pastes, confectionery and many other applications. There are virtually no limits with regard to the variety of sustainable and innovative solutions.