New concepts and machines for liquid and solid pharmaceuticals, software solutions for higher product safety and intelligent services for better performance – you can see all this at the Syntegon Virtual Show.To let you know what you can look forward to from May 7 to 13, we have put together a small preview here:
Novelties for liquid pharmaceuticals
Flexible Filling Portfolio
We have bundled our decades of experience in a modular machine concept to offer you the highest flexibility when configuring your individual filling line for small and medium batches. Whether syringes, vials or cartridges – you receive a filling line completely tailored to your needs including an integrated isolator.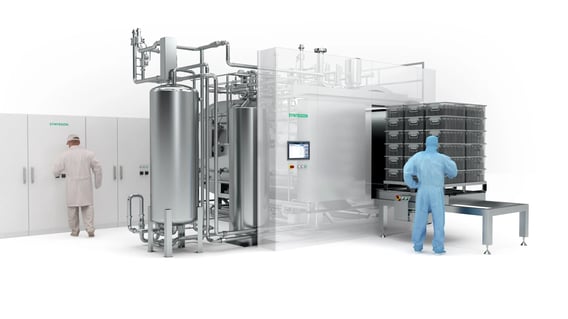 Micro Batch concept study
This concept study, which was developed in cooperation with a long-standing customer, focusses on loss-free filling and fast batch changes in the processing of aseptic and high-potent liquid micro batches. The result is a highly flexible and fully automated production cell with the smallest possible dimensions and a complete batch-to-batch changeover of less than two hours.
New monobloc solution for pharmaceuticals and cosmetics
Improved accessibility, easier format changes and a significantly shorter length – these are just a few of the many advantages of our new monobloc solution for liquid pharmaceutical and cosmetic filling, which consists of a linear FLK filling machine and a rotary VRM capping machine.
SODA (Single Object Data Acquisition)
The new SODA system makes object-specific data of individual batches or containers traceable. This way, you can make your production safer and can react faster in case of complaints. In combination with the Smart Containers from SCHOTT, SODA provides even better traceability.
Artificial Intelligence in visual inspection
We optimize visual inspection with Deep Learning algorithms. This requires profound know-how in software implementation and process validation. Our experts will be happy to explain the particularities of AI in the pharmaceutical industry and to show you the results of successful pilot projects.
New RDA assembly platform
The new platform for the assembly of different auto-injector and pen types was especially developed to fulfil current needs: thanks to its modular design and flexibility, you can react to new market requirements quickly. In addition, the RDA features fast changeover times and can be easily retrofitted or extended to a complete line.
Eco | Save | Pack secondary packaging
Both the carton and the inlay of the environmentally friendly secondary packaging for fragile containers consist of mono material paper. The inlays are erected and formed on Syntegon cartoning machines. Eco | Save | Pack saves plastic and stands out with its high-quality appearance.
Novelties for solid pharmaceuticals
Market launch: the new Sepion coater series
The state-of-the-art equipment for tablet coating enables closed material handling during filling, sampling and emptying. The coaters, which will be available in six sizes, feature an automatically adjustable spray arm and ensure high flexibility from 10 to 100 percent batch size.
Continuous Manufacturing with the X-key approach
How does continuous production from powder to capsule work? We will be happy to show you: the Xelum R&D doses, mixes and granulates excipients and APIs as individual packages, so-called X-keys. Once the packages have continuously run through the process chain, they are pneumatically transported to the GKF 720 capsule filling machine and filled into capsules.
New Automated Process Development tool
The new APD tool not only achieves faster but also more precise results. It determines the optimum parameters for your capsule filling processes within a very short time, and contributes to a better process understanding and higher product quality.
New Pharma Services
Remote Services for many purposes
Visitors of the Virtual Show can look forward to an exclusive remote service offer for assistance with machine settings or troubleshooting. Moreover, we provide further digital services such as the E-Portal for spare parts orders and virtual operator trainings in different formats. Let us show you!
Pharma i 4.0 Solution Platform
Benefit from our long-standing experience in developing and implementing software solutions. The Pharma i 4.0 Solution Platform provides important OEE data and monitors the status of machines and processes. It also supplies real-time information about events such as alarms or machine downtimes.
Predictive Maintenance with MIRA
Thanks to intelligent algorithms, the modular software solution MIRA detects wear and tear on process-critical components such as fans. Up to six weeks before a potential failure, it announces that a component needs replacing. Most importantly, you don't need to re-qualify and validate your retrofitted systems.
Smart Skin Quantifeel™
This system enables you to optimize the transport of glass containers: Sensors identify critical processes, which can then be eliminated reliably. This results in fewer downtimes and less waste due to reduced glass breakage.