From June 22 to 24, 2021, Syntegon opens its virtual doors to the future of pharmaceutical production in Crailsheim, Germany. Join us!
Following the motto "Small Batch. Huge Impact." we will provide insights into the current and future status of pharmaceutical production at our virtual in-house event. No matter what time zone you are in or which appointments you have – these 90 minutes are worth your time and can be flexibly integrated into your calendar!
We offer you a total of six live demonstrations on three consecutive days. Each slot includes a keynote speech by a pharmaceutical expert on the small batch trend, a live demonstration of our new Versynta Flexible Filling Platform (FFP), and an outlook on our microBatch development together with Vetter Pharma. In addition, you will have the opportunity to ask our experts your most important questions.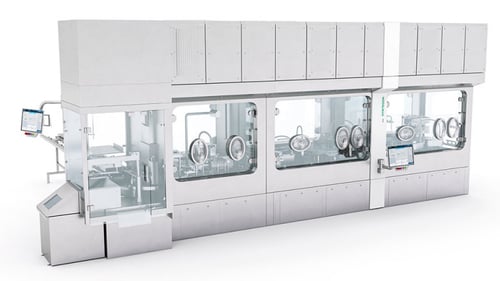 Who or what is Versynta?
Versynta is a new portfolio from Syntegon; so to speak the answer to ever higher priced biotech drugs for small target groups. Versynta FFP is based on pre-developed and tested modules that can be flexibly combined. The platform processes up to 3,600 containers per hour, provides 100 percent in-process control, and can be easily adapted to a variety of containers and different filling systems, including single-use solutions.
But Versynta is more than just an answer; Versynta is also a vision: Versynta microBatch is designed for the smallest batches, where maximum product yield and quick batch changeovers are even more important. Together with Vetter Pharma, Syntegon has developed a highly flexible and fully automated production cell with the smallest possible dimensions and a batch-to-batch changeover of less than two hours.
Find out more and register for our virtual in-house event for free today by following this link.