Methods of combating germs in the pharmaceutical industry abound. A proven approach is sterilization with moist heat for 20 minutes at 121 degrees Celsius: If pharmaceutical products are sterilized under these conditions, manufacturers can release their batches with a clear conscience. Autoclaves from Schoeller-Bleckmann Medizintechnik (SBM), a Syntegon company, form the basis for reliable, parameter-based sterilization.
Time and temperature are benchmarks for the sterilization of pharmaceutical products via autoclaves: if filled containers are sterilized for 20 minutes at 121 degrees Celsius, their outside is germ-free, paving the way for further processing. But why so? The fixed temperature and duration help to reliably eliminate any germs. Both parameters are required by pharmaceutical regulations and have since been used as standard during sterilization. The good thing about the fixed parameters: once set, they ensure consistent processes and thus predictable releases.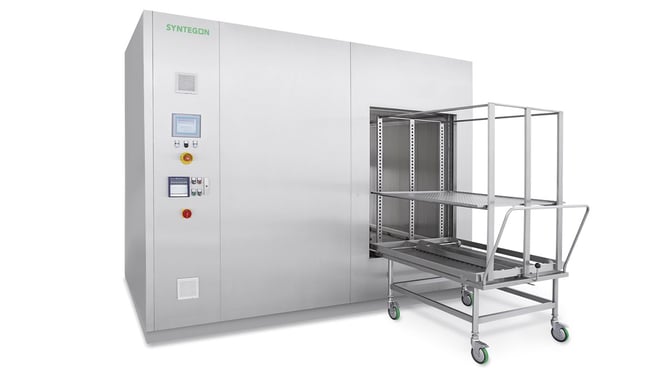 "Parametric sterilization and release enable pharmaceutical companies to save precious time," explains Josef Summer, Head of Engineering Customer Projects at SBM. "Unlike the still common downstream germ testing of product samples, parametric sterilization significantly reduces the risk of positive germ tests." What's more, parametric sterilization could help pharmaceutical companies to dispense with germ tests altogether in the future. However, the parameters must remain constant and be monitored throughout the entire sterilization process.
Determining the right parameters
Autoclaves from SBM achieve both: during sterilization, the solutions from Ternitz take sterilization temperature and duration into account. Depending on customer requirements, the autoclaves can factor in additional values such as heating or cooling times. Sensors ensure that the equipment maintains these parameters throughout the sterilization process. "Pharmaceutical regulations such as Annex 15 of the EU GMP Guidelines place high demands on pharmaceutical companies in this respect. They must be aware of production risks and minimize them as far as possible. Our solutions support them in reaching that goal," Joseph Summer says.
As a supplier of high-performance sterilizers, SBM does not limit its offering to sophisticated technology. Services include customer-specific advice – a sought-after support when it comes to defining sterilization parameters: "Customers produce very different products, each with their own sterilization requirements. It is impossible to determine the ideal parameters in advance. Precise testing is key. Thanks to our comprehensive expertise, we help companies find the parameters that match their needs," Summer continues.
Downstream services such as regular maintenance and sterilizer or sensor calibration are part of SBM's service portfolio. "Measuring technology must function reliably so that companies can sterilize according to parameters they determined in advance and with great care," says Summer. SBM's approach therefore covers technology, consulting and continuous maintenance – for safe sterilization altogether.
Would you like to explore SBM's parameter-based sterilization yourself? Then take a look at our website or write to us directly at Sales.SBM@syntegon.com. We look forward to hearing from you!