Sustainable packaging innovation
Join us in rethinking packaging
We share the view that all measures intended to further the cause of sustainability have to comply with the principles of a circular economy and waste hierarchy if we want to achieve cyclical rather than linear flows. This type of economy is all about making the most of resources. Avoid. Reuse. Recycle. This is how energy and material cycles are transformed into (nearly) closed loops. And that takes dedicated teamwork across the production value chain, including the product, packaging material, and packaging process.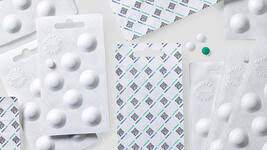 Syntegon wins German Packaging Award for sustainable tablet packaging
Once again, the German Packaging Institute has honored us with the German Packaging Award. The jury was impressed by the sustainability and good functionality of the paper-based packaging solution "Blister Meets Paper," which is also designed to appeal to health-conscious and environmentally aware customers in terms of its feel and appearance. We developed the innovative blister packaging together with the Finnish packaging material manufacturer Huhtamaki.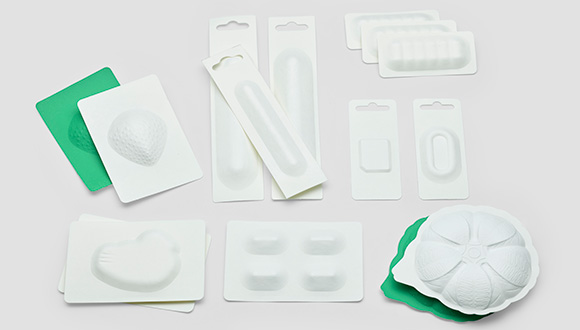 New unique system for tailor-made Shaped Paper Pods
With a TPU paper forming, filling and sealing machine from Syntegon and BillerudKorsnäs 3D formable FibreForm® paper, a new solution for sustainable paper packaging has now been brought to market. Shaped Paper Pods offer a packaging system for uniquely shaped and optimally sized packaging, with a look and feel reflecting the brand and product content.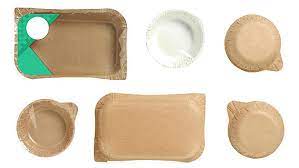 Syntegon develops paper-based food packaging as part of EIT Food project
As part of an EIT-funded project, we have developed paper-based trays and cups for sensitive food products. Together with partners from industry and research, namely the Fraunhofer Institute for Process Engineering and Packaging in Dresden, Colruyt Group, Strauss Group and the University of Reading, we are implementing the EIT project "PACK4SENSE" (paper packaging for SENSitive foods) to develop a sustainable packaging concept.
Initial plunge towards sustainable packaging
In order to offer reliable, sustainable paper-based packaging solutions for large and medium-sized confectionery customers, we have entered into a strategic partnership with innovator Sappi Europe. While we normally pursue a packaging-material-independent approach and Sappi pursues a packaging-machine-independent approach, customers can now benefit from our combined expertise.
Blister Meets Paper
Our new and innovative push-through packaging concept offers an environmentally friendly alternative to plastic blisters. The sustainable paper-based solution is coated with a sealable barrier and finished in a special process. This delivers high performance in terms of barrier properties and sealing capability, as well as easy push-through removal, without compromising recyclability.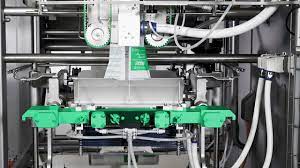 Syntegon Technology and SABIC launch joint packaging concept for frozen food packaging
Together with SABIC we have developed a sustainable packaging concept for the frozen foods industry with the potential for substantial material reduction. The concept is based on our new PHS 2.0 sealing technology and SABIC's 20-micrometer biaxially oriented polyethylene (BOPE) film.
Coffee – now available in sustainable vacuum packs
Vacuum packaging for coffee traditionally requires the use of multilayer plastic-aluminum laminates. With the recyclable Mono-PP and Mono-PE composite films, in cooperation with our partners Amcor, O.Kleiner and Constantia we now present the first sustainable solution for this demanding application.
Strategic Partnership with Koehler Paper Group
In close cooperation with the Flexible Packaging Paper Division at Koehler, we have validated and created a pilot for a new stand-up pouch made of paper (Doy paper bag).
High barrier meets recyclability
Together with partners Dow, Comexi, Plastchim-T and Ticinoplast, we have developed a way to use high-barrier mono-plastic materials for complex pouch styles like Doy. The materials can be processed on existing machinery at high speeds, delivering premium quality every step of the way. Each project member contributed their unique perspective and decades of experience with packaging processes. The result of the collaboration: a commercially viable solution for bringing recyclable materials to market.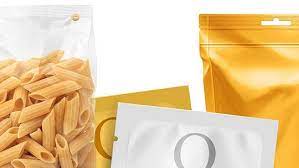 Economy Guidelines' | Syntegon
We contribute our packaging and processing expertise to the European initiative CEFLEX to foster a circular economy for flexible packaging. With the help of industry partners from across the value chain, CEFLEX has developed dedicated 'Designing for a Circular Economy Guidelines' for flexible packaging.
Developing environmentally friendly packaging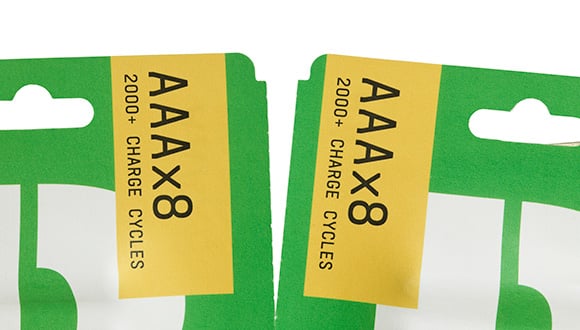 Driving innovation for conventional packaging
---
We want to think "new" with you to deliver sustainable packaging solutions that benefit the environment and your company's success. Together we develop new packaging concepts ranging from initial ideas and drafts, to digital mock-ups, to physical samples for your marketing department to evaluate. Our shared goal: to create packaging that is sustainable, innovative and attractive at the same time. From uniquely shaped paper pods to environmentally friendly sealing technologies: we can make the transition a reality.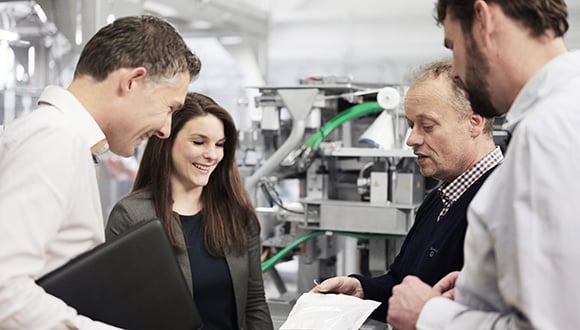 Reducing and recycling
---
Our mission is to make the most of resources. Avoid. Reuse. Recycle. We can avoid a great deal of packaging waste by using thinner layers and by optimizing package sizes. Additionally, we pursue a recycling approach focused on mono-material films and paper – materials that are ideally suited for recycling processes and support a circular economy. We believe that finding the perfect combination of technology and material for your specific product and application will lead to success.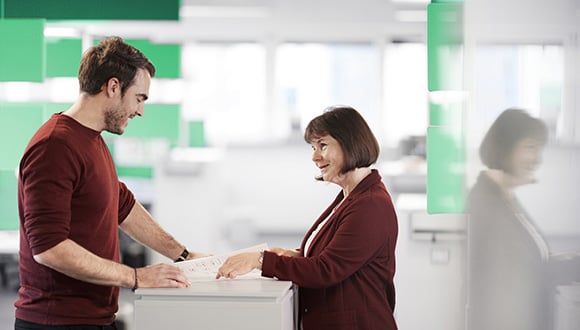 Innovation network
---
When it comes to sustainability, there are many aspects to consider. This is why we partner with packaging designers, material specialists, food manufacturers, retailers, policymakers, associations, research institutions, and industry initiatives to drive innovation. With our combined efforts and our expertise in mechanical engineering, we can take the next steps towards environmentally friendlier food packaging.
About us
---
Syntegon's technologies contribute to the worldwide supply of long-lasting and high-quality food, as well as high-quality and safely packaged medicines. Sustainability, Efficiency, Digitalization, Safety, Flexibility – each of these topics are mega trends in our industry. Learn more about how we use our technologies and know-how to develop innovative solutions and shape the packaging industry of tomorrow.
patents and patent applications
machines installed world-wide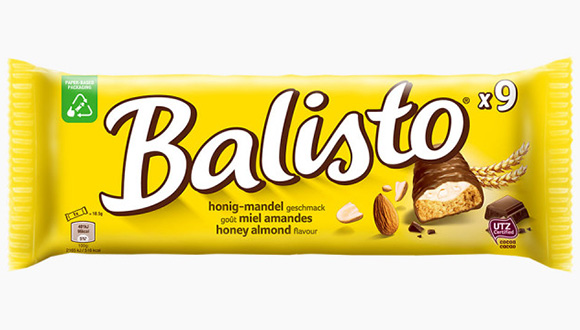 Our expertise, your advantage
Confectionery and flexible plastics go together like a horse and carriage – or at least they used to. Times are changing, and so are the materials that chocolate bars are wrapped in. Today, consumer goods companies are looking for more sustainable materials. Mars Wrigley is investigating the flow wrapping potential of paper while currently conducting large-scale testing at a major German food retailer.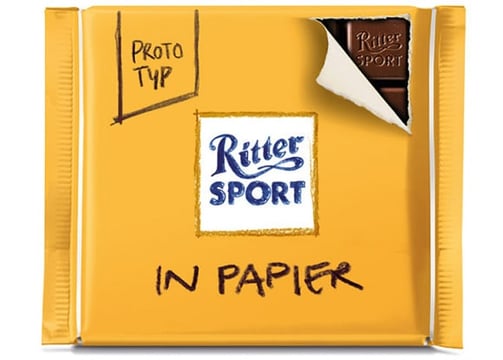 Our expertise, your advantage
Ritter Sport has set itself the goal of using paper-based packaging for its products. We have been supporting Ritter Sport with packaging solutions for its popular chocolate bars for the past four decades. The latest in a series of innovations: paper pouches for the colorful Ritter Sport mini editions.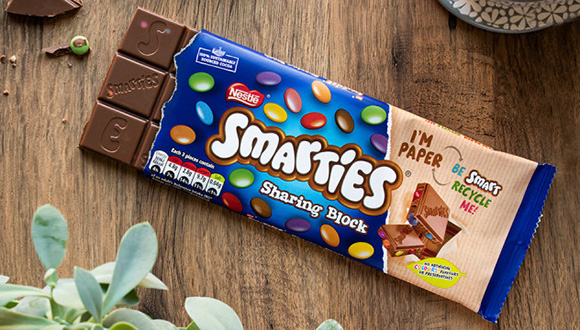 Our expertise, your advantage
Nestlé R&D in York has successfully shown how to switch the UK SMARTIES® tablet from conventional packaging to paper packaging: by approaching us and using our new upgrade kit "paper-ON-form" for their existing flow wrappers. Watch the full interview with Bruce Funnel from Nestlé R&D in York.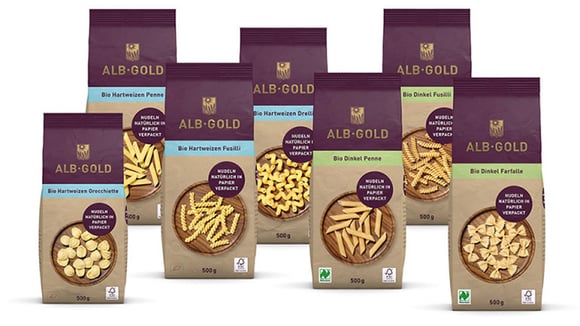 Our expertise, your advantage
ALB-GOLD Teigwaren was the first pasta producer in Germany to present its short pasta in sealed paper packaging. In stores since November 2018, the paper bags have been a great success – both with customers who want to reduce their exposure to plastic, and with retail stores that are actively trying to offer products with less waste and a reduced environmental impact.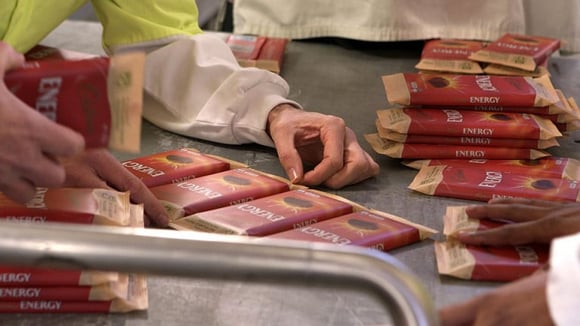 Our expertise, your advantage
Consumer and manufacturer demand for environmentally friendlier packaging has never been greater. Recently, Mondelēz International approached us with a challenging request: to package their Cadbury chocolate bars in fully recyclable paper flow wraps.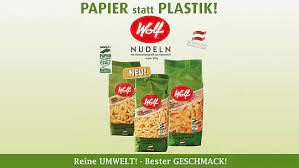 Our expertise, your advantage
Together with Austria-based Wolf Nudeln, we have developed an alternative to packaging pasta in plastic bags. In the packaging process, sealing material is only applied to the sealing areas, after the formed paper bag has been filled. The result: less than 5% sealing material is used, allowing the packaging to be recycled in the paper waste stream.
https://www.syntegon.com/hubfs/Content/3-Focus%20Topics/1%20Sustainability/02%20Sustainable%20Services%20and%20Consulting/Syntegon_Whitepaper_Sustainability_Materials_en_Feb2022.pdf|Syntegon_Whitepaper_Sustainability_Materials_en_Feb2022 https://www.syntegon.com/hubfs/Content/3-Focus%20Topics/1%20Sustainability/02%20Sustainable%20Services%20and%20Consulting/2021_Coffee_Sustainable_Vertical_Packaging_Whitepaper_en.pdf|2021_Coffee_Sustainable_Vertical_Packaging_Whitepaper_en https://www.syntegon.com/hubfs/Content/1-Solutions/2%20Food/01%20Industry%20pages/05%20Frozen%20Food/2020_Frozen_Food_Sustainability_Whitepaper_en.pdf|2020_Frozen_Food_Sustainability_Whitepaper_en https://www.syntegon.com/hubfs/Content/3-Focus%20Topics/1%20Sustainability/02%20Sustainable%20Services%20and%20Consulting/2021_Neutraceuticals_Sustainability_Paperforming_Whitepaper_en.pdf|2021_Neutraceuticals_Sustainability_Paperforming_Whitepaper_en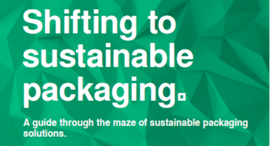 Whitepaper: Practical advice on selecting the right material
Comparison of production processes and recyclability of sustainable packaging materials.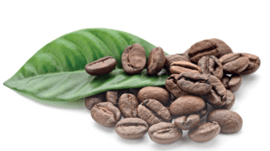 Whitepaper: Preserving coffee aroma while protecting the environment
A guide to understanding and promoting the use of mono-material films in vacuum coffee packaging.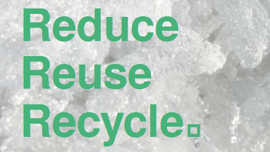 Whitepaper: Sustainable packaging for frozen foods
Industry insights into the ongoing efforts to make frozen food packaging and vertical bagging equipment more sustainable.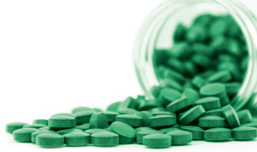 Whitepaper: Sustainable packaging for nutraceuticals
Learn about our sustainable paper blister solution, including easy push-through removal for tablets and capsules.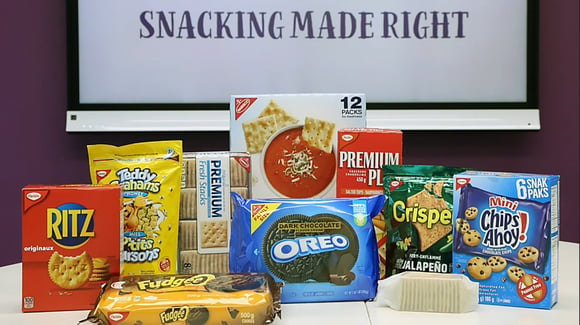 25.02.2023
Syntegon and Mondelēz: Snacking Packed Right!
Syntegon has had the immense pleasure of working with the snack powerhouse – Mondelēz – in Toronto, since 2017 and has eagerly aided their team in their "Snacking Made Right" pursuit.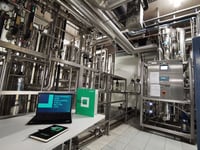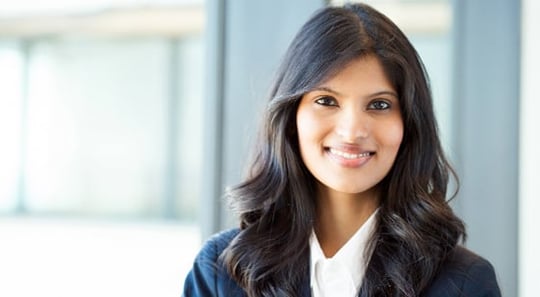 Interested in sustainable packaging innovation?
Reach out to our experts.

Are you looking for a new eco-friendly packaging for your product? Don't hesitate to request a consultation on your specific requirements.