Packaging and sustainability
Exploring uncharted territory
Conventional packaging consists of layers of different types of plastic, which impedes recycling. For the sake of our planet, today manufacturers can also opt for environmentally friendly mono-material or paper alternatives. While processing paper for secondary and end-of-line packaging is well established, there is still much to explore in primary packaging.
From a machinery point of view, the transition is complex, as sealing parameters such as pressure, temperature and time need to be adjusted. As a pioneer in sustainable packaging, we are happy to share our know-how and adapt your production to handling eco-friendly materials without compromising on production efficiency or product quality.
Sustainability @Syntegon
What if food packaging could help preserve our planet? Let us challenge our view on conventional packaging – for a more sustainable world.
Initial plunge towards sustainable packaging
In order to offer reliable, sustainable paper-based packaging solutions for large and medium-sized confectionery customers, we have entered into a strategic partnership with innovator Sappi Europe. While we normally pursue a packaging-material-independent approach and Sappi pursues a packaging-machine-independent approach, customers can now benefit from our combined expertise.
Horizontal packaging solutions
Paper flow-wraps
---
There are numerous barrier papers available for different applications in the chocolate and bakery industry. We have already installed our retrofit kit "paper-ON-form" for numerous customers. It can be used for different types of barrier papers as well as for conventional packaging materials on the same machine, making it possible to switch materials on the fly. The forming unit and sealing jaws shape paper without creasing or tearing it. Our experts can pre-configure the unit and jaws for your desired pack size and specific material characteristics.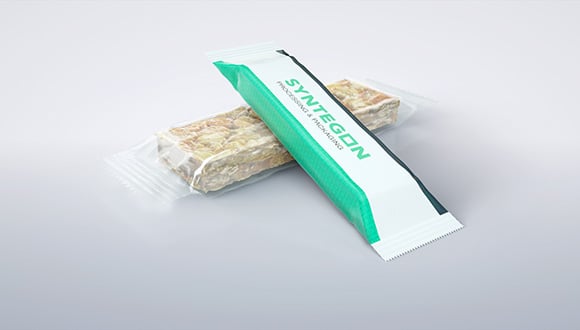 Mono-material flow-wraps
---
Mono-material films consist of a single type of plastic, which makes them more temperature-sensitive. The extended stroke length for Amplified Heat Sealing (AHS) on our horizontal flow wrappers helps to optimize thermal heat input and enables faster processing. The precise application of heat to the film ensures tight packs.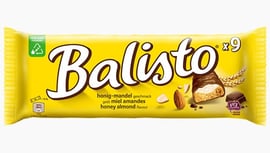 Paper packaging for Balisto chocolate bars
We supported Mars Wrigley with investigating the flow wrapping potential of paper.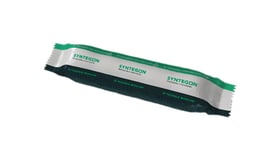 Optimal sealing quality for mono-material at high speeds
The extended hub length of the Amplified Heat Sealing technology allows extended sealing time, which is especially helpful for mono-material films.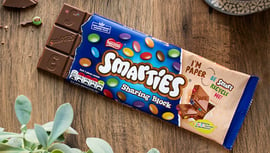 Paper packaging for SMARTIES® tablets
With a retrofit for their existing machinery, we helped Nestlé UK switch to paper for their chocolate packaging.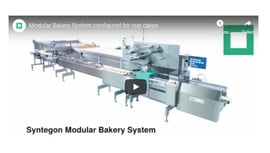 Heat-seal paper for packaging cupcakes
Medium-speed heat-sealing application: The forming unit and sealing jaws are pre-configured for the desired pack size and material characteristics before being installed.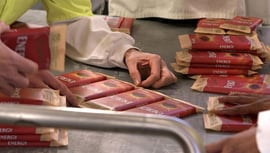 Paper packaging for Cadbury chocolate
Recently, Mondelēz International approached us with a challenging request: to package their Cadbury chocolate bars in recyclable paper flow wraps.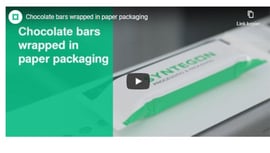 Cold-seal paper packaging for bars
High-speed cold-sealing application: The retrofit kit "paper-ON-form" for existing and new horizontal flow wrapping machines.
Vertical packaging solutions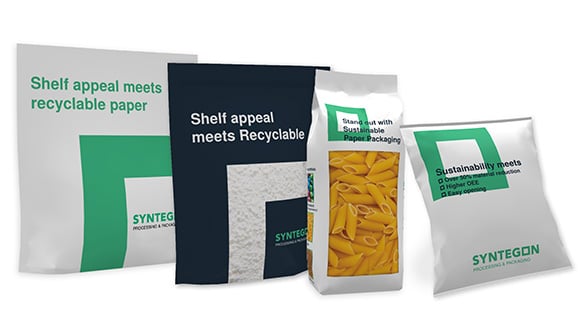 Paper bags
---
Syntegon vertical baggers can process paper to produce the most popular bag styles: pillow, gusseted, block-bottom, corner seal and Doy stand-up bags. Together with various material suppliers, we have developed proven technologies ensuring the ideal solution for your product. By applying sealing agent only selectively, we can achieve fiber content of up to 95 percent and help you move towards sustainable packaging. We also offer retrofits for an easy transition to paper packaging.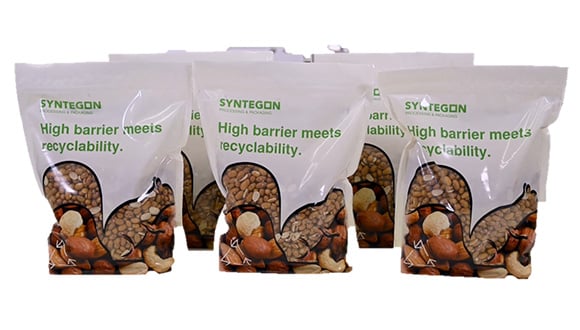 Mono-material bags
---
Sustainability without compromises: our solutions maintain the high bag quality and production speed you know from conventional films. Vertical baggers from Syntegon can efficiently process mono-material films for the most popular bag styles: pillow, gusseted, block-bottom, corner seal and Doy stand-up bags including zip. In cooperation with various film suppliers, we have developed proven solutions, offering the right barrier properties for your product (up to a water vapor transmission rate of <1 and an oxygen transmission rate of < 1). New sealing systems can minimize the amount of film clamped during the sealing process, cutting film consumption by up to 6.8%.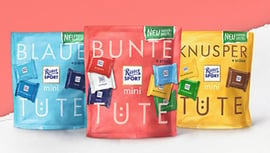 Ritter Sport minis in stand-up bags
Vertical baggers produce bend- and tear-resistant stand-up bags made of paper.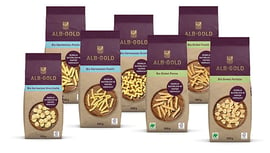 Pasta in sealed paper packaging
ALB-GOLD has begun selling its pasta in paper bags, which has been a great success with customers and retailers alike.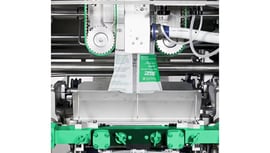 Frozen foods in BOPE pillow bags
Combination of our PHS 2.0 sealing technology and a 20-micrometer film from BOPE.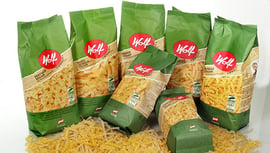 Wolf Nudeln in paper bags
With less than 5% sealing material content, the packaging counts as mono-material and can be recycled in the paper waste stream.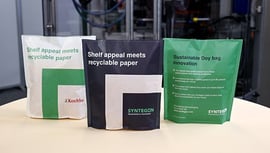 Paper stand-up pouch (Doy bag)
Our cooperation with Koehler enables customers to use paper on their existing machines to produce attractive bag shapes like Doy from paper.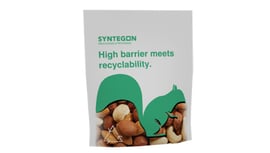 High barrier meets recyclability
New PE-based flexible stand-up pouches with high barrier qualities offer toughness, stiffness and shelf appeal at high speeds on existing VFFS production lines.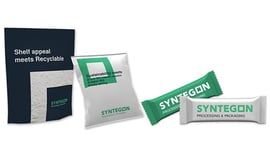 Order your free set of sustainable bag samples
In the set you will find readily available packaging solutions.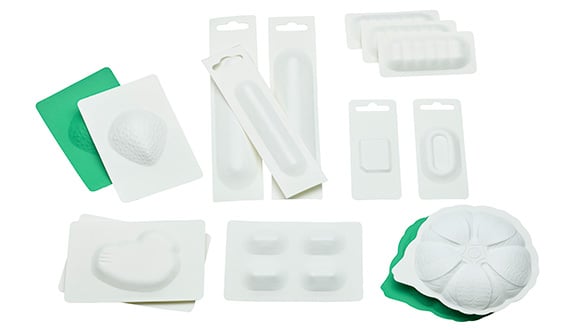 Shaped Paper Pods
---
Our award-winning paper forming technology creates uniquely shaped paper pods that stand out on the shelf: the use of stretchable paper results in unique 3D effects unlike any other packaging solution on the market. It also offers a wide range of possibilities for innovative, sustainable portion packs made of fiber-based material with a filling volume of 10 to 100 milliliters – suitable for the eco-friendly packaging of food, cosmetics and non-food products. Besides processing pure paper, thin barrier layers can be added to ensure the necessary product protection. Another sustainable advance: packaging tablets and capsules in paper blisters.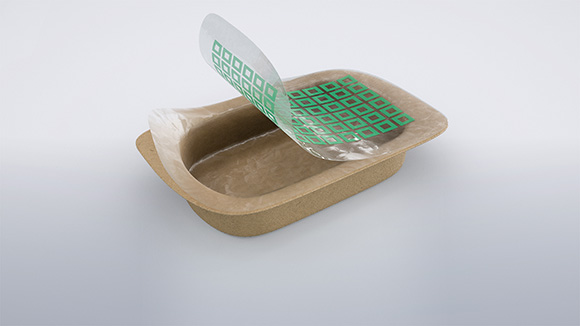 Paper trays and cups
---
We aim to pack even sensitive food products that need high barrier properties using more sustainable materials: a special paper, which is particularly stretchable and tearproof thanks to long cellulose fibers, makes it possible to form sealed trays and cups with a depth of up to 30 millimeters. A recyclable barrier layer made of 95 percent mono-material provides optimal product protection. We also bear in mind end-of-life aspects: The paper barrier layer and the cover film can easily be separated to increase recyclability and reduce plastic content.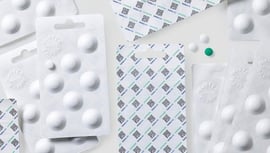 Blister meets paper
We won the German Packaging Award for our sustainable tablet and capsule packaging.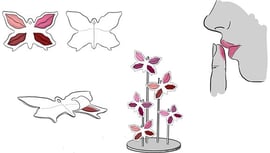 Sustainably packaging cosmetics in paper
Embossed structural pods can be individually shaped to manufacturers' requirements and are made almost entirely of paper.
Batteries, toothbrushes, cosmetics and household items packaged in paper
Our cooperation with contract packer Truvant allows customers to quickly implement sustainable packaging solutions.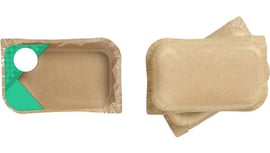 Paper packaging for sensitive products with high barrier properties
Sealed trays and cups made of particularly stretchable and tearproof long-cellulose-fiber paper.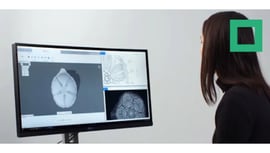 What if paper pods could shape the future?
Using stretchable paper creates unique 3D effects for unique brand experiences.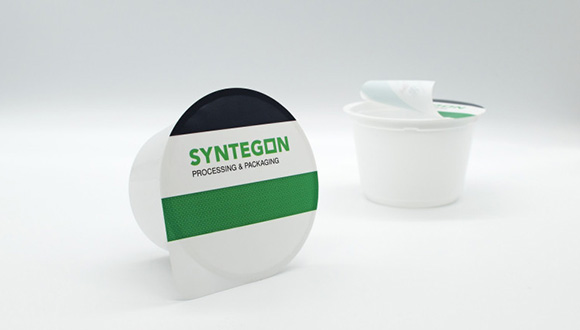 Paper or PP mono-material cups
---
Syntegon is your partner in researching, testing and developing new approaches. We assess the processing parameters of alternative packaging materials for your product, such as paper or PP mono-material. Our Liquid Food Lab with in-house testing facilities is fully equipped to perform and evaluate germ reduction and product filling tests in small quantities to ensure optimal product safety. We support you in making the transition to sustainable materials by predicting necessary machine adjustments and effects on the product. Together, we develop individual solutions to retrofit existing systems, allowing quick changes between different materials on the same filling line.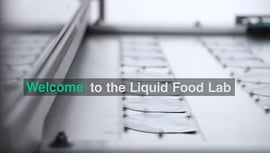 Testing for sealability, sterility, and smooth machine handling
The experts at our test lab can help you adapt your system to the requirements of new sustainable materials.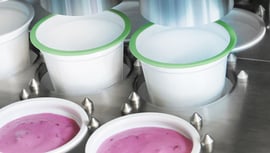 Solutions tailored to your production needs
Combine environmentally friendly materials with efficient processes and optimal product protection for sensitive products like dairy.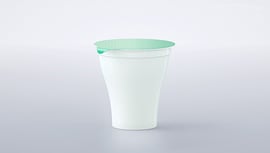 Efficient cup filling solutions
Learn more about our dosing and filling know-how for liquid and viscous foods.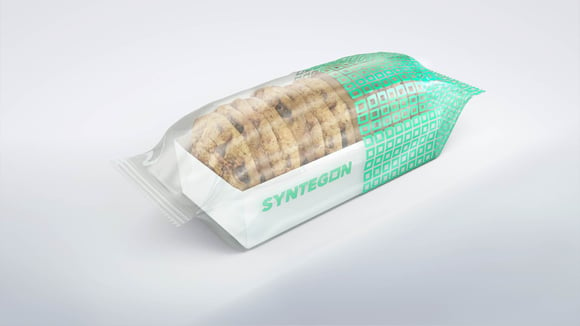 Cartons
---
Our comprehensive portfolio of topload, endload and wraparound cartoners is designed for maximum efficiency. Our goals: maximum performance, minimum waste. Avoiding rejects not only saves costs, but also has a positive impact on the environment. Syntegon avoids adhesives in carton forming by using glue-free technologies such as ultrasonic sealing or our innovative lock-style technology – which has already replaced plastic trays in cookie packaging with paper trays. Both solutions provide viable, sustainable options for your secondary packaging processes.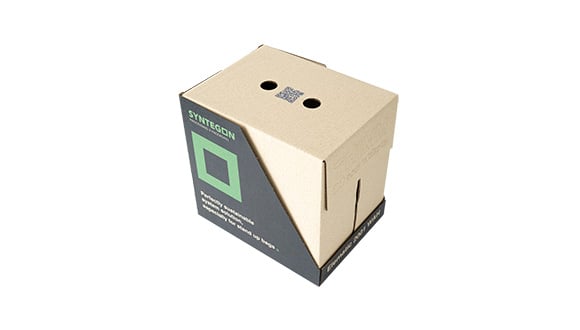 Cases
---
True to our sustainability mission, our case packing machines can process corrugated board made from renewable materials, such as grass fiber. Additionally, we are developing packaging solutions that reduce your material waste and overall costs. Our case packers are known for their efficient use of packaging materials, including the ability to work with bent blanks. From simple trays to shelf-ready trays with hoods, our case packers deliver maximum flexibility.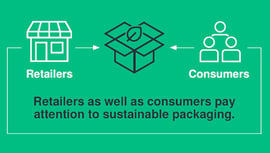 Replacing plastic with paper trays?
Take a closer look at trays made from paper, which can replace commonly used plastic trays for cookies.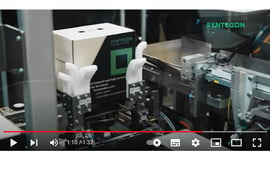 Cases made of grass fiber
Take a look at our case packer combined with a vertical bagger producing paper stand-up bags.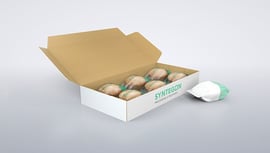 Sustainable carton packaging solutions
Customers can choose between glue, lock-style or innovative ultrasonic sealing technology.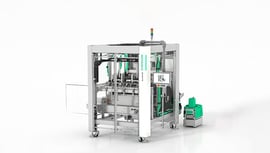 Kliklok ACE – glue-free cartoning solutions
Thanks to our lock-style technology we can form cartons in a completely glue-free, environmentally friendly manner.
https://www.syntegon.com/hubfs/Content/2-Service/2-Consulting-Services/04-Regulatory-Pharma-Compliances/Syntegon_Whitepaper_Sustainability_Materials_en_Feb2022.pdf|Syntegon_Whitepaper_Sustainability_Materials_en_Feb2022 https://www.syntegon.com/hubfs/Content/2-Service/2-Consulting-Services/04-Regulatory-Pharma-Compliances/2021_Coffee_Sustainable_Vertical_Packaging_Whitepaper_en.pdf|2021_Coffee_Sustainable_Vertical_Packaging_Whitepaper_en https://www.syntegon.com/hubfs/Content/2-Service/2-Consulting-Services/04-Regulatory-Pharma-Compliances/2020_Frozen_Food_Sustainability_Whitepaper_en.pdf|2020_Frozen_Food_Sustainability_Whitepaper_en https://www.syntegon.com/hubfs/Content/2-Service/2-Consulting-Services/04-Regulatory-Pharma-Compliances/2021_Neutraceuticals_Sustainability_Paperforming_Whitepaper_en.pdf|2021_Neutraceuticals_Sustainability_Paperforming_Whitepaper_en https://www.syntegon.com/hubfs/05_website/Content/1-Solutions/2-Food/02-Technology-pages/08-Cups-and-Bottle-filling/RZ_Flyer_PP_Becher_Platinen_EN_korr.pdf|RZ_Flyer_PP_Becher_Platinen_EN_korr
Packaging and sustainability downloads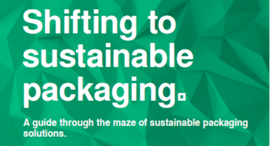 Whitepaper: Practical advice on selecting the right material
Comparison of production processes and recyclability of sustainable packaging materials.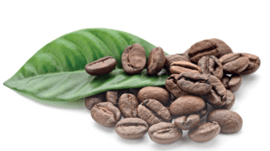 Whitepaper: Preserving coffee aroma while protecting the environment
A guide to understanding and promoting the use of mono-material films in vacuum coffee packaging.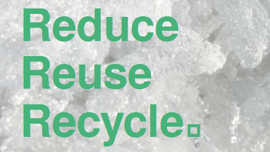 Whitepaper: Sustainable packaging for frozen foods
Industry insights into the ongoing efforts to make frozen food packaging and vertical bagging equipment more sustainable.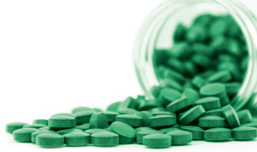 Whitepaper: Sustainable packaging for nutraceuticals
Learn about our sustainable paper blister solution, including easy push-through removal for tablets and capsules.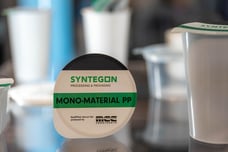 Flyer
Explore our retrofit solution for processing mono-material packaging.
Read our latest sustainability news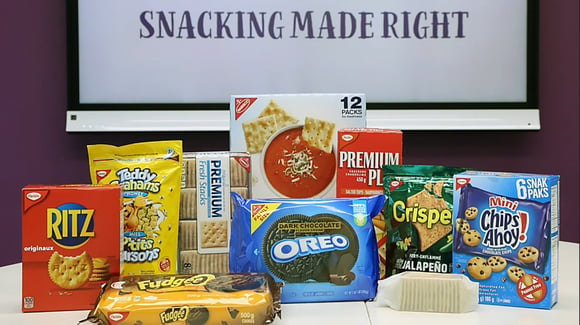 25.02.2023
Syntegon and Mondelēz: Snacking Packed Right!
Syntegon has had the immense pleasure of working with the snack powerhouse – Mondelēz – in Toronto, since 2017 and has eagerly aided their team in their "Snacking Made Right" pursuit.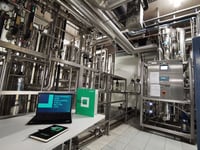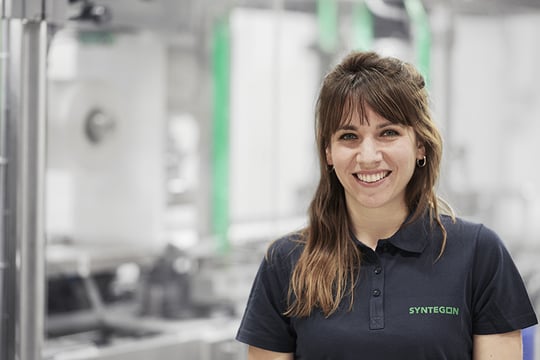 Interested in sustainable packaging technology?
Reach out to our experts.

Do you want to make the switch to eco-friendly materials without compromising on efficiency or product quality? Do you have a specific project in mind? Get in touch with our experts!