Successes should be celebrated, especially in challenging times. We are very pleased to count 1,500 inspection machines installed in the market, some of which are currently also ensuring the safety of Covid vaccines. The recipe for success includes many years of experience combined with a good pinch of innovation.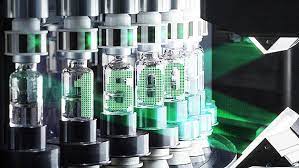 1,500 inspection machines installed in the market: to reach this milestone, our experts have been contributing their experience and skills to numerous developments. And they have been supporting just as many customers in making their pharmaceuticals as safe as possible with manual, semi-automated and fully automated inspection equipment.
Japan as a trendsetter
Syntegon's inspection technology has its origins in Japan, the country where the market demands a quality far beyond regulatory requirements. In 2012, the former Bosch Packaging Technology acquired the inspection business of Eisai Machinery. This was a logical step, as Bosch had already set an example in Europe in 1985 with the development of the KLD series for high-voltage leak detection.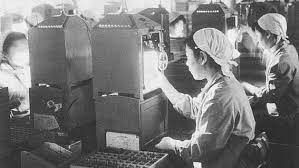 Manual visual inspection in 1961
Reproduction for press purposes free of charge with credit "Picture: Syntegon"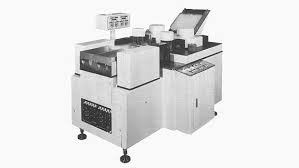 First Automatic Inspection Machine AIM275 – developed in 1975
Reproduction for press purposes free of charge with credit "Picture: Syntegon"
Some 45 years ago, a department of Eisai, which later became Eisai Machinery developed the first automated AIM inspection machine in Japan. It also marked the start of the SD technology for particle detection, which has become indispensable in many pharmaceutical production facilities. While the industry previously used manual inspection, we see an entirely different picture today: both camera-based inspection and SD technology can be integrated in the highly modular and compact AIM 8000 – showing how Syntegon seamlessly continues the tradition of high-performance and flexible visual inspection.
The highest flexibility for liquid pharmaceuticals
In terms of flexibility, another member of the AIM family sets new standards: the compact AIM 3000 detects particles and cosmetic container defects on just one inspection table. In addition, the machine is available with an optional HVLD module for 100% container closure integrity testing (CCIT). What's more, the AIM 3000 is also available with laser-based headspace analysis, which is also incorporated in the KHS developed in cooperation with Lighthouse Instruments.
From vials with liquid or lyophilized content to ampoules, cartridges and syringes: there is no container and hardly any liquid drug that could not be inspected on an inspection machine from Syntegon. Inspection machines from Syntegon are also used in the production of the novel mRNA Covid-19 vaccines. Our team of experts has implemented numerous projects around the world over the past few months, ensuring maximum product quality at high inspection rates.
New milestone: AI in visual inspection
In addition to Covid vaccines, another hot topic is currently on our development agenda: the use of Artificial Intelligence (AI) in the inspection of pharmaceutical liquids. We were recently able to install and validate the very first AI-equipped visual inspection system on the market in a fully automated customer machine. Here, too, our many years of experience, both in visual inspection and in the validation of software, processes and machines, are decisive for the success of the project – combined with the creativity and innovative power of our experts. They are of course working on further innovations and look forward to presenting them to you soon.