After almost a decade in Asia, Christian Dengler has returned to Crailsheim, where as a young man he did an apprenticeship as an industrial mechanic at Bosch Packaging. He remained in Crailsheim for several years, working as a fitter and finally as an assembly team leader, until he accepted a position as a manufacturing project coordinator at the Chinese plant of Hangzhou in 2010.
Although Christian had long been considering working abroad, preferably at one of the Asian plants, he did not apply for this job, but seized the opportunity when his superiors approached him.
Living and working in China
The beginnings in China were difficult: "As a young fitter I was deployed with the task of transferring knowledge for the manufacturing of license machines, supporting local production and implementing quality processes. I wanted to change things in the typical German way, but I was not in the position to do so", he remembers. In a culture where age and hierarchy play a major role, the ambitious young man quickly reached his limits. In retrospect, he considers this time as a truly educational experience: "You have to listen to other opinions, everything has two sides. Through discussion and cooperation, you always come to a solution. After I had understood this, I had a very good time in China, where professional success and discipline are essential for people".
In his private life, too, Christian used every opportunity to learn new things during his first stay abroad. He has unforgettable memories of his trip to Tibet, for which he had to obtain a special permit from the Chinese government.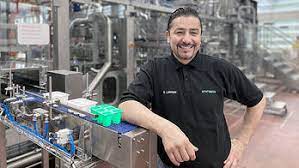 In Tibet
Christian does not want to restrict his experiences gained in China to a specific country or continent. "It's the same everywhere. If you are friendly, accept other cultures and opinions and show respect for people, you can get along anywhere in the world", knows the former fitter, who has travelled to many countries.
New challenge
This attitude also benefitted Christian after moving to the service department, when he accepted a new challenge in Thailand in 2013 after almost three years in Hangzhou. For this Area Manager position, his service colleagues had provided the technician with the necessary commercial knowledge in a three-month training course in Germany. In addition to supporting pharmaceutical customers in Southeast Asia, Christian was involved in the expansion of the local "SEA Hub" service site, which was growing rapidly during his stay in Bangkok.
The former mechanic very much enjoys the daily customer contact and the variety that comes with working in the service department. "I have always enjoyed travelling, I like meeting customers in their environment," he says, adding, "I couldn't imagine doing the same thing every day".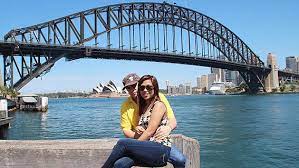 Holidays in Sydney
Christian has fond memories of his time in Thailand: "Here I learned that you should have a smile in everything you do. In addition to the enjoyment of work that my colleagues showed, a good working environment is crucial in this culture". As there were employees from different nations in Bangkok, many conversations were held in English in the office, which made things easier for him, especially in the beginning.
"I really appreciate the fact that
Syntegon offers you the chance to work
in other countries, which enables
you to grow personally and professionally."
Christian Dengler
As in China, the company offered language courses for expatriates. In general, Christian felt perfectly supported in all matters during his stay. "For example, I was well prepared through intercultural training and always had a contact person both when leaving and returning to Germany, no matter what the topic was. I really appreciate the fact that Syntegon offers you the chance to work in other countries, which enables you to grow personally and professionally", he emphasizes.
Lifelong learning
Personal growth is a top priority for the trained industrial mechanic. Setting goals and daring to do something new in a changing world after a certain time – this is the principle he has followed since his apprenticeship.
It is therefore only logical that, after having spent 4 years in Bangkok, Christian moved again - this time to the Philippines, the home of his wife Mary Joy, who had already been by his side in Thailand. Based in Manila, he was looking after the company's Food customers as a service manager. His tasks included business development as well as the analysis and definition of a strategy for the future customer service orientation in this fast growing market.
Of course, through his family ties he has a special relationship with this island state, which he describes as very western due to its colonial past and religion. He is still impressed by the generosity and hospitality of the people as well as the unspoiled nature outside the metropolises.
After two years in the Philippines and almost a decade in Asia, Christian and his wife decided to return to Germany in 2019. It goes without saying that he had made appropriate provisions. With the support of his family, the service expert had begun to build a house from afar in which the couple could settle down. His wife especially likes the changing seasons in Germany and the variety of the destinations in Europe.
After returning to Germany, things also went smoothly for Christian in his job. At the Syntegon Pharma Customer Service in Crailsheim, he was in charge of one of the major customers before taking on a team leader position in the department in mid-2020 as the next career step.
Christian feels at home in the service department. For him, the customer is the centre of attention. "The most important thing for me is to listen to the customer and offer him solutions that exactly fit his needs. He must know that in Syntegon he has a partner he can fully rely on".