Product counterfeiting is a hot topic in almost all manufacturing industries; the demands for a clear proof of origin are increasing. Particularly regarding the growing number of scandals involving counterfeit or contaminated food products, it is essential to take action as quickly as possible – to strengthen confidence in one's own brand and to avoid expensive product recalls.
Many authorities in large sales markets such as China, Russia or the U.S. are also currently working on new regulations specifically for the traceability of food products. Once these come into force, producers from other regions will have to meet the requirements in order to secure their market access.
In addition, Track and trace solutions are very versatile: as a marketing tool, they can strengthen consumer confidence and can promote interaction through innovative advertising and gamification measures. Serialization solutions also provide important data for the control and transparency of manufacturing and logistics processes. Hence, serialization offers both consumers and manufacturers the desired transparency from farm to fork.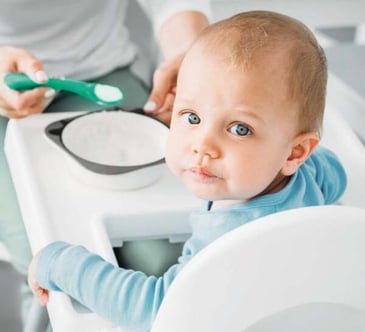 Open systems for maximum flexibility
When it comes to implementation of Track and Trace systems, food manufacturers face a number of challenges. These include the necessary investment in a Track and Trace solution in spite of the omnipresent cost pressure, as well as the potential time pressure should countries introduce new regulations at short notice. Moreover, technical hurdles such as the installation of required serialization modules, printers, lasers, and cameras must be overcome. And yet, it is worthwhile to address this issue at an early stage. Whoever works with an experienced partner right from the start saves time, receives a solution that meets the exact needs, and is prepared for future requirements.
The first step consists in analyzing the short- and long-term expectation regarding the new system. Scalability and the highest possible flexibility for changing requirements are particularly important. As a member of the Open-SCS steering committee, Syntegon relies on interoperable, standardized interfaces. Opting for an open solution right away avoids the so-called lock-in effect and results in a software that is compatible with a wide variety of programs. In addition, Track and Trace software is ideally suited for use with Industry 4.0 applications.
Experience is the key to success
In addition to the openness of serialization solutions, experience is crucial for successful implementation. Syntegon has already implemented more than 500 Track and Trace projects worldwide, mainly in the highly regulated pharmaceutical industry. Customers from the food industry benefit from this expertise: they have access to cost-effective entry-level solutions, high-speed lines, as well as highly complex and fully validatable turnkey solutions. The Track and Trace solutions can also be seamlessly integrated into existing system landscapes at all levels and across all interfaces. In addition, Syntegon also offers upgrades and aggregation solutions. This way, any serialization system can grow flexibly with changing requirements.