According to the European Parliament, approximately 200 million tons of household waste are produced across Europe every year. Companies from different industries increasingly rely on resource-efficient production and recyclable packaging materials to counteract this.
Sustainable production processes are also in great demand at Syntegon. The company not only successfully closes its own material cycles; it also supports food manufacturers in switching to sustainable packaging materials with adequate technology.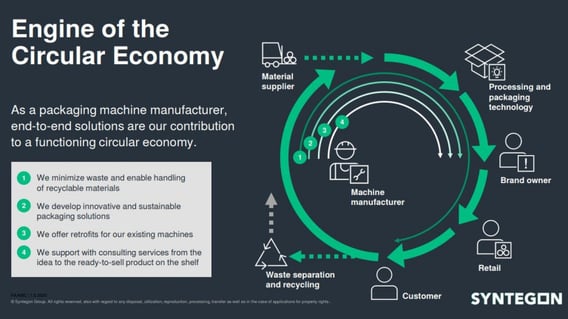 The circular economy pursues a noble goal: recycling and recovery should result in less waste in order to save valuable resocurces such as energy and raw materials. Here, packaging materials make an important contribution. In the food industry, many companies rely on recyclable solutions such as paper and films made from mono-material and on new packaging technologies to process these alternatives.
Syntegon has been supporting companies for many years with suitable machines – and sets a good example itself when it comes to ciruclar economy. "We teach our employees to produce less waste and to use resources efficiently. We dispose our waste via regional companies and achieve an overall recycling rate of way above 90 percent at our German sites," explains Torsten Sauer, Project Manager Sustainability.
MATERIAL TESTING FOR OPTIMUM RESULTS
Syntegon supports food manufacturers in adhering to the circular economy principles by providing consulting, testing options and innovative technologies. Mono-material packaging made from polyolefins, such as bags and pouches made from polyethylene (PE) and polypropylene (PP), can be recycled via established recycling streams in many countries. The challenge during the packaging process is to ensure the same machine output with different barrier and sealing features. "We test materials and machines in our laboratories together with manufacturers to identify optimal production parameters – and to provide future-proof solutions for succesful circular processes for our customers. Retrofits further make it possible to upgrade existing systems in our portfolio," Sauer explains.
GENTLE PAPER PROCESSING
This also includes "paper-ON-form". With the retrofit kit for horizontal flow wrappers, Syntegon provides a practicable solution to process delicate paper-based packaging, which is establishing itself as another sustainable option besides mono-materials. From shaped paper pods for cosmetics to trays for hummus and meat or blister packaging for tablets – paper is the basis for many different packagings formats, which Syntegon develops together with leading companies from the industry. "Food manufacturers benefit significantly from this close collaboration," says Sauer. "The circular economy depends on an efficient reuse of essential resources, as well as from the teamwork between different players."
Whatever your strategy to close your cycles: our experts have the knowledge about alternative packaging materials and suitable processing technologies!