Vaccines protect people from dangerous infectious diseases such as COVID-19, tuberculosis or yellow fever. But vaccine research and production also involve certain risks. Accordingly, handling biological substances calls for the highest safety standards to protect operators and the environment from e.g. pathogens or contaminated wastewater. Effective sterilization with suitable autoclaves can help manufacturers uphold these standards. Schoeller-Bleckmann Medizintechnik (SBM), a Syntegon company, supplies custom-fit solutions for reliable sterilization and decontamination.
The research, development and production of new vaccines have been all over the news since the start of the COVID-19 pandemic. However, the safety requirements for laboratories working with biological substances are not known. EU Directive 2000/54 defines biological agents as microorganisms, cell cultures and human endoparasites that can cause infections, allergies or toxic effects in living organisms.
Protecting employees in pharmaceutical production, as well as the environment, from these substances is a key goal of the directive, which distinguishes between four risk groups and four corresponding protection levels (Biosafety Levels, or BSLs for short). These levels are defined according to the potential hazard and risk of infection. BSL-3, for example, includes biomaterials like the dengue virus, various hepatitis pathogens and the coronavirus, all of which can cause serious health problems in humans.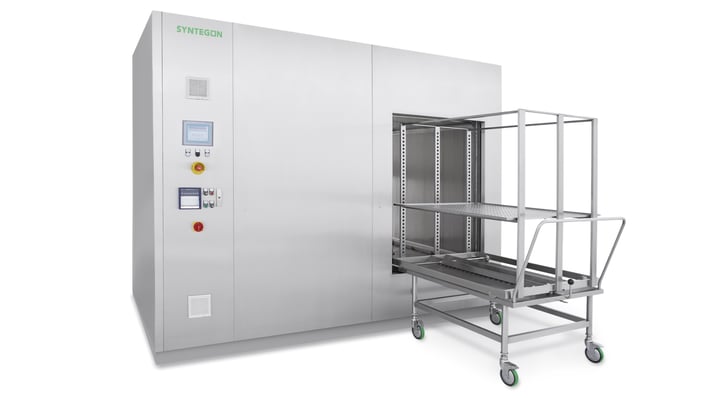 Sterilization for maximum safety
According to a WHO guideline, the safe handling of these pathogens requires biological protection levels 2 and 3.[1] BSL-3 in particular includes stringent standards for the proper sterilization and decontamination of solids, waste and wastewater. These apply e.g. to containers that have come into contact with biological substances, as well as unfilled pharmaceuticals, condensates and air from pharmaceutical production facilities.
SBM has been steadily expanding its decontamination expertise for these substances for decades. "With effective steam sterilization in an autoclave, we can fully ensure that no pathogens from pharmaceutical production are released into the environment," explains Josef Summer, Head of Engineering Customer Projects at SBM. "We usually decontaminate at higher temperatures and for longer times than in terminal sterilization," he continues. The challenge lies in ensuring consistently high temperatures. "Our autoclaves achieve the desired results thanks to sophisticated technology."
A precise risk analysis also contributes to proper decontamination. Together with customers, SBM's specialists not only analyze critical issues, e.g. in maintenance or troubleshooting – they also develop customer-specific decontamination standards for the highest process reliability.
Would you like to learn more about SBM's solutions for the sterilization of medical products and equipment? Our experts will be happy to help you!
[1] Laboratory biosafety guidance related to coronavirus disease (COVID-19), interim guidance, January 28, 2021, file://C:\\Users\mpi\Downloads\WHO-WPE-GIH-2021.1-eng.pdf