They are a common sight on supermarket shelves: shrink-wrapped cans, pots and trays have been dominating food packaging for decades. The easily processable film provides more than product protection: it offers ample space for advertising, creating on-shelf visibility. However, traditional film is not the only material capable of such feats: brands that are eager to switch to more sustainable packaging have given cardboard sleeves a real boost in popularity.
While cardboard may not seem a suitable choice of material at first glance, many applications in the field prove that it gains ground in the food industry: paperboard trays with matching sleeves are increasingly used, e. g. for ready-made meals. In addition to legal requirements, changing consumer expectations are an important driver behind that shift. A survey among US consumers found that around two thirds of them consider paperboard, paper and glass to be very sustainable, displaying a keen interest in recyclable plastics and fiber-based alternatives.[1]
Two sustainable materials are particularly popular amongst food manufacturers: paper and mono-material films. With the appropriate technology, these materials can be processed on existing equipment without compromising on speed and efficiency. Moreover, they score points with high shelf appeal, guarantee product protection, and are recyclable at the same time, which puts them ahead of conventional multi-layer plastic films. But how to change packaging solutions that have been a mainstay of food and beverage packaging for decades?
Jelly packaging: a new take on sleeving
The snacks, beverage and household products industries manufacture goods with a strong shelf presence, offering brands an opportunity to attract consumers' attention with appealing package designs and branding. Leveraging this potential involves a change in the packaging material, and the packaging systems themselves.
"Regardless of the industry, our machines can run different materials to handle a variety of pack styles – including topload cartons and paperboard wraparound sleeves," Robert Kiely, Managing Director at Kliklok a Syntegon company, based in Bristol, UK, points out. These pack styles had caught the attention of a major jelly manufacturer: "They supply supermarkets across the UK. For sustainability reasons, they wanted to change their plastic shrink wrap material for three different sizes of pots from single-use plastic to cardboard sleeves," he explains.
Meeting that requirement took a Kliklok Certiwrap C150 for the sleeving of meal trays, tubs and pots, either individually or in a variety of multi-pack configurations. The machine forms a sleeve with a special v-shaped retention feature inside. It helps to correctly space and retain the pot, the lid of which goes through the sleeve's upper side for added stability. The sleeve is then glue-sealed. Instead of applying two glue stripes on both ends of a typical sideload carton, sleeves require only one, helping not only to replace plastic with this pack style, but also to reduce glue costs by around 50 percent.
Would you like to experience Kliklok's packaging versatility yourself? Then contact us directly. We look forward to hearing from you!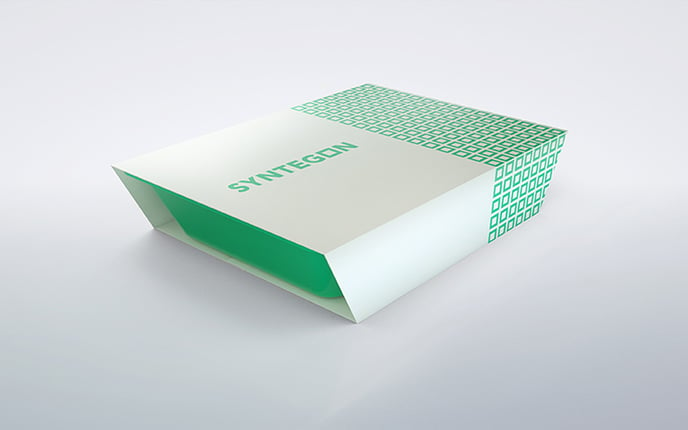 Paperboard sleeves instead of traditional shrink wraps can help wrap meal trays, tubs and pots, either individually or in a variety of multi-pack configurations.
[1] https://www.mckinsey.com/industries/paper-forest-products-and-packaging/our-insights/sustainability-in-packaging-inside-the-minds-of-us-consumers