Other than being healthy dietary choices, produce such as onions, berries, and apples share another common characteristic: producers tend to market them in plastic bags, shells, or trays. Although these styles excel in terms of stability, their base material is on the decline: companies around the globe are looking for more sustainable alternatives to traditional plastics. Syntegon has been carefully observing this trend and supports manufacturers with its highly versatile carton forming and closing solutions.
Cardboard and paper have been a mainstay in everyday packaging, although not in the produce industry. For a long time, fruit and vegetable brands relied on plastic clamshells, polystyrene trays, and plastic bags, which are loaded, then closed or flow wrapped. The reasons for this are as simple as they are practical: produce packaging needs to be moisture-proof, since produce is often ripe and kept fresh with a mist-dispenser on shelf.
Due to the poor recyclability of classic composite plastics, however, companies are on the lookout for easily recyclable alternatives. Legislative pressure adds to this shift: In 2021, the French government took a decisive step, prohibiting the use of single-use plastic packaging for most fruits and vegetables as of January 1, 2022.[1] Moreover, the EU, has been imposing a tax on non-recycled plastic since 2021.[2]
The virtues of cardboard
Replacing established materials with paperboard topload cartons or sleeves requires specific adaptations. Paperboard needs to have a barrier coating to withstand moisture. Moreover, mid-sized to large products like apples, onions and potatoes are usually sold as bulk ware, either loose or in flexible bags that can hold several pounds each. When switching to paperboard cartons or sleeves, produce companies need to make sure these alternatives are just as stable as traditional pack styles, for example via glue-style or lock-style variants.
"Running new packaging styles and adapting to current trends requires the right amount of equipment flexibility," says Robert Kiely, Managing Director at Kliklok, a Syntegon company in Bristol, UK. As a pioneer in carton forming and loading, Syntegon has been refining its equipment for 75 years. Syntegon offers a large portfolio of matching solutions under its Kliklok brand, supporting food manufacturers globally to live up to their sustainability claims.
Cartons for Australian onions
Syntegon did so lately with their Kliklok topload former and closer. Both enabled an Australian onion producer to switch to glued recycled paperboard topload cartons with cutout parts at the top. The perforated parts are not only a design element. They also serve as handles, allowing end consumers to safely carry the bulk onions.
The Kliklok ACE topload former was the best fit to realize this style, as it can flexibly form lock-style and glue-style cartons on the same machine. To bolster customers' sustainability endeavors, Syntegon developed the ACE to run paperboard or corrugated material. The Kliklok Vari-Right, in turn, supported the customer in closing the cartons. Keeping the cartons' shape as they traveled through the machine proved challenging, as the recycled paperboard was thinner and less rigid than most other cartons. The topload closer's lug system, however, helped to safely guide the cartons through the various closing stations, while rollers ensure tight glue seals.
Would you like to experience Kliklok's packaging versatility yourself? Then contact us directly at contact form. We look forward to hearing from you!
This is part 1 in a series of blog posts on sustainable food packaging. Check out parts 2 (LINK) and 3 (LINK).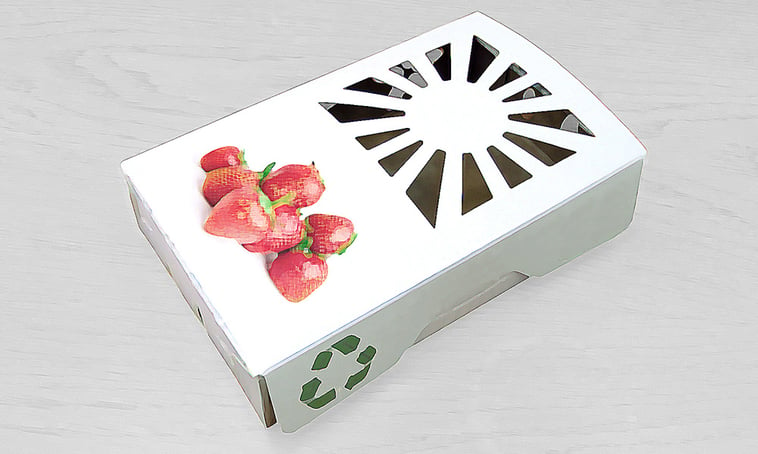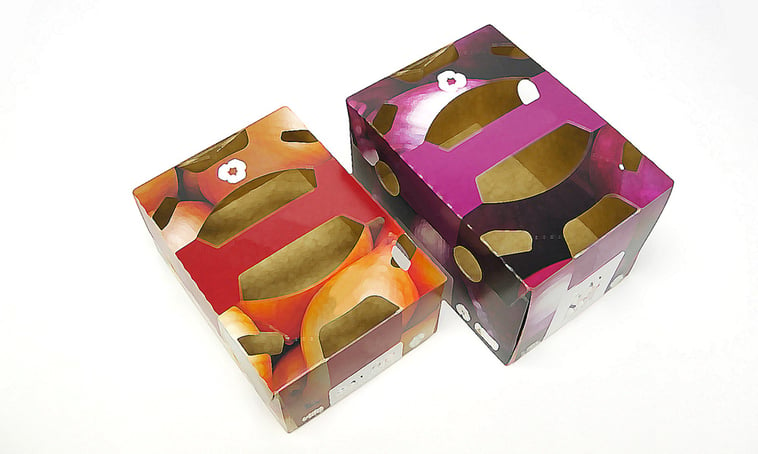 Produce like strawberries and onions can be packed as safely in cartons as in plastic clamshells, polystyrene trays, or plastic bags.
[1] https://www.bbc.com/news/world-europe-59843697