Millions of people, cities, and companies across the globe are going to turn off their lights for 60 minutes on March 27, 2021, at 8:30 p.m. A symbolic and peaceful gesture of protest, this event goes to encourage climate and environmental action. Syntegon will again be on board this year, switching off the lights on the grounds of its corporate headquarters in Waiblingen.
The World Wide Fund for Nature, a conservation and wildlife preservation organization widely known as the WWF, launched this campaign. The first Earth Hour was held in 2007 in Sydney, Australia. More and more people, companies, and cities have joined in over the years since that inceptive event. Earth Hour is now the largest global climate and environmental action campaign.
Ecological Responsibilities: Energy, Emissions, Waste
Businesses play a pivotal role in climate and environmental action, and Syntegon is well aware of its ecological responsibilities. The company is not just making a symbolic gesture by joining in with this campaign. It is taking real action to minimize the adverse impact of its business activities on the environment. The effort to reduce Syntegon's energy consumption, emissions, and non-recyclable waste is ongoing. The company aims to continue cutting emissions, with 2025's carbon levels to be as much as 25 percent lower than 2019's. "This reduction target is in line with the goals of the Paris Climate Agreement, so we are certainly doing our part," says health, safety, and environment manager Martin Doelling.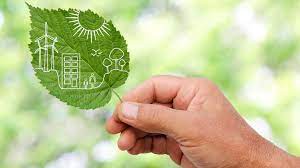 "We are well on our way to achieving
2025's targets, but that's no reason to not stop there.
We plan to continuously reduce
carbon emissions even beyond that."
Martin Doelling
Health, Safety und Environment Manager
Syntegon has already developed and launched several programs to this end. All its sites worldwide are called upon to contribute and encouraged to reduce emissions. Some are still busy putting measures into practice, others have already completed projects. Three examples follow.
Beringen
This site is connecting its assembly and manufacturing facilities to groundwater heat pumps to cut annual carbon emissions by at least 2,200 metric tons when the project wraps up in 2027. The carbon reduction now stands at more than 400 tons a year.
Crailsheim
The Crailsheim site sources heat from a local biogas plant and generates another 1,000 MWh of heat a year from wood pellets, which now reduces its carbon emissions by 240 tons a year.
Waiblingen
LEDs equipped with presence and daylight sensors have replaced the fluorescent lighting in all manufacturing and assembly facilities, reducing carbon emissions by more than 400 tons annually since 2020.
Processing and packaging technology for a better life
Syntegon also contributes to environmental action by making sustainable packaging and continuously optimizing its plants. The company helps customers adopt new, ecofriendly packaging styles and materials such as paper, mono-materials, and bioplastics to reduce food and plastic waste worldwide. Optimized manufacturing processes and smart machines consume fewer resources and prevent incidents that produce rejects to improve customers' ecological footprints.