In November 2020, Syntegon inaugurated the new OSD Customer Center in Waiblingen, Germany. The 600 square meter building includes everything customers need for the formulation, development and production of their oral solid dosage forms, as Dr. Thomas Brinz, Head of the OSD Customer Center, explains in this interview.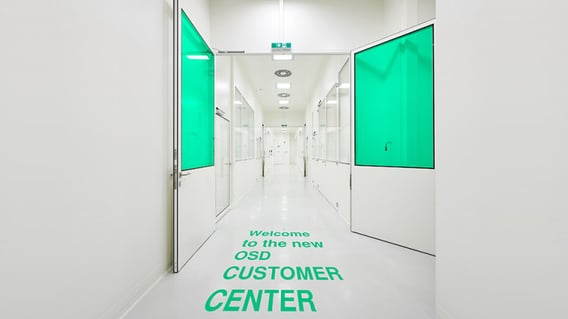 What can Syntegon customers expect from the new OSD Customer Center?
Our customers can look forward to powerful innovation! More space, more machines and a dedicated team of experts will offer even better services. We have, for example, increased our cleanroom capacities in Waiblingen six-fold. From laboratory equipment to production scale machines, TPR tablet presses for mono and bilayer tablets as well as GKF capsule filling machines are available for all formats and products in different cleanroom classes – up to OEB5. Additionally, there are large assembly areas, offices, meeting and training rooms. In a nutshell, our customers will find everything their heart desires in the new OSD Customer Center – providing it beats for developing and optimizing processes in the production of solid oral dosage forms.
Which specific offers are available to customers?
Pharmaceutical developers and manufacturers can thoroughly test their formulations and active ingredients. We support them in improving their capsule and tablet production processes and in making them more efficient – even for active ingredients that have not yet been approved: the new "Automated Process Development" (APD) tool helps to determine the optimal parameters quickly and easily. Another focus is on employee training. Thanks to the physical proximity of laboratory, assembly and seminar rooms, we can now tailor our services even better to individual customer requirements. Last but not least, work is now much easier for our team. Moving in felt like Christmas had come early.
What does the work in your team look like?
We work in an interdisciplinary team to be able to advise and support our customers in the best possible way. In the OSD Customer Center, we rely on a ten-member core team of pharmacists, chemists, process specialists, engineers, trainers and service technicians. If required, we can also call in additional colleagues. We benefit from the other customer centers in Schopfheim, Germany, and Hangzhou, China, as well as partner laboratories worldwide. Our large network enables us to collaborate with specialists from various fields. From the development of active ingredients or formulations to process optimization or machine operator training – we bridge the gap between all these disciplines. This makes us the ideal sparring partner for our customers.