Can a machine be easy to operate for new employees? The answer is: yes, if the focus is on the UX (user experience) from the beginning. This was the case with Syntegon's new robotic pick-and-place platform (RPP): as early as the design phase, the development team brought colleagues from the service department and customers on board and simulated production scenarios – because for optimal results, operators and machines need to work together intuitively.
To ensure that the new Syntegon RPP was ready for whatever came its way, the development team not only put the prototype to the test at an early stage, but also checked out the workflows in production. The platform had to handle commonplace production tasks like material loading, cleaning, format changes and adjustments, troubleshooting and maintenance in several test flows. The aim of the exercise was to improve all interactions between operator and machine. Factors such as machine accessibility, format changes and intuitive controls can help achieve this. The outcome was a unique experience when using the system, which provides optimal support for operators.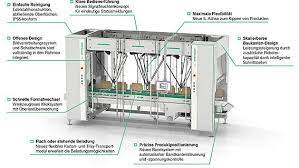 Reproduction for press purposes free of charge with credit "Picture: Syntegon"
Approaching processes from an operator's perspective
The result is impressive: on the one hand, the open design of the robot cells ensures that all machine components are easily accessible, e.g. for maintenance and cleaning. On the other hand, it is easier to monitor the entire line during the ongoing production process. If an error occurs, employees can quickly respond using the integrated HMI 4.0. The RPP dashboard is highly intuitive, thanks to straightforward icons and clear graphical displays. In addition, instructions using pictures and videos facilitate the handling of necessary adjustments.
The new, fully integrated LED status messaging concept offers additional advantages in terms of troubleshooting. They are located above the doors of the robot cells and signal the status of each robot using color-coded lights or flashing patterns. When several robot cells are integrated in a line, the status lights allow operators to quickly identify exactly where an error has occurred. They can then directly take action to solve the problem, helping to avoid long downtimes.
Robots will remain easy to operate in the future thanks to UX design
The Syntegon RPP shows that innovative robots can be integrated into packaging lines without making their handling more complex for employees. Future automation solutions from Syntegon will also focus on UX design and optimal user friendliness. Stay tuned for our latest developments!