There are many things to consider when transferring products and materials into barrier systems. It begins with categorizing the pharmaceutical product and defining the aseptic environment.How is my product categorized? What processes and procedures are commonly used? What are the major challenges in product and component supply? These and many other questions are a first baseline to start with.

Maintaining aseptic barriers
When transferring products between different classified areas, the most important point is to maintain the aseptic barrier. Transfer systems and procedures are just as variable as the types of barrier systems. Hence, there are many different ways of bringing products and materials into barrier systems. A general distinction can be made between continuous (e.g. mouse hole, e-beam, sterilizing tunnel) and discontinuous transfer systems (e.g. rapid transfer ports, airlocks, liquid transfer systems). Besides many other sources, an important reference is ISO 14644. Since aseptic risk assessment also plays an important role, ISO 13408 is also worth considering.
Different needs for different packaging types
An aspect that is currently widely discussed is the infeed of pre-sterilized packaging types. For these nested containers, aseptic transfer can be achieved with either RABS (Restricted Access Barrier System) or isolator systems, provided a suitable fully automatic bag opener is used, combined with spray disinfection of the surrounding bag. In this regard, double bagging for added safety is becoming discussed more frequently. Though the e-beam has long been the standard solution for decontaminating tubs in high-output lines with isolators, it is generally considered too large for smaller lines. Alternatives that are currently being explored include tunnels or locks used in combination with plasma, UV light, nitrogen dioxide, hydrogen peroxide or other decontamination agents. However, none of these have been established as a standard yet.
In general, nested containers require larger intersectional openings due to their dimensions. Moreover, waste disposal of bags and Tyvek sheets needs to be handled in terms of pressure stabilization in an enclosed system. In case of nested high-potent drugs, a containment isolator and different pressure zones for bag and tub opener, as well as the filling area are required, connected to each other by (passive) mouse holes.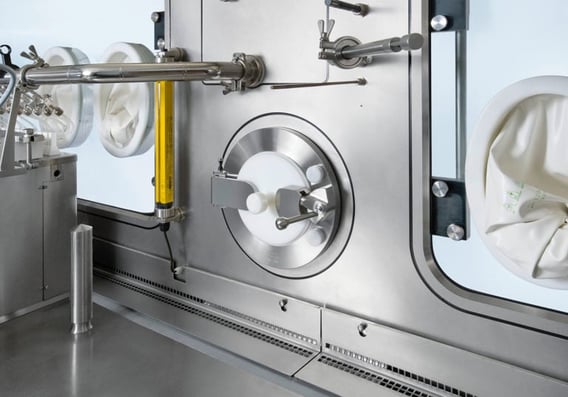 Single-use systems for aseptic liquids
As far as filling operations are concerned, single-use or ready-to-use pre-sterilized systems are becoming ever more common in the aseptic environment. Such complete systems can consist of filling needles, tubes, intermediate bags, agar plates, as well as tools in appropriate beta bags. The advantages are manifold, as single-use systems reduce time-to-production, costs for manufacturing, validation and approval times, while increasing the safety of processes and products.
From RTP to material transfer airlocks and autoclaves
In a complete barrier system, it is not only necessary to transfer products and materials into the aseptic surroundings, but also getting them out again. RTPs, for instance, serve many purposes and directions of transfer (containers, bags, stoppers, caps, waste, pre-sterilized and disposable processing equipment, etc.). However, RTPs are also often limited regarding parts size and access, which is why they are not able to cover all kinds of required transfer.
Rapid transfer chambers or material transfer airlocks are used differently depending on whether they are used in RABS or isolator systems: the most common solution for a transfer chamber connected to an isolator is the H2O2 surface decontamination, closely followed by NO2. As far as RABS systems are concerned, they are mainly combined with a simple airlock combined with grade A air supply, and IPA wipes without automated decontamination step. In contrast to H2O2 decontamination, autoclaving has a deeper impact and leads to a complete sterilization through temperature and pressure. Hence there are considerations to connect sterilizers directly to isolators. The main challenge consists in managing the high surface temperatures of the connecting points between sterilizer and isolator. Moreover, space constraints may play an important role in this decision, since an autoclave requires free space in very close proximity to the isolator, which in turn can be a challenge for the room layout.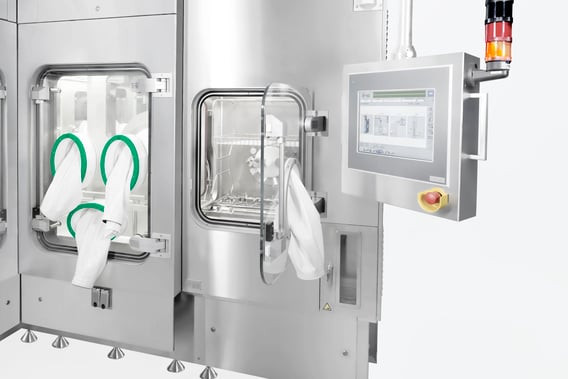 Conclusion
There are a large number of considerations to be taken into account when planning aseptic production. Often shortcomings are only revealed at a very late planning stage or – in the worst case – during production. Older installations without sufficient barrier or lower categorization are increasingly being upgraded in the direction of at least RABS, as worldwide authorities regulations increasingly demand this. It is therefore highly recommended that strong and experienced partners who can provide comprehensive advice based on decades of experience be relied upon during facility and transfer systems design.
Matthias Angelmaier has a bachelor's degree in industrial and mechanical engineering as well as a master's degree in business development. He joined Syntegon Technology GmbH in 2009. During his first 3 years, he was a project manager for handling complex customer projects. Since 2012, he has been the globally responsible product manager for barrier systems and isolator technology. His expertise includes process engineering, sterilization, bio-decontamination, aseptic and high-potent Isolator applications, glove testing systems as well as topics related to advanced aseptic processing.