Who does not want to be happy? So, we buy cakes! Cakes are an integral part of any celebration. Be it birthdays, anniversaries, graduations or promotions, cakes always make the occasions more special. Cakes have now found place in everyday lives in form of bite-size indulgence food, that we eat more often, celebrations or not.
The global bakery & cereals sector was valued at US $ 597,966.8 million in 2019 and is expected to grow at CAGR of 2.3 % over 2019-2024 to reach US $ 669,253.1 million by 2024 (Source: Globaldata). This growth is driven by rising standard of living and health consciousness among consumers. The cakes market is competitive and is still growing owing to the product variants across packaging formats, flavors, and sizes.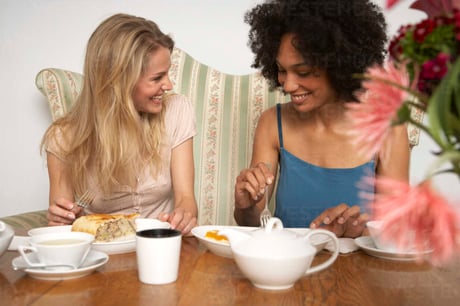 Good packaging sells
A visually appealing packaging is a top criterion for consumers, when choosing a crave-worthy bakery item. A rise in the general standard of living of a much greater population has meant more emphasis on the safety & quality of products consumers opt for. Thus consumers are now willing to spend a little more on good quality product. A well-packaged cake, which not only retains the freshness & quality of cakes, but also catches the eyes of consumers with its neat & clean packaging, will definitely go a long way in making the product a success in the market.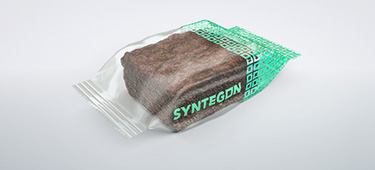 You bake it, we pack it!
Syntegon is one of the leading suppliers of processing and packaging technology for the food and baking industry. Our portfolio includes stand-alone machines as well as complete system solutions for the primary and secondary packaging of dry food products such as bars, biscuits, bakery products and coffee, frozen food or dairy products, as well as process technology for the production of confectionery.
For packaging cakes, we can offer a complete distribution and packaging line:
1. The Product Handling and Distribution System
We offer very simple yet smart product handling and distribution systems that transport cakes in rows and can handle up to 150 rows of cakes per minute.
The main features of the product handling and distribution System are as follows:
Conveyor belt (width up to 1640 mm) equipped with auto tracking to ensure belts remain in position
Row alignment function to align the incoming cakes into rows
Hygienic design for crumb collection
Servo motorized tilting station capable of handling up to 40 dumps per minute
Product inspection and rejection system to ensure the quality of cake being packed
Multiple emergency stop switches throughout the system to ensure operator safety
Equipped with guarding and safety latch, to provide maximum safety to operators
Induction motors equipped with LOTO safety switch to enhance safety during maintenance
2. Horizontal Wrapper Pack 201 HS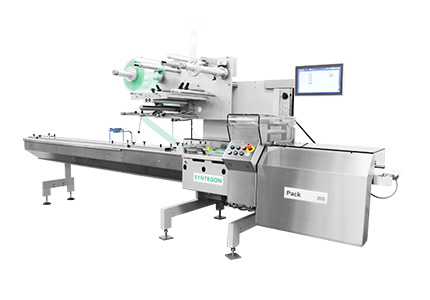 Flexibility to accommodate a wide range of product sizes on the same machine, coupled with fast changeovers of format parts
High sanitation level ensured with provision for crumb collection and inclined design under the infeed chain to prevent crumbs from accumulating on the machine for easy cleaning
Gas flushing system to increase the shelf life of a cake. Nitrogen is injected into the pouch as its being formed, which flushes out the oxygen, thus increasing shelf life
Auto count and cut mechanism for chain/string packs