Most people intuitively choose familiar and popular products when shopping. Well-devised retail strategies and attractive packaging play an important part in this regard. Brand owners e. g. place targeted messages on the packaging to encourage customers to buy. Companies also receive support from packaging and equipment experts who can realize different packaging variants. Syntegon is one of them: as a leading provider for processing and packaging technology the company has set new standards for shelf-ready display styles with its Elematic 3001 and 2001 wraparound case packers.
In shopping malls around the globe, purchase decisions are only a matter of minutes if not seconds. Shortly before customers take a particular item off the shelf, the product's overall look and feel draws them to it. Some experts – a bit tongue in cheek – call it the "20-meter dash". Ultimately, it all boils down to standing out and quickly catching the customer's attention. Retailers and brand owners around the world are joining the race – and attractive display packages are the secret of their success. Unlike traditional regular slotted cases (RSCs) for long-distance shipping, two-piece cases are used for on-shelf presentation. Featuring lavish designs and easy opening, they help retailers to present products in ways that shoppers just can't ignore.
Keeping pace with retailers
However, constant changes to display packages are common and require packaging equipment that can keep up with changing retail demands. Two solutions that are up to the task go by the name of Elematic 3001 and 2001. The machine series from Syntegon includes an entire array of wraparound case packers, from high-speed variants with increased output and small footprint such as the Elematic 2001 to solutions for extra-large case formats like the Elematic 3001. They all serve flexible purposes, as Syntegon's sales and marketing director for case packers Bernd Bruckert knows: "Our standardized Elematic wraparound case packer series can pack cartons, bags, flowpacks, and slugs in classic full wraparound and two-part display packaging alike. In this way, brand owners can adapt the packaging as needed over a product's lifecycle."
In this respect, one feature comes in especially handy – the machine's flexibility. The Elematic 3001 case packer offers a wide range of formats. They can be switched in a few minutes and without additional tools thanks to the Elematic click system. After the format changeover, the machine continues to run at full capacity without any further adjustments and produces shelf-ready packaging. Inside the display cases, products can be grouped either in single or multiple rows, lying or upright. The machine's long magazine with its ergonomic loading height reduces the need for corrugated board refills. As a result, the Elematic series can achieve outputs of up to 30 cases per minute.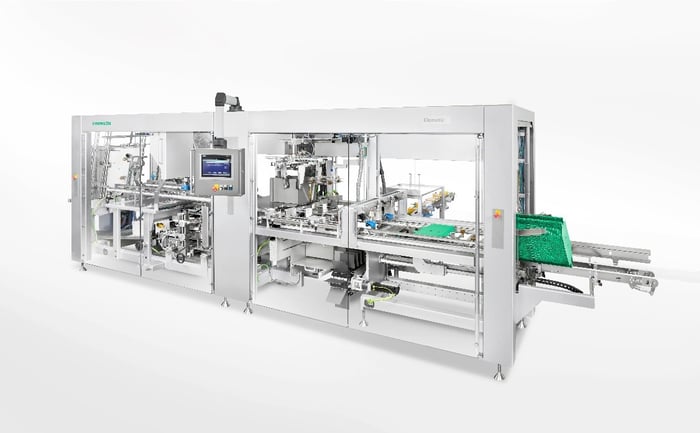 Elematic 3001 WA wraparound case packer for an efficient production of shelf-ready packaging and perfect product presentation at the Point of Sale.

Finding the ideal packaging design
But there's also another aspect that might tip the scales for this innovation: as a packaging equipment manufacturer, Syntegon knows its way around packaging design, too. "Even before customers decide which Elematic they want to pack specific products with, we help them design the ideal packaging," Bernd Bruckert adds. The company even goes beyond traditional materials to do so: "Whether customers choose solid board, corrugated board or want to give sustainable alternatives like grass, cocoa or cup plant* fiber a try, we work out solutions that the Elematic can efficiently process." Besides design skills, Syntegon supports its customers with after-sales services such as spare parts management and equipment monitoring via its digital solutions portfolio – anytime and anywhere.
*silphium perfoliatum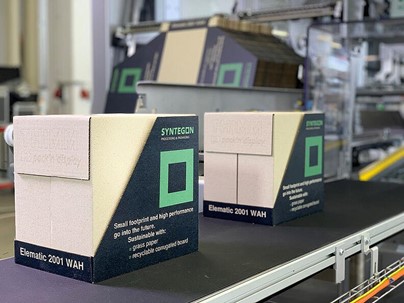 Syntegon's case packers handle new, recycled and alternative packaging materials, for example grass fiber-based corrugated board.
Earlier in this blog, we covered another versatile case packing technology – be sure to check out the Elematic 1001 TL!