When you think about it, traveling is no mean feat: getting from one place to another takes strength, endurance, and protection. This not only holds true when hiking in the mountains or taking a road trip through rough terrain. It also applies to shipped goods: whether it's toys or food, items often travel long distances – and have to withstand varying temperatures and frequent handling. Regular slotted cartons (RSCs) make sure products remain intact all the way. With its Elematic 1001 TL, Syntegon has developed a new RSC topload case packer that makes sure cases offer the protection they're meant to.

Every day, thousands of trips take place, though we hardly notice: products sold online, for instance, cover distances on delivery trucks, planes, or ships – or sometimes on all three. Depending on the shipment, the goods may travel across climate zones, change transportation modes, and be frequently handled. All this calls for robust packaging that helps keep products intact until they reach the Point-of-Sale. Around the globe, regular slotted cartons, or RSCs for short, have taken over this vital role in logistics: especially in North and South America, as well as Southeast Asia, RSCs are the predominant packaging style for long-distance shipments. The sturdy cartons can easily accommodate heavy loads of e.g. shampoo bottles, soap, or chocolate bars.
Popular boxes
RSCs owe their good reputation to their straightforward design and ease of use: the most frequently used corrugated box style has flaps of the same length, with two outer flaps that meet at the box's center when folded. Finally, the case is closed with tape and hot melt. As such, RSCs offer easy packaging and even greater versatility: they are available in a variety of shapes and sizes, and serve as moving, shipping, or stock boxes. But before these cartons can transport any goods around the globe, they need to be properly folded and loaded.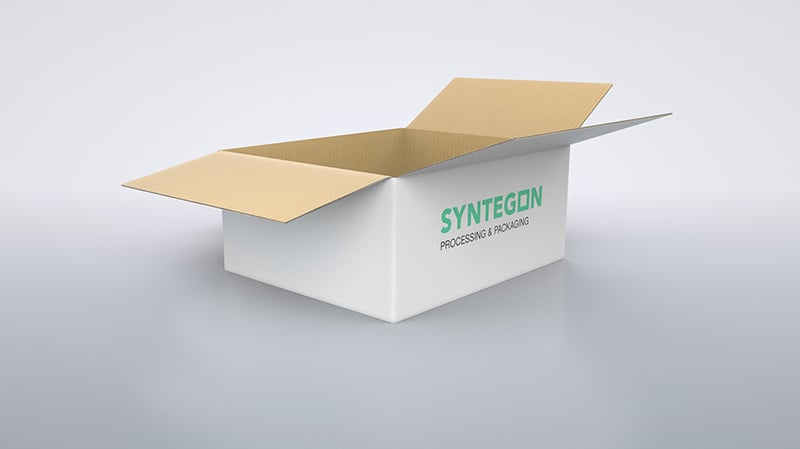 Popular RSC or shipping packaging keeps the products intact and is the preferred packaging for long distances.


"Our Elematic 1001 TL makes sure this happens in a safe and efficient way," says Bernd Bruckert, Director Sales & Marketing at Syntegon. The machine is Syntegon's standardized topload casepacker for packing products in RSCs and Half Slotted Containers (HSCs), making it the ideal choice for some of the most sought-after packaging styles in international shipping. Among its many benefits, its broad format range truly stands out: the Elematic 1001 TL can group products in single-, multi-row or layer collations and topload them into corrugated board cartons. "Whether customers choose bags, flow packs, cartons or bottles as their primary packaging, the Elematic 1001 TL can pack them horizontally or vertically," says Bruckert. Thanks to the proven Elematic click system, format changes are tool-less and take no longer than ten minutes, contributing to efficient processes – essential for logistics, where speed is key.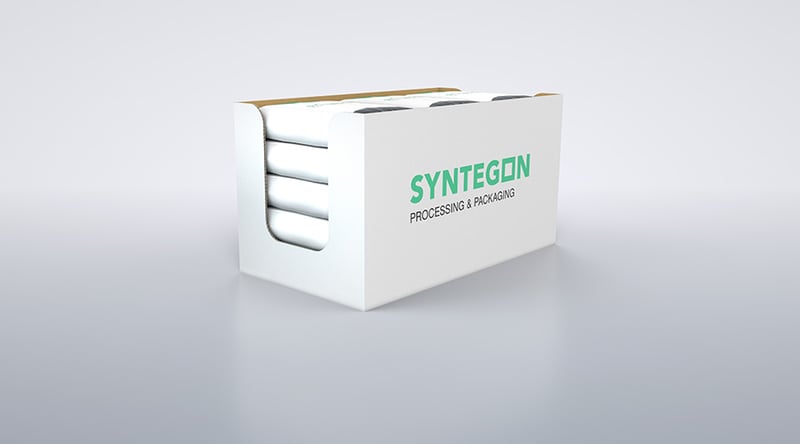 HSCs do not have flaps on the top of the case.
Format changes aren't the only task the Elematic 1001 TL accomplishes swiftly: while the standard model offers output rates of up to 15 cases per minute, Syntegon can crank them up to 20 cases, adding to the system's high OEE. This is complemented by the extra-long blank magazine, measuring 2,000 millimeters (78.7"), which keeps the need for refills to a minimum.
Extra-long blank magazines on the Elematic 1001 TL minimize the refill time of the RSC blanks
Built-in flexibility
Syntegon's Elematic 1001 TL comes as an integrated case packer for quick commissioning – but also gives customers the freedom to individually configure the system. Modules can be combined according to their specific toploading requirements. "All things considered, the Elematic 1001 TL is a highly flexible machine that allows customers to form and topload a wide range of RSCs and HSCs," Bernd Bruckert adds.
If you would like to find out more about this innovation, the PackExpo offers the ideal opportunity to do so: from October 23 to 26, Syntegon will display the Elematic 1001 TL alongside other packaging solutions at booth S-3514. Drop by and see what we have to offer!
In this blog, we'll also cover another technology being showcased at the PackExpo – so stay tuned!