Did you know that Syntegon is setting new standards in isolator biodecontamination with cycle times of less than 60 minutes? If you do, we are delighted! If you don't, keep reading to learn how we achieved this rapid pace and what benefits you can expect.
The shorter the cycle times for isolator biodecontamination, the more time is left for actual production. Syntegon keeps this goal firmly in mind. Our decades of isolator expertise ensure much more than a safe fill-finish process. We've invested a lot of development time in the biodecontamination process using hydrogen peroxide (H2O2) to get your machine biodecontaminated and ready for production as quickly as possible.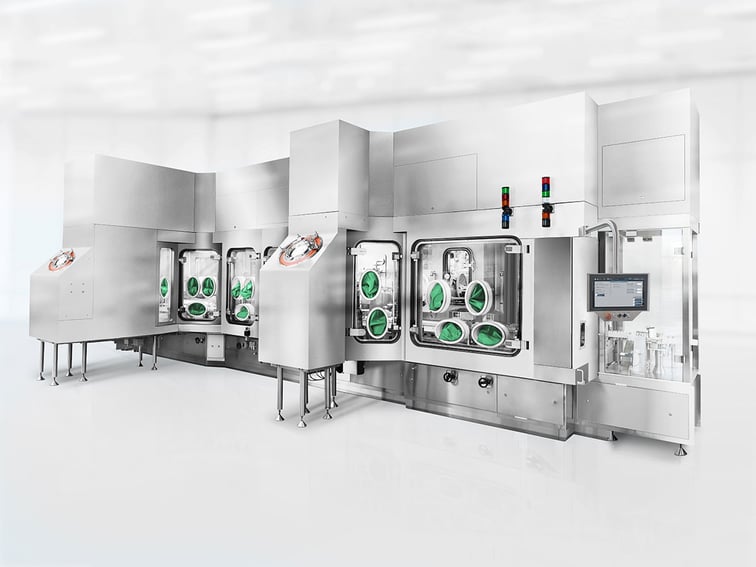 What exactly is biodecontamination?
Biodecontamination (the inactivation of germs such as bacteria) is an essential step before the actual fill-finish process. It involves exposing the surface of an isolator to a specific concentration of decontaminant for a set period of time to create an aseptic atmosphere within the process core. In our approach using vaporized hydrogen peroxide, biodecontamination spans four phases: preparation, conditioning, biodecontamination, and aeration. The goal is to achieve a residual H2O2 concentration of typically 1 ppm (parts per million) or less before production begins.


From ten hours to less than 60 minutes
The success story of Syntegon's current isolators in the U.S. goes back to the mid-1980s, when the first inklings of a completely isolated filling system started to take shape in the minds and, later design sheets, of our engineers. After the advent of isolators, the pharmaceutical industry witnessed the first automated biodecontamination, realized by the integration of an external H2O2 evaporator in the early 1990s. Back then, biodecontamination cycle times were around ten hours. By the end of the 1990s, the reduction in time had already begun, shrinking a ten hour biodecontamination cycle to six hours.
Integrating Syntegon's SafeVAP (Safe Vacuum Assisted Peroxide Evaporation) decontamination system directly into the fill-finish line achieved a major time saving breakthrough. Our experts have continually improved the mechanical design as well as the air management and SafeVAP system itself, shrinking cycle times smaller and smaller with each improvement. Over time, we arrived at cycle times of less than 60 minutes to 1 ppm. Numerous customers confirm that they achieve cycle times of less than one hour for fully loaded commercial isolator lines. The process is even faster with smaller transfer isolators: complete biodecontamination cycle times of 20 minutes are possible, depending on the load.


The future is even faster
We are, of course, not resting on our laurels: our isolator experts are already working on new solutions to make sure you will have even more valuable time for actual production. Our next generation SafeVAP, the Ultra SafeVAP, will set new standards in H2O2 biodecontamination. We have already taken the first step by integrating it in our new Versynta FFP (Flexible Filling Platform) for small-batch production – and further steps are sure to follow.
Would you like to learn more about the Syntegon solutions for isolator biodecontamination? Click on the links below or contact us directly!