What happens when an accomplished inventor gets a major order? In the best case, they write a new chapter in the history of medical technology plant engineering, just like Syntegon subsidiary SBM. 50 years ago, the Austrian company laid the foundation for sterilization solutions that are still unparalleled today.
Sterilizers don't easily reveal their secrets; what goes on inside the robust constructions remains hidden from most observers. In the case of the autoclaves from Schoeller-Bleckmann Medizintechnik (SBM), a subsidiary of Syntegon, however, their casing reveals quite a bit about their origins: the stainless steel reflects the roots of the versatile systems with which SBM – formerly Schoeller-Bleckmann Stahlwerke Medizintechnik – has been ensuring the sterilization of bottled liquids and medical technology equipment since 1972.
Medical technology meets steel fabrication
A few years earlier – in 1968 – Dr. Karl Kalasek, owner and managing director of the Austrian medical technology manufacturer Techno Medica, had approached Schoeller-Bleckmann Stahlwerke (SBS). He needed dependable steel fabrication expertise so that he could accept a major order for the manufacture of steam/air mixture sterilizers – and found a suitable partner in SBS. The collaboration was so successful that it not only secured Dr. Kalasek the order, but also spawned a new company. In 1972, the SBS steelworks took over Techno Medica and founded SBS Medizintechnik as a department of their own plant engineering division. Dr. Kalasek, his engineering and sales team also went – and brought with them the pioneering spirit that had already helped SBS Medizintechnik achieve its breakthrough.
From the classic ROTOTHERM, a steam sterilizer for medical liquids in the final container, to the TURBOTHERM for vacuum and steam/air mixture processes, Dr. Kalasek and his team developed flexible solutions for various pharmaceutical applications – and set new standards. The AQUATHERM, a hot water shower sterilizer, is based on a process that SBS Medizintechnik developed in-house in 1987 and which enabled the company to tap the Asian market. A year later, today's Schoeller-Bleckmann Medizintechnik GmbH (SBM) was founded and continued marketing the successful products. To this day, sterilizers from SBM support indispensable tasks in medical technology such as the pasteurization of blood plasma and the decontamination of biological agents.
"Innovativeness and close attention to our customers' requirements were key success factors for SBM," recalls Werner Zwazl, former commissioning engineer at SBS Medizintechnik and later senior start-up engineer at SBM.

"I fondly remember how enthusiastically customers responded to our ROTOTHERM – and how we continually refined the technology of our sterilizers. The first computer-controlled sterilizer for a German customer was one of them. We also installed the longest sterilizer in the company's history, measuring 14 meters, in England."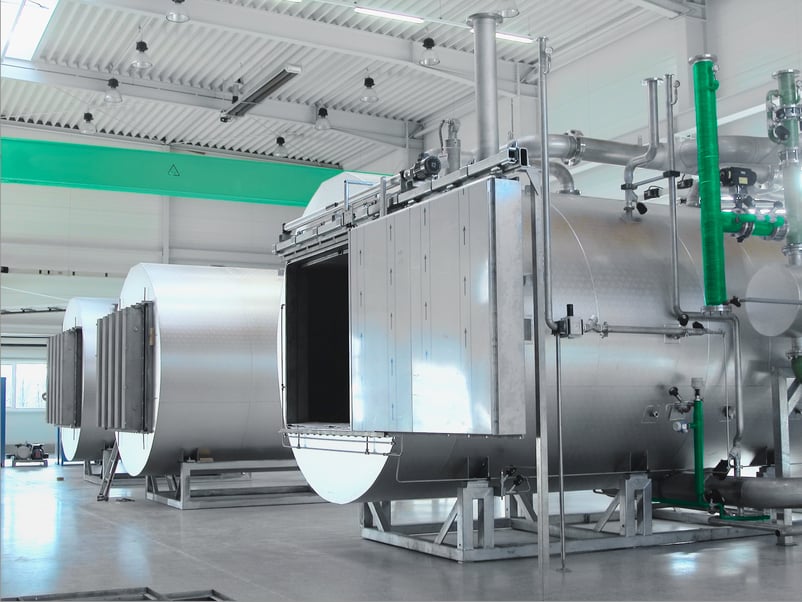 In 2007, SBM was acquired by Bosch Packaging Technology, which became Syntegon in early 2020. The AQUATHERM and related equipment live on in sterilization solutions such as ADV, SWS and SDR, enhanced with the latest control technologies and even more efficient processes.
"It's good to see that we have created lasting standards," says Christoph Treitler, a mechanical designer at SBM since April 1.

"Working at SBM is a pleasure – and I'm sure that the portfolio expansion in our sterilizers and freeze dryers will keep the company thriving for the next 50 years."
Would you like to see SBM's pioneering spirit and innovative strength for yourself? Then visit our website and contact us directly. We look forward to hearing from you!