Hernán Cortés first imported chocolate to Europe in the 16th century; today, it is an integral product on supermarket shelves all over the world: chocolate in all shapes, flavors, and with various ingredients. Although the raw material, cocoa has not changed significantly since then, the packaging of the popular treat certainly has. Whether mono-material, bioplastic or paper – Syntegon knows what it takes to protect sensitive chocolate products while reducing the environmental impact of different packaging options.
Chocolate is the world's best-selling confectionery product, accounting for 58 percent of the $200 billion market. Since most chocolate bars are wrapped in plastic, they generate large amounts of waste that is difficult to recycle – reason enough for many manufacturers to consider more environmentally friendly alternatives. However, the search for the right packaging material can prove challenging – after all, each product has its own individual requirements for its protective wrapping: chocolate containing nuts, wafers or seeds requires a high barrier layer, while products with a high fat content need to withstand moisture and oxygen exposure. White chocolate, on the other hand, is more sensitive to light than dark chocolate and therefore requires a higher light barrier. Thanks to many years of experience, Syntegon knows the diverse requirements of the industry and supports confectionery manufacturers in realizing environmentally friendly packaging alternatives.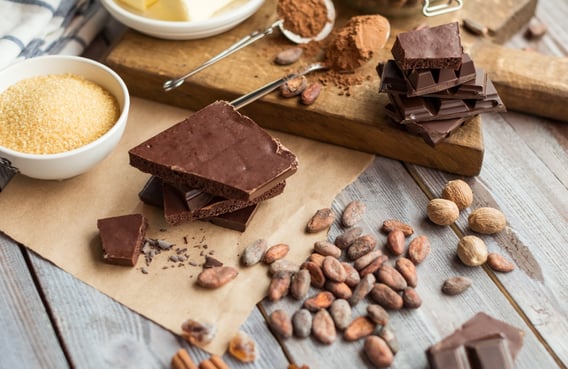 Chocolate and chocolate bars are the most popular confectionery product across the world – and the variety on supermarket shelves is accordingly large.
It all depends on the sealing
In order to optimally protect chocolate products, manufacturers have been using hermetically sealed packaging for years. It can be created using both cold and hot sealing: Cold seals not only effectively protect the product against heat and bacteria, but also ensure high speeds on the packaging machine. Heat sealing technologies, on the other hand, provide tight, high-quality seals that defy even particularly hot or humid climates.
Besides conventional plastics, mono PP materials are particularly suitable for both types of sealing: These are trending throughout the industry and serve as a packaging basis for all chocolate products. As both a robust and sustainable alternative, they not only offer a high barrier layer, but can also be easily recycled. Moreover, bioplastics made from PLA, PHA, PBS or cellulose-based fibers allow cold and heat-sealing processes for optimal product protection. Bioplastics even offer an additional advantage in terms of sustainability: The compostable material decomposes naturally – an ideal solution for chocolate bars that consumers often consume on the go.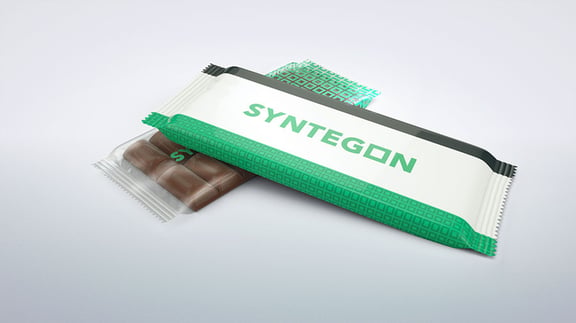 Sustainable materials such as mono-PP or bioplastic can be sealed both hot or cold, providing optimal product protection.
Partnerships based on paper
Manufacturers relying on renewable raw materials often use paper-based packaging. Together with a number of partners and customers such as Mondelez and Mars Wrigley, Syntegon has been developing suitable solutions for chocolate products for years. This is Not an easy task, as the packaging must withstand grease stains and moisture penetration. The solution: the paper-ON-form retrofit kit for form, fill and seal machines from Syntegon. The add-on component enables the production of paper-based barrier packaging without wrinkles, creases or tears. Extensive material tests complement the portfolio. Together with its customers, Syntegon analyzes their individual needs and develops a sustainable packaging concept, including any necessary machine adaptations, based on the results.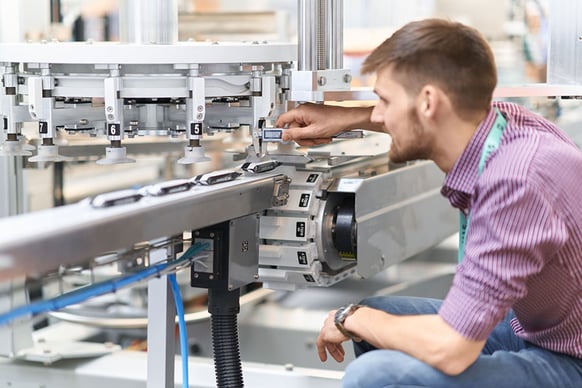 With the paper-ON-form retrofit kit, chocolate can be packaged eco-friendly in flow wraps made from paper.
For more information on sustainable packaging solutions for chocolate, feel free to contact us. We look forward to your inquiry!